Private view: Nunnery Café Exhibition | LAP DANCE (Loose Associations Presents: Dem Arty Nothings, Come Enjoy)
Thursday 9th February 2023 , 6:00pm to 9:00pm
Join us to celebrate the opening of mixed media collective Loose Associations' new Nunnery Café exhibition featuring zines, prints, paintings, general affordable brain-candy and a quiz!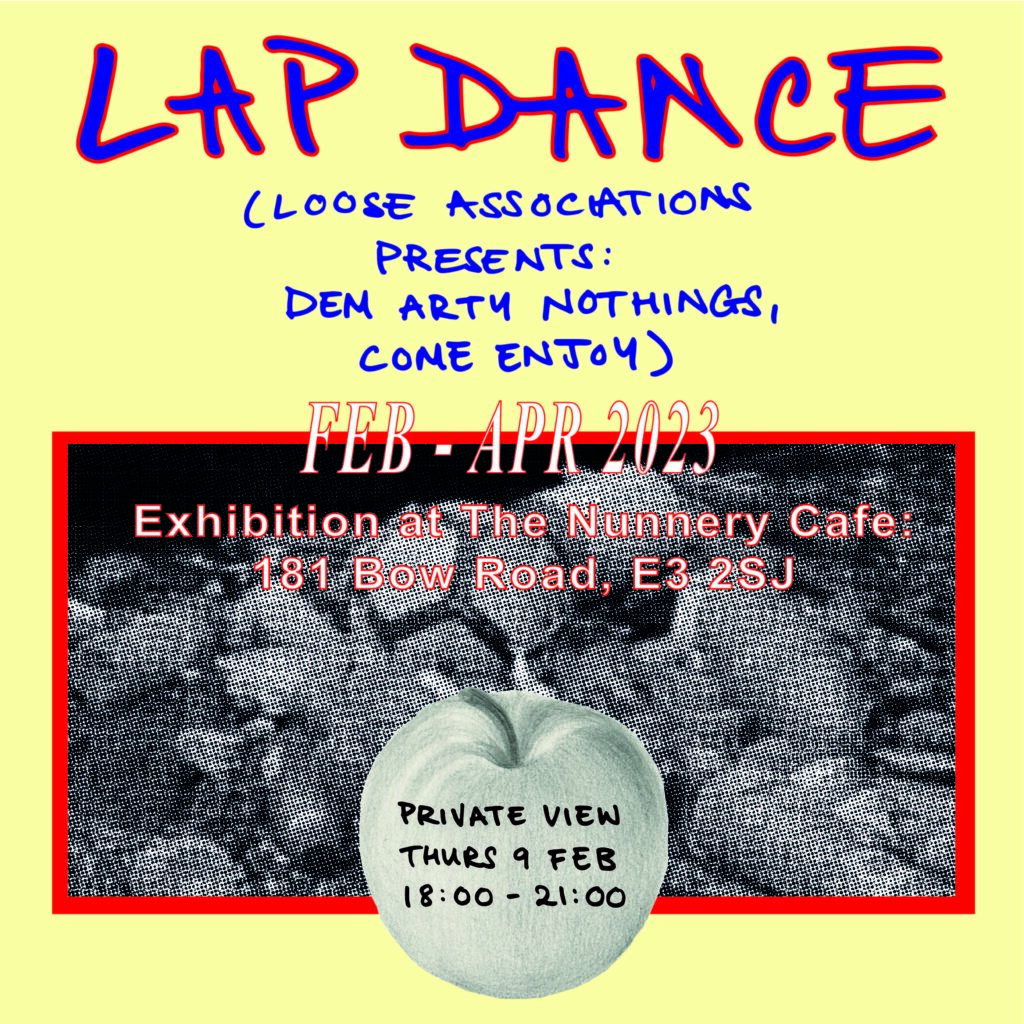 Come in from the cold and join Loose Associations in the opening of their new Nunnery Café exhibition! In this show, they have brought together a collection of artworks that are bonded together by an attention to the urban environment and the attempt to redefine it. Playfulness and process take precedent in their practice, as well as exchange and collaboration between themselves and their community. Find out more about the show on the exhibition page here.
Loose Associations is a mixed media collective run by Finn Murphy, Emma Cheung, Dom Saulter and Sam Donagh. Their creations combine their collective skills of writing, filmmaking, painting, printing, drawing, book-binding and photography, with their interests ranging from the landscape and food, to observational comedy, contrast, the absurd and the ordinary. Jack of all trades, master of some; hands in all the pies and liking the sensation.
The Nunnery Café will be open for the duration of the private view, with a range of snacks and drinks availible to purchase.
More about the individual artists
Finn Murphy is a multidisciplinary art person from the north west of England. Bringing photography, film and print together to pose questions about how we live as individuals. With focus on ecology and space his work aims to aid people in understanding their relationship with 'nature' and their perceived environments/landscapes.
@finn_murphy
Dominic Saulter works in a variety of mediums: video performance, painting, sculpture and poetry. Art can come in any form; art can inform; art can reassure. Themes spawn from pain and racial oppression, regurgitated in a whimsical manner. He recycles and reuses everyday objects to rebirth vision from the lower levels of the gutter, finding beauty in the most unappealing physical forms.
@renoirsaulter
London based painter and illustrator Sam Donagh has been honing his skills within these mediums for the past 4 years, graduating from LCC with a BA in Illustration and Visual Media in 2018. He has continued this journey exploring themes in his work of mental health, relationships and city living. With a passion for impressionist and cubist painting, the continued exploration in merging elements of both have steadily influenced composition and presentation in his work.
@plastickfruits
Emma Cheung is a London-based, Birmingham-bred mixed media artist and filmmaker interested in walking, landscape, the surreal and the mundane. Chinese blood, English heart; supersonic storyteller frontal and foremost.
@chun.mui
Nunnery Cafe exhibitions
This is the tenth exhibition in our series of shows in the Nunnery Café, which showcase affordable works of art from Bow Arts artists. All works are for sale and those priced between £100 – £2500 are available to purchase using Own Art. This is a national scheme that allows buyers to spread the cost of purchasing an artwork over 10 monthly instalments, with the benefit of an interest-free loan.
Previous Nunnery Café exhibitionists include: Tom Berry, Emily Vanns, Matilda Ellis, Will Redgrove, Amy Browne, Bhajan Hunjan, Haidée Drew, Javi Cazenave, and Jessica Jane Charleston.
Access information 
The Nunnery Café has step-free access throughout from street level, including to the accessible toilet, and is service animal friendly. This venue does not have a hearing loop system. 
Accessible parking is not available on-site but blue badge parking can be found 500m away on Fairfield Road.
If you have any questions regarding accessibility at this venue or event, would like to make us aware of any access requirements that you have in advance of visiting, or would like this information in an alternate format including Easy Read, please email nunnery@bowarts.com or call 020 8980 7774 (Ext. 3) 
Transport Information 
Opening hours: Mon-Sat, 9am to 4pm ; Sunday 10am – 4pm
Address: Nunnery Café, 181 Bow Road, London, E3 2SJ 
Nearest station(s): Bow Road (District and Hammersmith and City lines) is a 6-minute walk away, and Bow Church (DLR) is a 3-minute walk away. 
Bus: 205, 25, 425, A8, D8, 108, 276, 488 and 8 all service the surrounding area. 
Bike: Bicycle parking is located at Bow Church Station. The nearest Santander Cycles docking station is at Bow Church Station. 
Related Events