Royal Albert Wharf Christmas Market
Friday 2nd December 2022 , 4:00pm to 9:00pm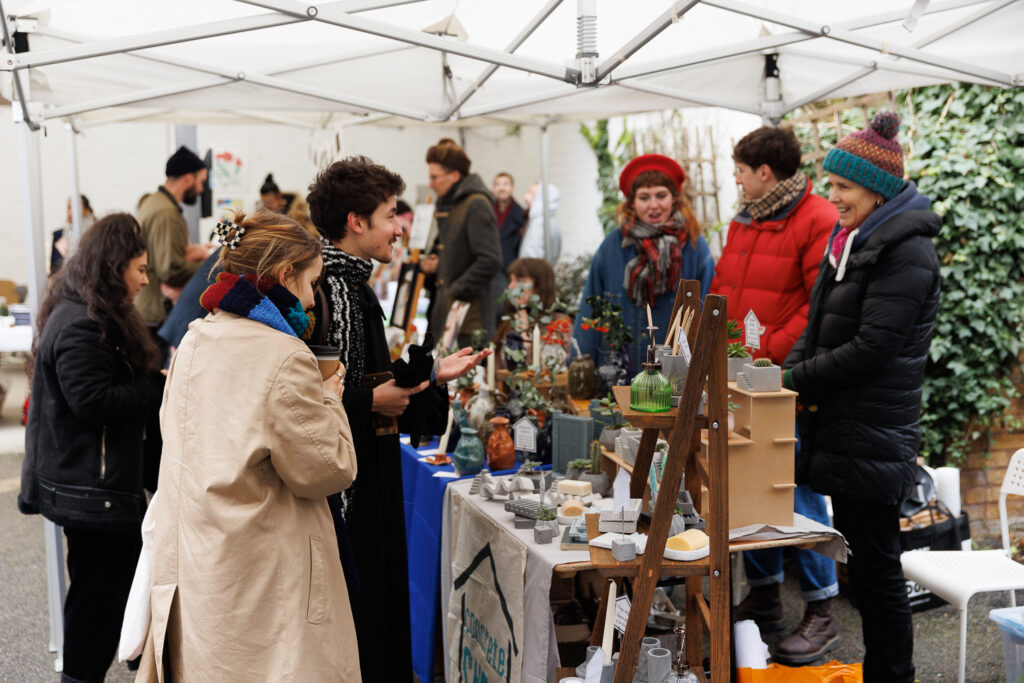 Join us this December for a festive paradise at Pump House Square, E16 2HU, in the heart of Royal Albert Wharf. Expect twinkling lights, heart-warming mulled wine, delicious street food, arts and crafts, an immersive Christmas installation for the whole family, and more!
The market features artists and makers stalls, where you will find everything from ceramics, hand-stitched gifts, and original prints all the way over to homeware, accessories, and much more. All at affordable prices!
Alongside the main market, organised in partnership with Ace Events, we will also be offering arts and crafts workshops at Art in the Docks, free face painting for the kids, as well as mulled wine from the Well Bean Cafe.
One Christmas Wish
An immersive festive installation in the middle of Pump House Square for children and their families.
Wearing wireless headphones, participants step into Graphite and Diamond's mobile performance space The Palace – a specially adapted caravan – and have their imaginations brought to life by an immersive audio journey combined with light, set design… and stage magic!
Running time: 45 minutes including set up and change over.
Capacity: 10 children per group + one adult.
Age: Suitable for 5+
Drop in Christmas Craft Workshops
Get in touch with the spirit of Christmas with a range of craft workshops taking place at Art in the Docks.
Christmas Decoration Making Workshop, 4 – 6 pm
Led by artist educator John Lord, individuals, families and children get to design and make their own unique Christmas Cards. All materials will be provided and you get to take your cards away with you. FREE
Christmas Decoration Making Workshop, 6 – 7 pm
Led by world famous ceramicist Mariana Alemany, use simple modelling clay to make your own unique Christmas decorations. Go wild with the designs, get crazy with the colours, create something wonderful. All materials provided, take what you make away with you. FREE
Christmas Wreath Making Workshop, 6 pm – 8 pm
Drop-in
£40 per adult
£20 per child
ALL MATERIALS PROVIDED
Shadow Play
Charlie Tymms, in partnership with Art in the Docks, will be running a project called SHADOW PLAY at RAW with around 12 participating artists.
Every night from Friday 2nd December until Christmas.
Wander along Royal Albert Wharf after dark and you might see something surprising… Shadow stories and images celebrating London's diverse communities will light up the windows of the wharf. Perhaps you'll glimpse a moment from docklands history, a tale from another time and place, or even a tightrope walking T-Rex! Each artist will create a unique Shadow Play picture in their studio window, making a cinematic journey along the waterside.
Related Events