Submitted by

Studios

on Tue, 28/04/2015 - 11:30
A study on Balfron Tower where Bow Arts has been running a Live/Work scheme for several years. The scheme is coming to an end as the building is refurbished, a timely and poignant study of a historic London community.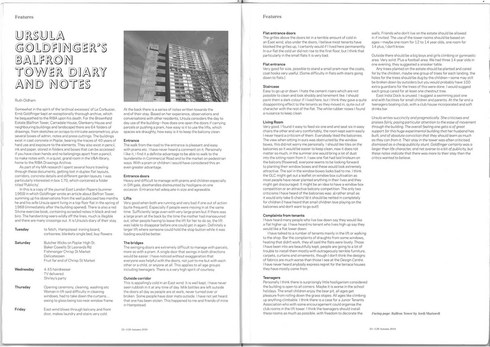 Information from the website:
This website brings together public documents related to Balfron Tower.
These include adverts, architectural history accounts, archival records, art projects, blog articles, conservation management plans, council minutes, documentary films, feature films, financial viability reports, freedom of information requests, health reports, listing nominations, literary fiction, music videos, planning applications, press articles, promotional videos, public lectures, regeneration strategies and resident oral history testimonies.
These documents can be intimidating; difficult to access because they are hidden behind archival protocols, journal subscription costs and labyrinthine planning portals; or difficult to understand because of bureaucratic, academic or legal language. The lack of clarity and certainty can be a source of further discomfort for those caught up in complex and contested processes of urban change. 
This website aims to open these documents and processes to the public and help contribute to a more informed public debate.
The project is part of ongoing doctoral research at the Bartlett School of Architecture by David Roberts. The design is by Duarte Carrilho da Graça.
Rebecca Sainsot, Studios Assistant