Artist Spotlight: Haidée Drew
Haidée Drew is British London based designer, working in Bow Arts  IceHouse Court studios in Barking. Her practice focuses on creating sculptural objects with function. She is inspired by historical collections and houses, together with her fascination of everyday objects and material. Carefully she pieces together her research into objects that are rich with intrigue and narrative.
Haidée has been a proactive artist with Bow Arts since taking up a place on the live/work scheme in Aberfeldy Estate and then Balfron Tower.
'I loved living in Balfron Tower and I took every opportunity I could, such as getting involved I'm London Open House a part of Balfron Season. This lead onto other opportunities such as my design residency at Ernö Goldfingers 2 Willow Road.'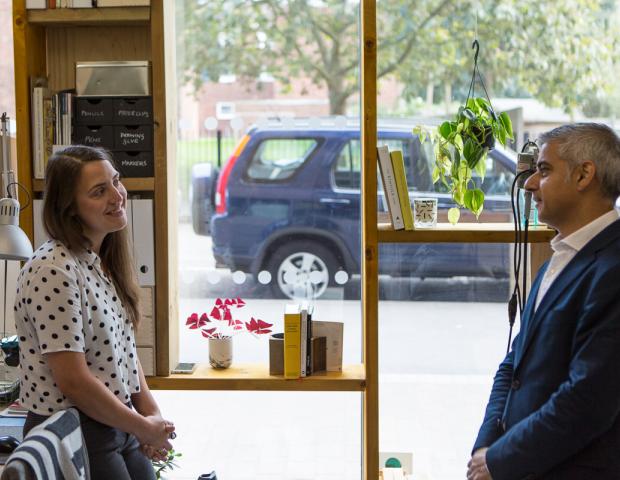 Haidée then moved into the IceHouse Court Barking studios and set up her business base from there, which you can find out more about here: www.haideedrew.com
We spoke to her about her studios move from Bow to Barking:
'For a couple of years I had a studio in Assemble's Yardhouse in Bow. The land had always been scheduled for development so when the time came I naturally came back to Bow Arts who have always been enormously supportive. I was really impressed with their new Barking site, mainly for the huge windows and tons of natural light. I really enjoy travelling into a different community every day, Barking feels like it's on the cusp of a lot of positive change. It's exciting to feel like you're a part of that.'
Haidée has just completed her first Bow Arts education project with a primary school in Whitechapel. The work that goes into providing affordable artist studios comes back full circle as the contributions that each artist makes means we Bow Arts provide artists with paid opportunities to become an educator whilst providing schools with a bespoke model of art projects.
'I really enjoy working in my local community and I'm grateful to Bow Arts for facilitating this. It's very important to me to share my knowledge and inspire the next generation of artists and designers.'
Haidée is currently working on a number of projects including two new Mirror ranges Layer and Geo at 100% Design. Inspired by modernism and brutalist architecture the modular design gives the buyer the chance to customise a variety of arrangements overlapping and changing the orientation. Both ranges will be on sale soon at Made in Clerkenwell at Craft Central, and The Geo mirrors will go into The Design Museum shop soon. Her upcoming show is an immersive design exhibition Traces at Fenton House with the National Trust this winter.
http://traces-london.co.uk
http://www.craftcentral.org.uk/madeinclerkenwell