Thursday 27th July 2023 , 6:00pm to 8:00pm
Spend a cosy summer evening with The Gardening Drawing Club as they take us through the basics of growing organic vegetables and herbs, before we paint and draw our impressions from these encounters.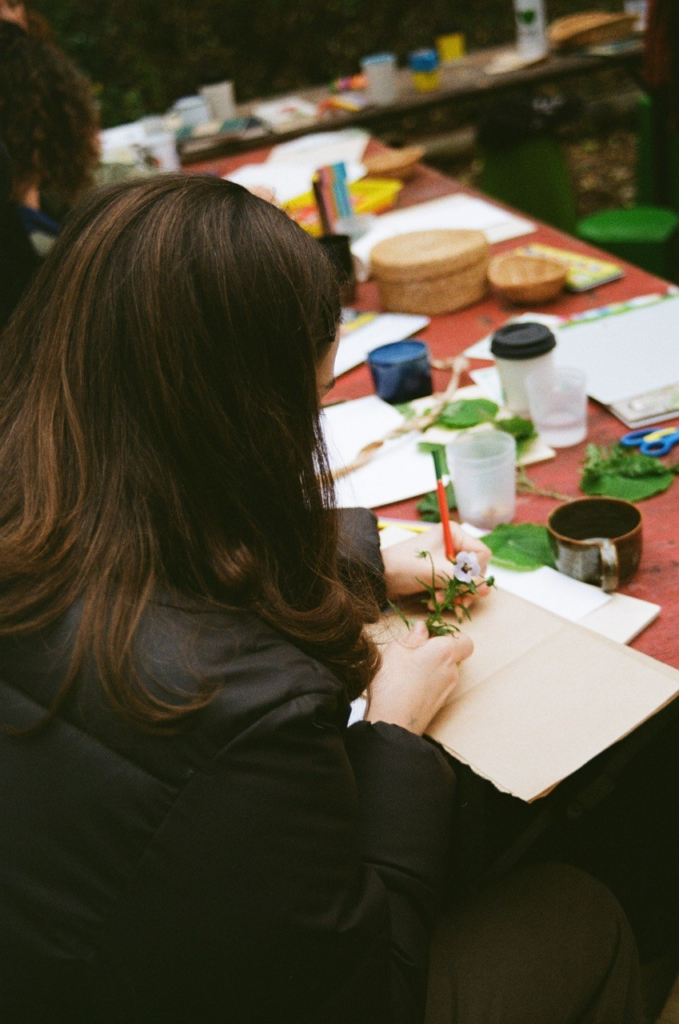 Guided by artist Johanna Tagada Hoffbeck, this workshop will help you nurture your skills and confidence in gardening, giving you the basic know-how to start your own horticultural experiments at home.
Johanna will start things off by walking us through the basics of growing organic vegetables and herbs, speaking to seed selection, soil, season, biodiversity, and gardening on a budget. We will also riff off the shapes, colours, and energies we find within plants and seeds to paint and draw our impressions from our encounters.
No gardening experience is necessary – this event is suitable for beginners and the most experienced gardeners alike. All organic seeds, veganic soil, pots, art supplies and plant-based painting materials will be provided!
Note to participants: organic herbal tea will be served to all attendees. To reduce the waste of single-use material, we kindly ask you to bring a cup with you. 
Free
Tickets must be booked to guarantee your place!
More about The Gardening Drawing Club
Founded in 2021, The Gardening Drawing Club is a series of unique events with a holistic approach offering free access to arts and horticulture in Britain. With monthly happenings, The Gardening Drawing is hosted in a broad range of locations, from art centres to community gardens and temples; the events range from workshops to talks and experiences. Veganic gardening methods are employed through The Gardening Drawing Club, advocating for gentleness and compassion while supporting seed sovereignty, racial, climate and land justice and reparation, biodiversity, and animal liberation.
The Gardening Drawing Club has a shared mission to integrate the joys of gardening and drawing in others' lives for individual and community well-being. The Gardening Drawing Club was founded by artist Johanna Tagada Hoffbeck.
www.thegardeningdrawingclub.org
Access information
The Bow Arts Courtyard has step-free access throughout from street level, including to the accessible toilet, and is service animal friendly. This venue does not have a hearing loop system. Accessible parking is not available on-site but blue badge parking can be found 500m away on Fairfield Road.
If you have any questions regarding accessibility at this venue or event, would like to make us aware of any access requirements that you have in advance of visiting, or would like this information in an alternate format including Easy Read, please email nunnery@bowarts.com or call 020 8980 7774 (Ext. 3)
Access requirements could include things like providing equipment, services or support (e.g. information in Easy Read, speech to text software, additional 1:1 support), adjusting workshop timings (e.g. more break times), adjustments to the event space (e.g. making sure you have a table near the entrance) or anything else you can think of!
Transport Information
Opening hours: Mon-Friday, 9am to 5pm
Address: Bow Arts Trust, 183 Bow Road, London, E3 2SJ
Nearest station(s): Bow Road (District and Hammersmith and City lines) is a 6-minute walk away, and Bow Church (DLR) is a 3-minute walk away.
Bus: 205, 25, 425, A8, D8, 108, 276, 488 and 8 all service the surrounding area.
Bike: Bicycle parking is located at Bow Church Station. The nearest Santander Cycles docking station is at Bow Church Station.