Bow Skills Workshop: artist wellbeing and building resilience in community with Poonam Dhuffer  
Saturday 24th September 2022 , 11:00am to 12:30pm
Join Poonam Dhuffer in this artist-centred session diving deep into wellbeing, developing support systems, and how to reframe failure and burnout as opportunities for growth.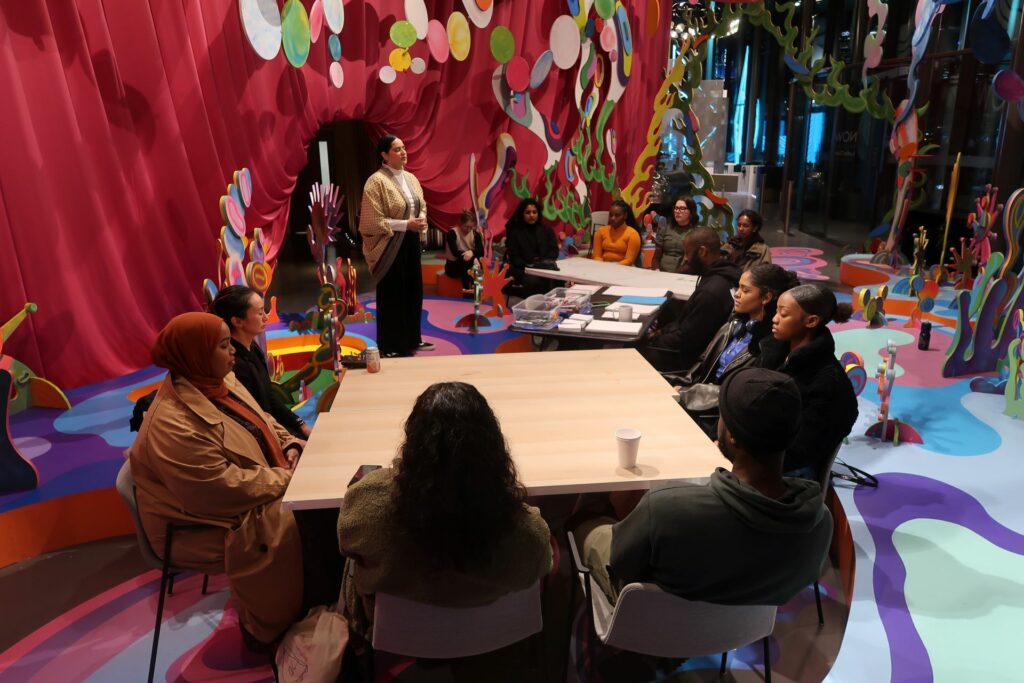 Resilience, burnout, rejection and creative expression are common experiences that we all share – especially as artists working and navigating the sector today. But, when we face disappointment, defeat, and failure, do we let the fear keep us down or do we rise in the power of love?
Join somatic coach, facilitator and founder of YSM8, Poonam Dhuffer to reconnect to your sense of wholeness and interconnectedness in a safe, artist-centred healing space.
In the session, we will be exploring how to reframe and use failure, rejection and burnout as opportunities for communal growth. We will explore themes of moving from a scarcity mindset to abundance thinking, developing self-awareness, optimism and connection, peer-to-peer care support systems and finding faith in our community humanity.
During the session we will be engaging in:
Gentle somatic practices to relax and recentre 
Embodied visualisations 
Self-reflection prompts to build self-awareness and reflect on your growth 
A guided lovingkindess meditation to cultivate kindness 
Collective discussion to support and learn from your peers 
Poonam's intention is to hold a space in which we can all listen, share, reflect and (re)connect to remember our true selves and what holds us all together.
Disclaimer
Poonam leads these workshops as a somatic coach and facilitator. It does not offer 1-2-1 support, address trauma or mental health challenges. This workshop is not a form of therapy or counseling. This workshop will involve invitations to engage in holistic practices, which often will include mindfulness exercises, self-compassion meditation and self-reflection.
These practices are optional and offered with the intention to increase self-awareness, cultivate self-love and reconnect you to yourself and your community.
Our work is always an invitation. Please note that these activities (in the same way as speech) are always optional, and remember to only ever do/ share what is comfortable for you.
About Poonam Dhuffer
Poonam is an accredited Somatic coach, motivational speaker, facilitator and founder of YSM8. She is devoted to creating sacred, healing spaces for humanity. Her prayer is to gather and guide people to feel into the wisdom of their body and cultivate practices that deepen their connection to the Divine Force.
Her work dances between Somatics, human centred therapy, systems thinking, emergent strategy, and Ancient Wisdom rooted in the Dharmic traditions.
Poonam weaves threads of craft, movement, sound, ritual, reflection and prayer through her workshops, talks and coaching sessions for whole-being healing, nourishment and growth.
Find out more on her website www.ysm8.co.uk or on Instagram @_ysm8
About Bow Skills 
Bow Arts seeks to support creative professionals at all stages of their careers. In 2015 Bow Arts launched Bow Skills in response to an artist survey which showed over 90% of practicing artists find it useful to receive further support outside formal education.   
Bow Skills is a dynamic and relevant programme of Continuing Professional Development (CPD) which is informed by an artist steering group and open to all creative practitioners across London. The programme of talks, panel discussions, new skills labs and peer crits is open to all, with concession rates available to students, over 65s, under 18s, Bow Arts artists and key workers.   
Access information
The Bow Arts Trust office has step-free access throughout from street level, including to the accessible toilet, and is service animal friendly. This venue does not have a hearing loop system.
Accessible parking is not available on-site but blue badge parking can be found 500m away on Fairfield Road.
If you have any questions regarding accessibility at this venue or event, would like to make us aware of any access requirements that you have in advance of visiting, or would like this information in an alternate format including Easy Read, please email nunnery@bowarts.com or call 020 8980 7774 (Ext. 3)
Transport Information
Opening hours: Tues-Sun, 10am to 4pm
Address: Nunnery Gallery, 181 Bow Road, London, E3 2SJ
Nearest station(s): Bow Road (District and Hammersmith and City lines) is a 6-minute walk away, and Bow Church (DLR) is a 3-minute walk away.
Bus: 205, 25, 425, A8, D8, 108, 276, 488 and 8 all service the surrounding area.
Bike: Bicycle parking is located at Bow Church Station. The nearest Santander Cycles docking station is at Bow Church Station.