Saturday 4th November 2023 , 2:00pm to 4:30pm
This workshop is now sold out. Please email nunnery@bowarts.com if you would like to be added to the waitlist.
Join interdisciplinary artist Eric Fong as we explore the rich history and process of cyanotype printing. Taking cues from mental health, wellbeing, and nature, in this introductory workshop you will create your own cyanotype prints using found objects and elements that mean something to you.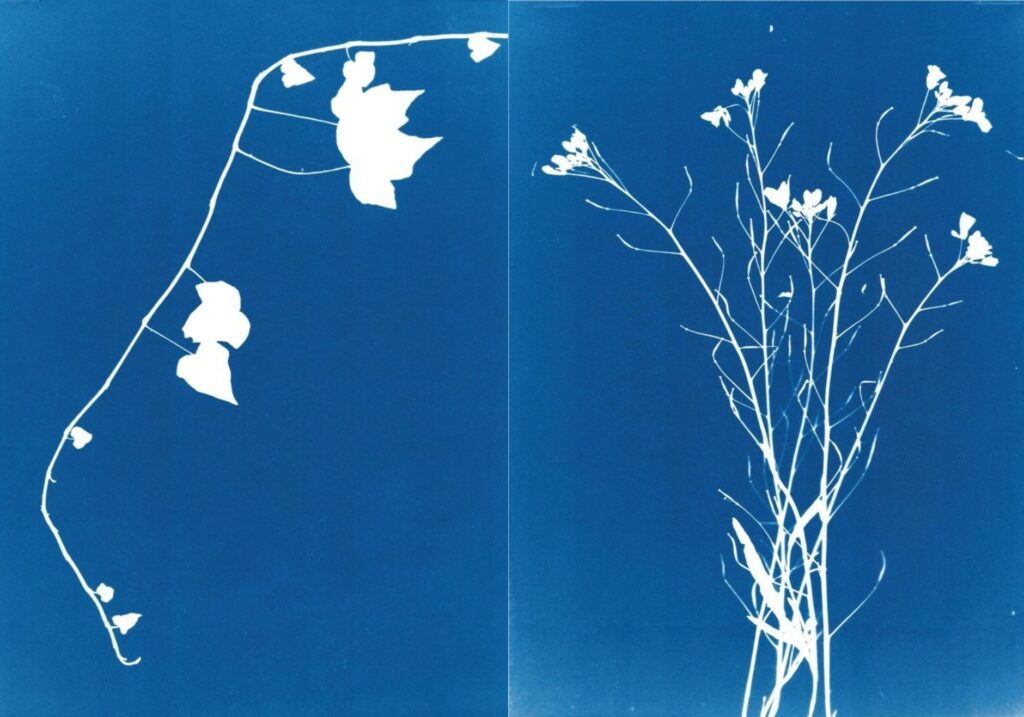 Eric will kick off the workshop with an introduction to the history of the cyanotype, highlight some contemporary artists exploring and innovating with this medium, and speak about his own ongoing cyanotype project which centres on an archive of glass plate negatives of portraits of patients in mental asylums in Epsom, Surrey.
We'll then dive straight in, taking special and found objects of our choice to create our cyanotype prints, walking through how to prepare the paper, how to place our objects to create our designs, how to expose our prints, and develop and dry them.
You will leave the workshop with your own unique cyanotype prints to take home!
What is cyanotype?
Also known as sun print or blueprint, cyanotype is a photographic process that produces a beautiful deep blue image. It is one of the oldest forms of camera-less photography in which objects are placed onto paper coated with photosensitive chemicals, then exposed under ultraviolet light to produce an image. It is a form of photogram – the objects will leave a white shadow while the exposed areas will turn deep blue. The cyanotype chemicals are non-toxic, the process is easy to use and requires no previous skills!
What to bring with you:
All technical materials will be provided, including gloves!
Please bring your own objects for making the artwork, which have a connection to or are symbolic of mental health, nature, and well-being. Anything with an interesting outline or shape or translucent things will work well, preferably something that will lie relatively flat, such as leaves, flowers, feathers, or pieces of lace!
Make sure to wear clothes that you don't mind getting a little messy! Or feel free to bring along an apron. 
This workshop is now sold out. Please email nunnery@bowarts.com if you would like to be added to the waitlist.
Concession rate applies to students, over 65s, under 18s, Bow Arts artists, National Art Pass members, and key workers
More about Eric Fong
Eric Fong is an interdisciplinary artist and a former medical doctor. His practice is driven by a keen interest in the juncture between art, science, and medicine.
He has exhibited his work nationally and internationally, including Pratt Manhattan Gallery, New York; Ludwig Museum of Contemporary Art, Budapest; Gallery; EAST International, Norwich; and Royal Academy Summer Exhibition, London. One of his works is in the Arts Council England Collection.
Fong's current works focus on the subject of mental health. They comprise cyanotype prints inspired by an archive of glass plate negatives of portraits of patients in a cluster of mental asylums in Epsom, Surrey – specifically those who were given pauper burials in the nearby Horton Cemetery. The cemetery is now an abandoned and derelict site, overgrown with trees, ivy and brambles, and where all headstones have been removed.
Inspired by the thought that their decomposed bodies have become part of the soil below and the vegetal growth above, the cyanotype prints are toned (dyed) with extracts of ivy leaves foraged from the Cemetery site.
The works offer remembrance and re-visioning of these abandoned and long forgotten patients, who underwent untold experiences in the asylums.
Access information
The Bow Arts Trust courtyard room has step-free access throughout from street level, including to the accessible toilet, and is service animal friendly. This venue does not have a hearing loop system. Accessible parking is not available on-site but blue badge parking can be found 500m away on Fairfield Road.
If you have any questions regarding accessibility at this venue or event, would like to make us aware of any access requirements that you have in advance of visiting, or would like this information in an alternate format including Easy Read, please email nunnery@bowarts.com or call 020 8980 7774 (Ext. 3)
Access requirements could include things like providing equipment, services or support (e.g. information in Easy Read, speech to text software, additional 1:1 support), adjusting workshop timings (e.g. more break times), adjustments to the event space (e.g. making sure you have a table near the entrance) or anything else you can think of!
Transport Information
Opening hours: Mon-Friday, 9am to 5pm
Address: Bow Arts Trust, 183 Bow Road, London, E3 2SJ
Nearest station(s): Bow Road (District and Hammersmith and City lines) is a 6-minute walk away, and Bow Church (DLR) is a 3-minute walk away.
Bus: 205, 25, 425, A8, D8, 108, 276, 488 and 8 all service the surrounding area.
Bike: Bicycle parking is located at Bow Church Station. The nearest Santander Cycles docking station is at Bow Church Station.