Thursday 28th September 2023 , 6:00pm to 8:00pm
Join Pamenar Press at the Nunnery Cafe for the launch of 'a disgusting lie' by Fran Lock, accompanied by readings from Jennifer Cooke and Lotte L.S.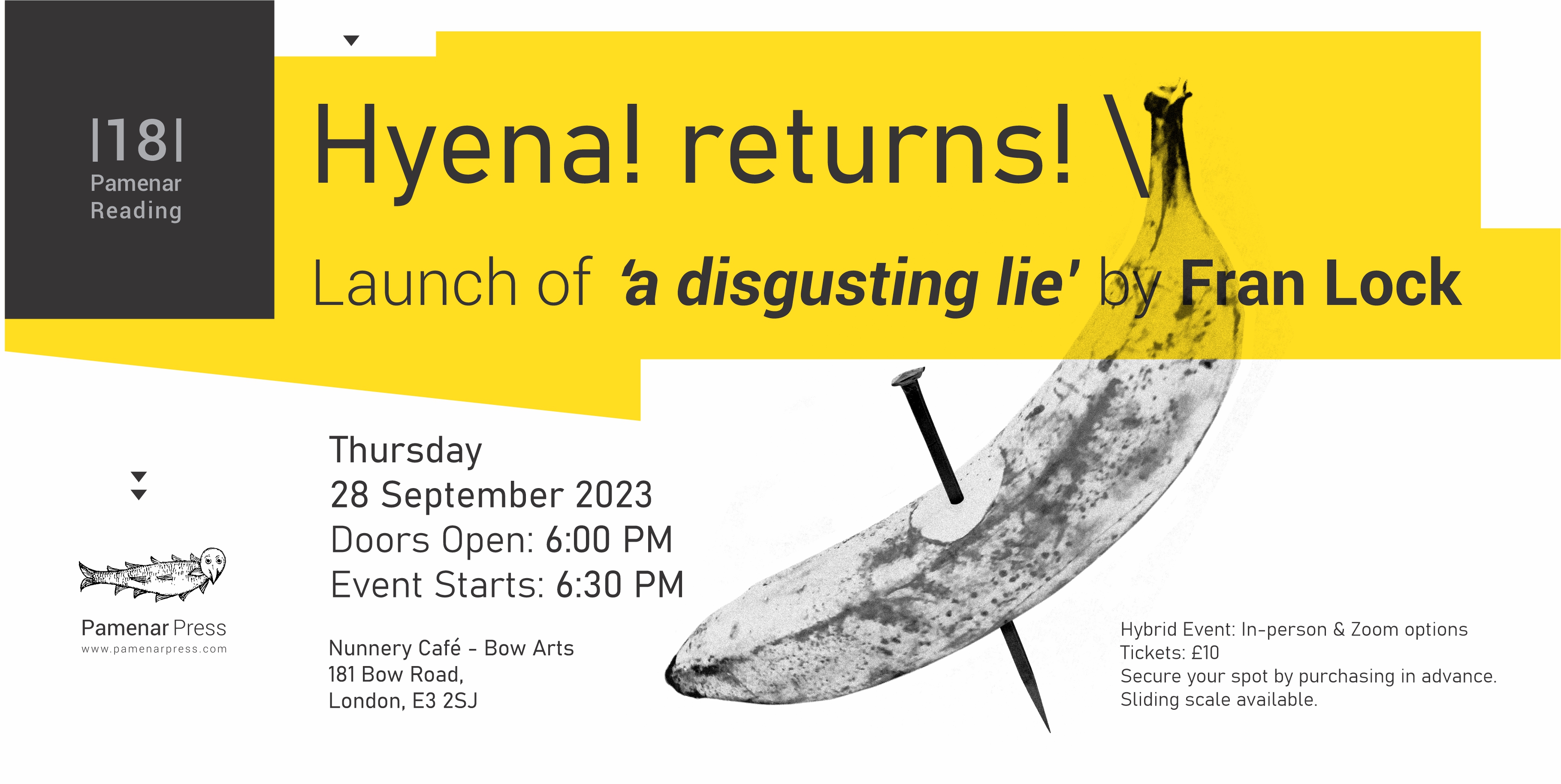 Pamenar Press reading #18 returns to the Nunnery Cafe!
Join us! for the incredible lineup of Fran Lock, Jennifer Cooke, Ágnes Lehóczky and Lotte L.S. We're thrilled to unveil the latest works: Fran Lock's 'a disgusting lie' and Lotte L.S.'s This Energy Wasted By Flight, both recently published by Pamenar Press.
A sliding scale is available for the tickets. Please contact Pamenar Press directly at info@pamenarpress.com
"If Hyena! Jackal! Dog! (2021) tendered a feral poetics through the lens of therianthropy, then 'a disgusting lie' is concerned with animality in its most abject and excessive forms. Hyena! returns, but changed, not merely beastly, but monstrous: physically, psychically, morally, and politically."

Ellen Dillon
The Nunnery Cafe will be selling a range of drinks and snacks throughout the evening – swing by, bring your friends, and grab a drink!
About Fran Lock
Fran Lock is the newly appointed Judith E. Wilson Poetry Fellow at Cambridge University for 2022-23, currently exploring feral subjectivity through the lens of the Cambridge University Library Bestiary. She is the author of numerous chapbooks and ten poetry collections. Her most recent chapbook is Forever Alive (Dare-Gale Press, 2022), and her most recent collections are Hyena! Jackal! Dog! (Pamenar Press, 2021), White/ Other (87 Press, 2022), which was a Poetry Book Society Recommendation, and Hyena! Hyena! (Poetry Bus Press, 2022). A collection of essays on the subject of the feral will be forthcoming from Out-Spoken Press in 2023. Fran is an Associate Editor at Culture Matters, and member of the new Editorial Advisory Board for the Journal of British and Irish Innovative Poetry. She edits the Soul Food column for Communist Review. She currently pinballs between Cambridge and Kent with her beloved pit bull and eternal muse, Manny.
About Jennifer Cooke
Jennifer Cooke is a London-based poet and Reader in Contemporary Literature and Theory at Loughborough University, UK. Her poetry can be found online, in print, and in anthologies such as Out of Everywhere 2: Linguistically Innovative Poetry by Women in the US and the UK, ed. Emily Critchley (Reality Street, 2015). She is the author of Apocalypse Dreams (Sad Press, 2015) and *Not Suitable for Domestic Sublimation (Contraband Books, 2010). Her academic work also engages with contemporary poetry, most recently by Andrea Brady, Rob Halpern, Vanessa Place, and Sophie Robinson.
About Lotte L.S.
Lotte L.S. is a poet living in the town of Great Yarmouth, England. Her writing includes a pamphlet with Tripwire, titled, A town, three cities, a fig, a riot, two blue hyacinths, three beginnings, five letters, a "death", two solitudes, façades, four loose dogs, a doppelgänger, a likeness, three airport floors, thirty-six weeks…; translations of the Moroccan poet and Marxist feminist Saïda Menebhi, who died on hunger strike in prison in 1977, with See Red Press; and shorter self-published pamphlets of poetry such as untitled (Iceland), and TWELVE DAYS OF 21st CENTURY RAIN. From 2020, she ran the poetry reading series no relevance in Great Yarmouth, and founded red herring press, to print, publish and distribute local writing in the town.
Access information 
The Nunnery Café has step-free access throughout from street level, including to the accessible toilet, and is service animal friendly. This venue does not have a hearing loop system. Accessible parking is not available on-site but blue badge parking can be found 500m away on Fairfield Road.
If you have any questions regarding accessibility at this event or would like to make us aware of any access requirements that you have in advance of attending, please email nunnery@bowarts.com
Access requirements could include things like providing equipment, services or support (e.g. information in Easy Read, speech to text software, additional 1:1 support), adjusting workshop timings (e.g. more break times), adjustments to the event space (e.g. making sure you have a table near the entrance) or anything else you can think of!
Transport Information 
Opening hours: Mon-Sat, 9am to 4pm ; Sunday 10am – 4pm
Address: Nunnery Cafe, 181 Bow Road, London, E3 2SJ 
Nearest station(s): Bow Road (District and Hammersmith and City lines) is a 6-minute walk away, and Bow Church (DLR) is a 3-minute walk away. 
Bus: 205, 25, 425, A8, D8, 108, 276, 488 and 8 all service the surrounding area. 
Bike: Bicycle parking is located at Bow Church Station. The nearest Santander Cycles docking station is at Bow Church Station.