Wednesday 18th October 2023 , 6:00pm to 9:00pm
Join us at the Nunnery Gallery for a dazzling, radiant, and ecstatic evening to celebrate the opening of Bow Arts annual Bow Open exhibition, Bring Your Light, guest-curated by Chila Burman.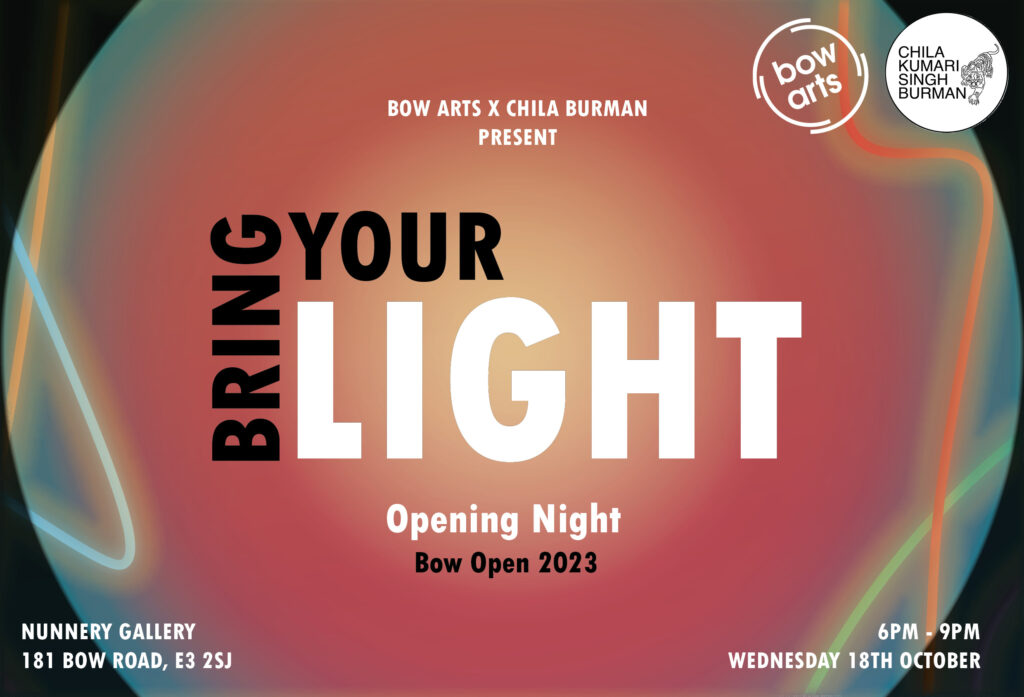 Spanning a wide range of mediums and subject matter, this exhibition featuring 26 artists across Bow Arts' Studios and Artist Educator programme is a joyful, playful, defiant, and insurgent collection of artwork that radiates strength and courage in the face of the everyday.
Curated by artist and activist Chila Burman, notorious for the Tate Britain Winter Commission 2020, and her upcoming collaboration with Palace Skateboards, the exhibition encourages viewers to think about the nuances of Chila's provocation to 'Bring Your Light', and recontextualise what it is we offer to our community.
The opening night is a chance to explore the Nunnery Gallery after hours and be part of our community of wonderful artists. Join us to revel in the atmosphere!
The Nunnery Cafe will be selling a range of drinks and snacks throughout the evening – swing by, bring your friends, and grab a drink!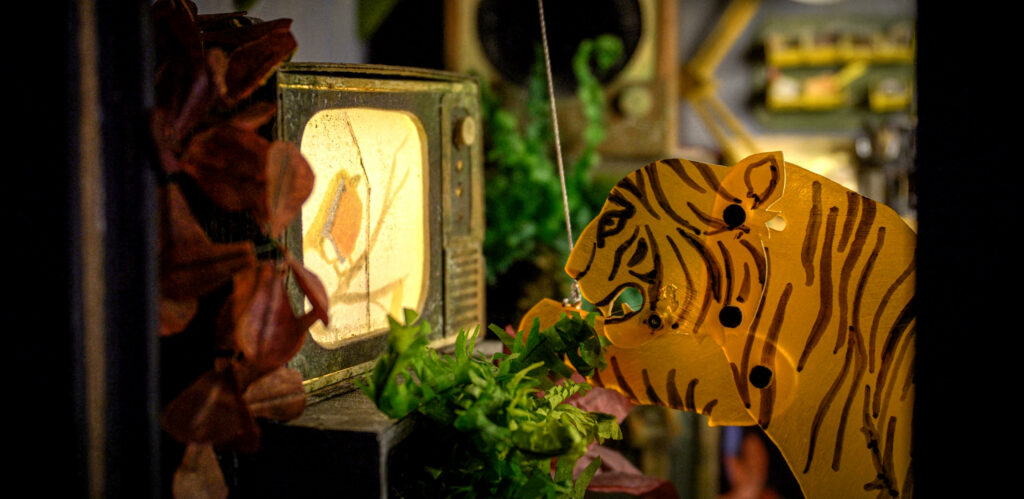 Free
Drop in – no booking or RSVP required!
More about the Bow Open
Every year, a different guest curator is invited to select the work, giving each exhibition a unique and distinct perspective. Events accompany the exhibition, with chances to take part in hands-on workshops with artists and curator-led discussions. A staple of the Nunnery Gallery programme, it is the only exhibition in the space dedicated solely to the presentation of Bow Arts members.
Previous curators have included Alex Chinneck, Leyla Reynolds for gal-dem, Anj Smith, artist collective Baesianz, Bob and Roberta Smith with Skye Sherwin, Mark Wallinger and Carey Young.
About Chila Burman
Chila Kumari Singh Burman has a widely recognised, unique visual identity. Born and raised within the Punjabi Hindu culture of her parents, Chila's upbringing has shaped her practice and experience of the world, and is one of the key reasons why her works have come to speak to several generations of young multicultural communities in Britain.
For over 13  years, she has served as a trustee on the board of Rich Mix, a charity celebrating the diversity of London through an aspiring program of contemporary culture.

Chila Burman's practice is devoted to challenging stereotypes and placing alternative perspectives of Britishness at the forefront of art history. Her works reach global audiences. She has exhibited widely in both solo and group shows nationally and internationally, and represented Britain at the Havana Biennale in 1996. A number of her works and film pieces are represented in museums and notable public institutions such as the British Council, Victoria and Albert Museum, BFI, Wellcome Collection, Science Museum and Tate.
@chilaburman | website
Access information 
The Nunnery Gallery has step-free access throughout from street level, including to the accessible toilet, and is service animal friendly. This venue does not have a hearing loop system. Accessible parking is not available on-site but blue badge parking can be found 500m away on Fairfield Road.
If you have any questions regarding accessibility at this event or would like to make us aware of any access requirements that you have in advance of attending, please email nunnery@bowarts.com
Access requirements could include things like providing equipment, services or support (e.g. information in Easy Read, speech to text software, additional 1:1 support), adjusting workshop timings (e.g. more break times), adjustments to the event space (e.g. making sure you have a table near the entrance) or anything else you can think of!
Transport Information 

Address: Nunnery Gallery, 181 Bow Road, London, E3 2SJ 
Nearest station(s): Bow Road (District and Hammersmith and City lines) is a 6-minute walk away, and Bow Church (DLR) is a 3-minute walk away. 
Bus: 205, 25, 425, A8, D8, 108, 276, 488 and 8 all service the surrounding area. 
Bike: Bicycle parking is located at Bow Church Station. The nearest Santander Cycles docking station is at Bow Church Station.