Sunday 25th June 2023 , 11:00am to 1:00pm
Our bags and backpacks often reflect our personal journeys and travels. Join mixed-media artist Woo Jin Joo as we stitch our stories and memories onto small 2D fabric bags to bring along to your next adventure.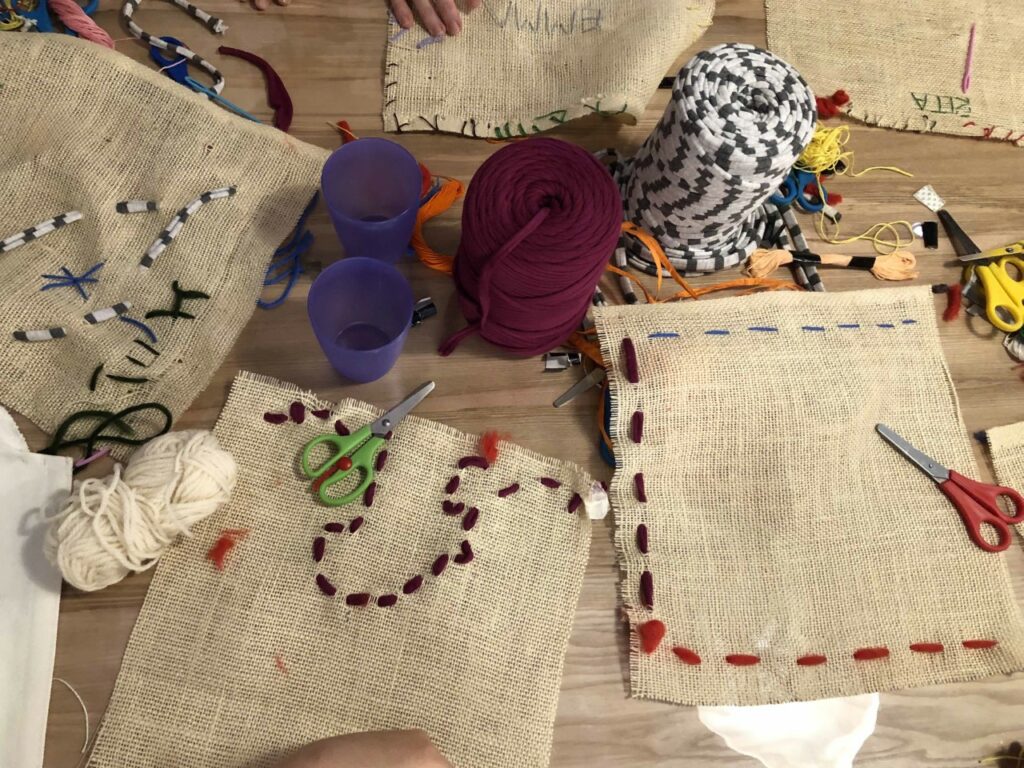 Whether it's moving to a different place, travelling in our local area, or making our way to school, the things we bring with us on our journeys represent who we are and what matters to us.
Using simple 2D templates of different shaped bags made out of hessian as their starting point, children will stitch with plastic needles (safe for younger kids too!) and use other decorative materials to imprint and embellish their bags, tracing their journeys and travels.
In this workshop, children will learn basic stitching techniques, how to layer materials on top of each other, composition and design.
This event is an inclusive, friendly environment which is accessible to all abilities and age groups.
Bow Families is a series of free, drop-in family art workshops that take place on the last Sunday of every month in the Bow Arts Courtyard. These sessions are a wonderful opportunity for local families to get creative and try something new! Each session is led by a Bow Arts' Artist and all materials are provided.
Free
Drop in event – no booking required!
More about Woo Jin Joo
Woo Jin is a mixed-media artist specialising in soft sculpture. Taking cues from traditional East Asian folklore, mysticism and mythology, Woo Jin's explores ways of re-enchanting stories around the everyday and mundane. Mediating on the value humans endow objects in our current materialist and consumerist society, Woo Jin playfully postulates a new way of living, being and learning from objects – one that is more caring and lasting. In her work, she subverts the more traditional, gently-spoken character of soft sculpture and textile, instead using them as conduits and means of engaging in the discourse around climate justice, capitalism, and more generative ways of living.
Taking found objects that are often overlooked, unnoticed and disposable, Woo Jin stitches and embellishes, working into and onto them in a radical act of transformation that imbues her objects with their own character and voice. Through her enchanting mystical creatures, she gently encourages us to reframe our thinking around the multitude of associations that everyday objects hold.
Woo Jin is originally from Seoul, Korea, she moved to London in 2014 to complete a BA in Textiles at Central Saint Martins and continued her studies with an MA in Textiles at the Royal College of Art. She recently won the Janome Fine Art Textiles prize, Elephant Trust Fund, and was shortlisted for Hari Art Prize and East London Art Prize. 
Access information
The Bow Arts Trust courtyard has step-free access throughout from street level, including to the accessible toilet, and is service animal friendly. This venue does not have a hearing loop system. Accessible parking is not available on-site but blue badge parking can be found 500m away on Fairfield Road.    
If you have any questions regarding accessibility at this venue or event, would like to make us aware of any access requirements that you have in advance of visiting, or would like this information in an alternate format including Easy Read, please email nunnery@bowarts.com or call 020 8980 7774 (Ext. 3)
Access requirements could include things like providing equipment, services or support (e.g. information in Easy Read, speech to text software, additional 1:1 support), adjusting workshop timings (e.g. more break times), adjustments to the event space (e.g. making sure you have a table near the entrance) or anything else you can think of!
Transport Information
Opening hours: Mon-Friday, 9am to 5pm
Address: Bow Arts Trust, 183 Bow Road, London, E3 2SJ
Nearest station(s): Bow Road (District and Hammersmith and City lines) is a 6-minute walk away, and Bow Church (DLR) is a 3-minute walk away.
Bus: 205, 25, 425, A8, D8, 108, 276, 488 and 8 all service the surrounding area.
Bike: Bicycle parking is located at Bow Church Station. The nearest Santander Cycles docking station is at Bow Church Station.