Thursday 21st September 2023 – Saturday 23rd September 2023 , 6:00pm to 4:00pm
Local practitioners and V&A East invite you to reflect on what 'reimagining tradition' means to you as an artist and within the context your own creative practice, in this practical, two-part workshop around subverting and reframing traditional making techniques through a contemporary lens. 
This is a two part event taking place from 6-8pm, Thursday 21 Sept and 10am-4pm, Saturday 23 Sept.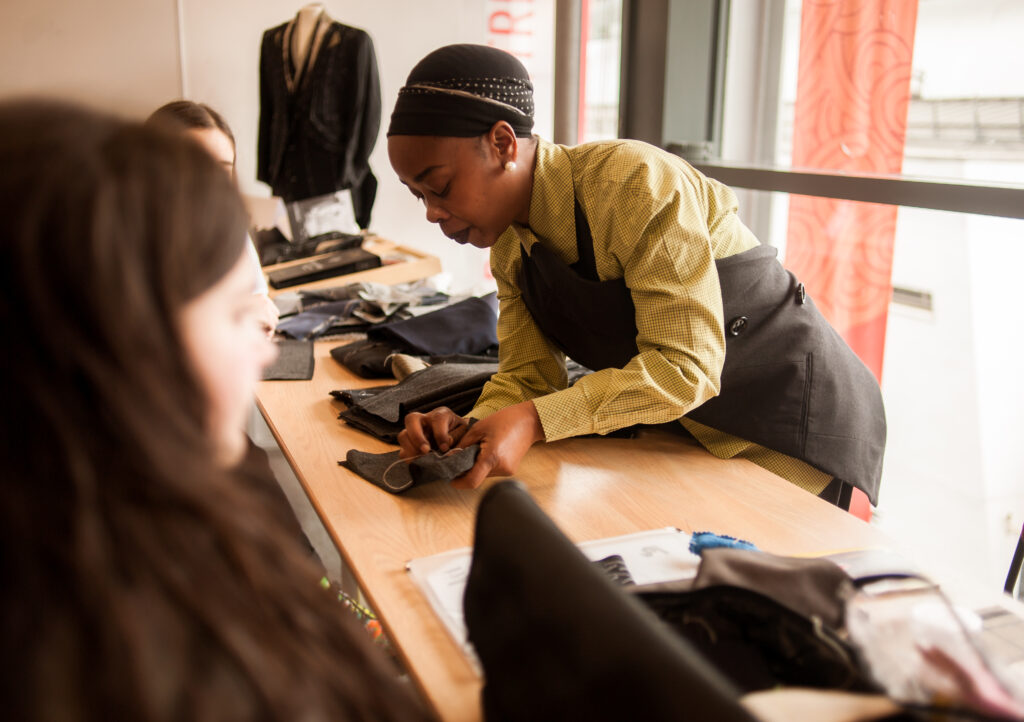 We call on all innovative artists and practitioners to come together over two days to collaborate, experiment, and agitate towards new models of contemporary design, in partnership with established contemporary and traditional designers as part of V&A East's 'Reimagining Tradition' event series.
You will work closely with both a contemporary artist and a traditional practitioner who work within similar artistic mediums, but innovate from different perspectives. You will get hands-on experience making and crafting to produce your own individual creative responses to themes around the transformative nature of design practice and how we can honour and nod to established traditions, whilst challenging contemporary narratives and mapping out radical artistic approaches to craft and making.
For this iteration of the series, across two days, you will be introduced to painter Aaron Rigal's take on traditional oil painting practice and artist Jasmin Jahmeelah's digital painting practice rooted in their writing and poetry. Rigal and Jahmeelah will encourage you to engage with the technical, compositional, and holistic elements of both of their work, before opening up the floor for you to either build upon already existing / unfinished work or produce an entirely new piece altogether. In two parts, you will explore imagery and inspiration for content and then delve into a more focused mark making aspect of painting.
All materials are provided, no prior direct experience is necessary!
This is a two-part event taking place in our courtyard room at our main site at Bow Arts Trust, 183 Bow Road, London, E3 2SJ. If you sign up, you must be available to attend both parts. The first part of the event will take place from 6-8pm on Thursday 21 September, followed by the second part from 10am-4pm on Saturday 23 September.
Free
Tickets must be booked to guarantee your place!
More about Jasmin Jahmeelah
Typically working digitally, Jasmin explores the translation of black identity, afro surrealism, womanhood and spirituality stemming from her Black, Caribbean heritage into paintings. Her poetry often informs the way in which she visually explores narration to make the viewer simultaneously find a semblance of peace but question their own experience.
More about Aaron Rigal
Aaron's practice consists mainly of oil painting and material experimentation. His paintings start off as rudimentary abstract collages, fragments of images created through trial and error. From there, he begins to deconstruct and refine the nebulous imagery, and attempt to adorn it with meaningful interpretation through a range of painting techniques. In a sense, his work is driven by a need to replicate what happens by chance, struggling to create textures that are innate to the aesthetic of technology, representing things in fragmented and random ways to create unintended perceptions experienced by the observer.
More about V&A East
One of the UK's most significant new museum projects V&A East celebrates global creativity and builds on the V&A's long-standing heritage in east London and founding mission to make the arts accessible to all. Currently under construction in Stratford's Queen Elizabeth Olympic Park, V&A East encompasses two new sites – V&A East Storehouse opening at Here East in 2024, and V&A East Museum opening on Stratford Waterfront in 2025. V&A East is committed to creating opportunities for young people and fostering the next generation of creatives. Across its two sites, V&A East will celebrate making, highlight under-represented movements and voices, advance cultural conversations, and support the creation of new work, with its collections and buildings acting as a catalyst and studio space to platform new ideas.
V&A East is part of East Bank, the Mayor of London's Olympic legacy project, which will create a new arts, innovation and education hub in Stratford's Queen Elizabeth Olympic Park.
Access information
The Bow Arts Trust courtyard and courtyard room have step-free access throughout from street level, including to the accessible toilet, and is service animal friendly. This venue does not have a hearing loop system. Accessible parking is not available on-site but blue badge parking can be found 500m away on Fairfield Road.
If you have any questions regarding accessibility at this event or would like to make us aware of any access requirements that you have in advance of attending, please email us on nunnery@bowarts.com
Access requirements could include things like providing equipment, services or support (e.g. information in Easy Read, speech to text software, additional 1:1 support), adjusting workshop timings (e.g. more break times), adjustments to the event space (e.g. making sure you have a table near the entrance) or anything else you can think of!
About the East London Art Prize Events programme
The East London Art Prize events programme is a dynamic, free public programme open to all, which builds on the Prize's ethos of providing ongoing support, development, and networking opportunities for artists in east London and beyond.
Featuring a constellation of workshops, talks, panels, lates, socials, labs, walks, and takeovers in collaboration with our Prize partners and featuring some familiar faces from our inaugural shortlist of 12 fantastic artists, this year's events programme celebrates and pays homage to the huge abundance of talent and creativity nestled in east London.
These events have been developed in collaboration with our Prize partners the British Council, The Line, London College of Fashion (LCF), London Legacy Development Corporation, University College London (UCL), V&A East, Whitechapel Art Gallery, and Dulux.
Find out more about the wider events programme here.
More about the East London Art Prize
The East London Art Prize is an all-media art prize designed to showcase the talent of artists working and living in east London, with an accompanying event programme supporting artists' careers and opportunities. The Prize is generously funded by Minerva and Prue MacLeod. Find out more on the Prize webpage here.