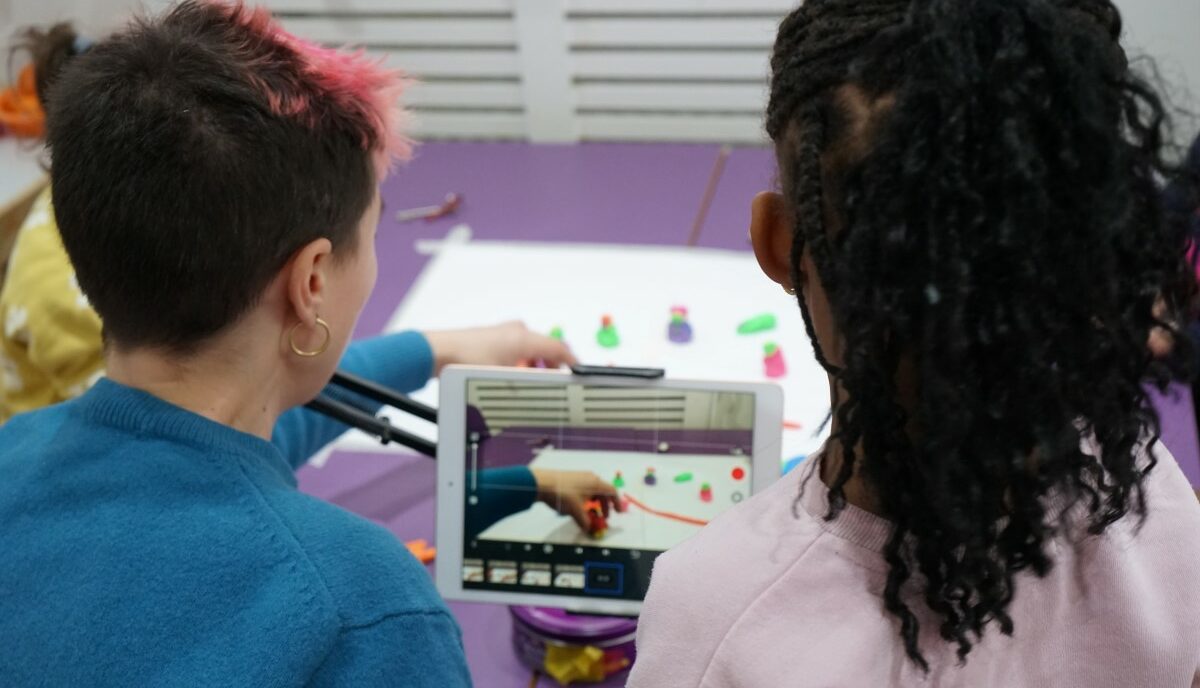 Bow Arts Learning spoke to artist educator Lily Ash Sakula about their experience working with two nurseries in Barking and Dagenham on our Early Years creativity project.
From January-March 2023, Bow Arts Learning worked with 10 nurseries in Barking and Dagenham to create engaging workshops for children focusing on creative play for a project commissioned by London Borough of Barking and Dagenham Early Years Team.
This project saw Bow Arts artist educators use the book: 'My World, Your World' by children's book author Melanie Walsh as a starting point to develop workshops, encouraging the children to learn to be aware of themselves and others, as well as celebrate their individuality and backgrounds – a common theme in Melanie Walsh's books. These workshops provided a live CPD for the nursery practitioners, who could observe and learn from the artists. To help impact the nurseries in the long-term, Bow Arts Learning are creating a resource for the 50 other nurseries in the borough.
Bow Arts Educator Lily Ash Sakula created three workshops as part of this project. They marbled paper inspired by the colours on different saris, made mobiles out of chopsticks, and buillt dens using light and shadow.
We asked Lily about their experience working on the Early Years Foundation Stage Project:
Hello Lily, tell us about yourself?
My name is Lily Ash Sakula. I am a trans non-binary artist, animator and educator based in Deptford, South East London.
Nice to meet you, how would you describe your arts practice?
I work through animation, illustration and sensory exploration to make collaborative work that links different generations and communities, creating space for chaotic fertility and collective brilliance. I capture instances of joy, flashes of excitement and glimpses of practical utopias. I seek through my work to be an active practitioner of radical hope.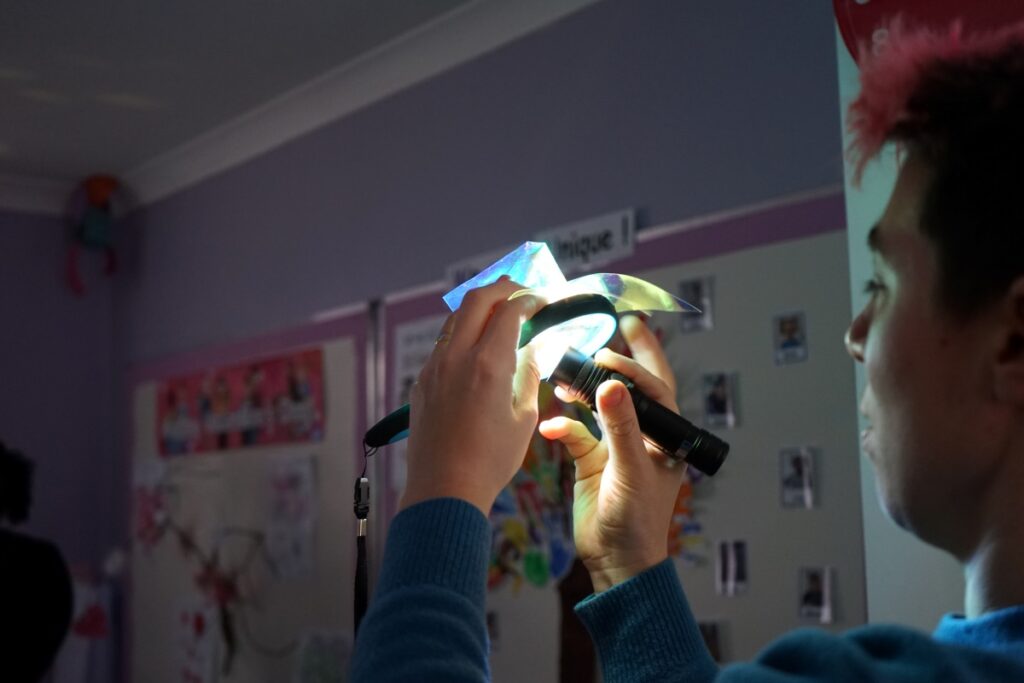 Wow, that sounds exciting, I like the idea of capturing joy. Can you tell us how that relates to your work in schools?
My work is primarily collaborative, and I learn a lot from working with a wide variety of young people and seeing where they go with the materials and prompts I bring. An opportunity to bring something chaotic and exploratory into the sometimes rigid parameters of classroom brings a playfulness to my practice that can be hard to hold onto in the fast-moving world of the freelance hustle.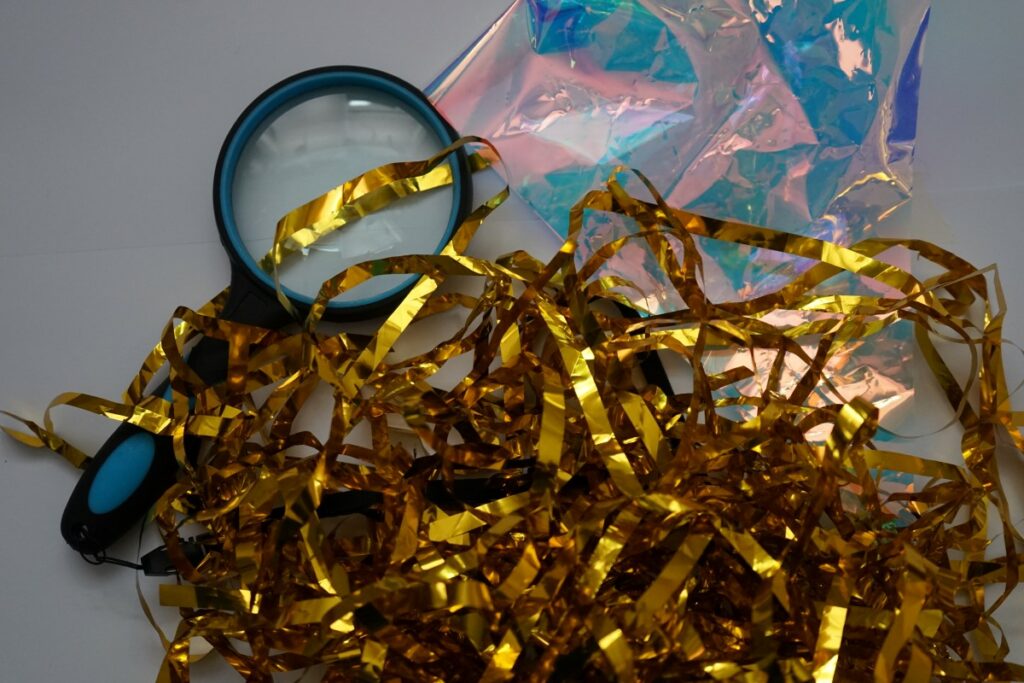 I like that playfulness is a part of your practice. This must be a nice theme to work with, especially with young children. How did you go about creating your workshop for the nurseries?
The open brief, to create workshops that were sensory and exploratory around a very loose theme of difference and sameness, was a great playing ground. I wanted to include lots of the different materials encountered in the book "My World, Your World" so I worked with textiles, food, and light. And from fairly basic materials, created a space for expansive storytelling and movement that could stretch between the different activities.
Sounds like a fun sensory experience for the children. What did you learn from this project?
I learned a lot from this project. Every nursery runs their sessions differently, and within that every child needs something different from each other– so the major thing to remember when working with nursery age children is flexibility, and an ability to improvise and go with the flow. Sometimes an activity goes nothing like you planned it, and that's exciting!
'A child that rarely engages with anything creative was actively involved towards the end of the session …a major success!'

Teacher, Early Years Foundation Project feedback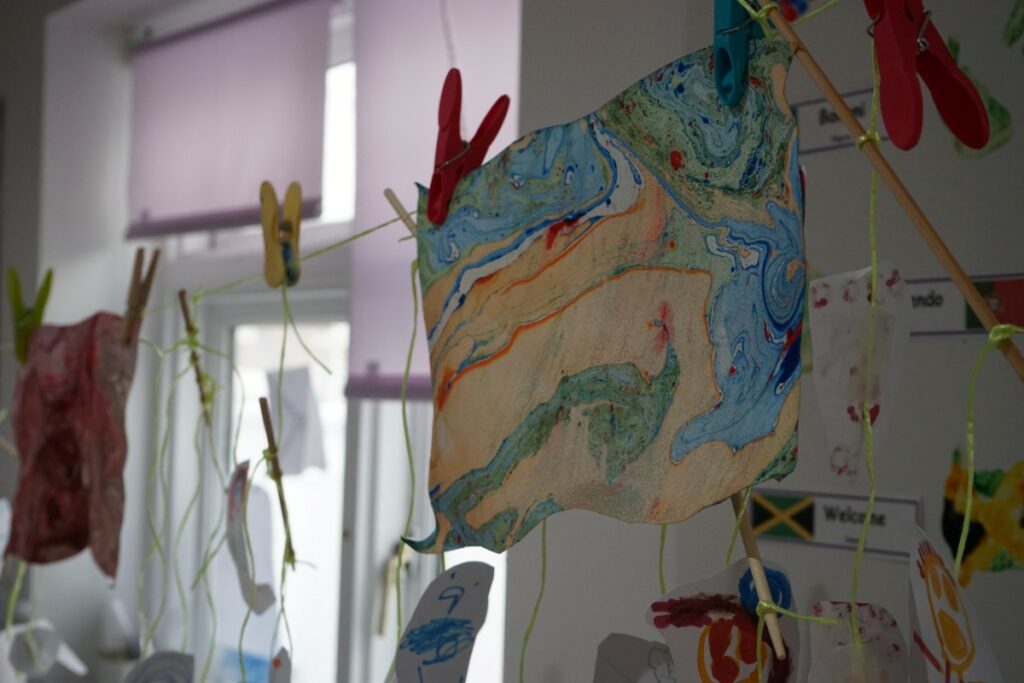 Yes, completely agree! Being spontaneous is exciting. How did you go about teaching the nursery practitioners and, now that the project has ended, creating a resource for them?
Using materials that teachers will be able to get hold of easily, and modelling to the teachers how I interacted with the children was the most important. A lot of teachers said things like – oh I hadn't thought of using things in that way. Perhaps it's more a question of approach than the activities themselves.
Awesome. Thank you for this insight. What are you working on now?
I'm working on quite a few projects I'm excited about:
Animating a live background for a children's wrestling show
Illustrating a series of children's writing anthologies for the Ministry of Stories
Working with artist Georgia Akbar on the next phase of Magic Moments – our research project on sensory connections in care homes with people with late-stage dementia.
Starting as a Community Illustrator at the Quentin Blake Centre working with young families to co-design accessible heritage for the new museum when it opens in 2025.
END
Lily Ash Sakula is a trans non-binary artist, animator and educator living in Deptford, London. They make collaborative animated films that seek to link different generations and communities, creating spaces in which they take their lead from participants' ideas and processes. They want to create imaginative space for a world without borders, without prisons, without gender. Lily runs participatory projects in schools, museums, galleries and theatres working with a wide range of ages and backgrounds. Recent partners have included: Meet me at the Albany, Camden Arts Centre, House of Illustration, Watts Gallery, Alexandra Palace, Create, Carers Lewisham, John Chilton School, Galop, Queer Youth Art Collective, Project Indigo and Ministry of Stories. Lily is interested in capturing joy and freedom through movement, creating magical spaces in which social norms can be broken, and seek through their work to be an active practitioner of radical hope.
Bow Arts Learning works collaboratively with schools to create bespoke projects that meet the needs of students, making arts learning accessible and inclusive. Our programme creates impactful learning experiences that improve attainment, confidence and wellbeing for all students.