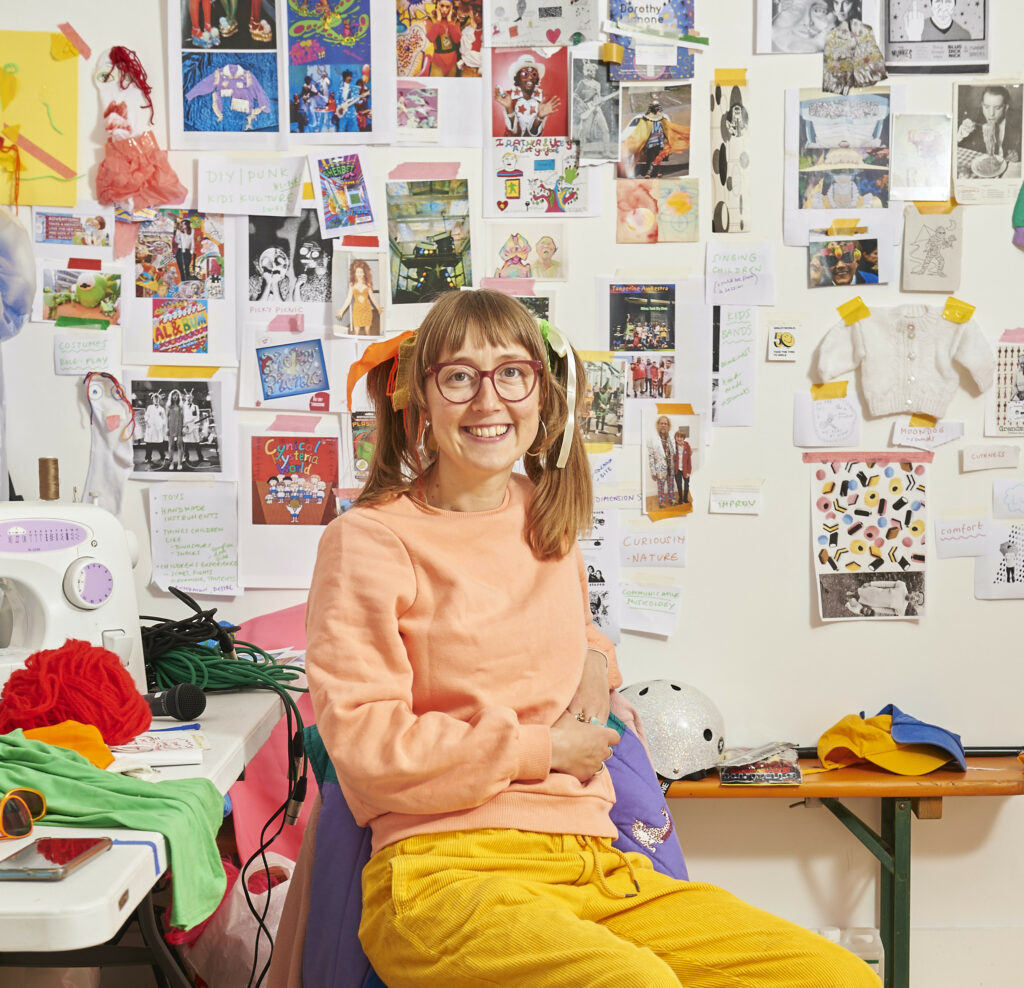 Meet the artist in residency at the Children and Young CYP Studio, in partnership with Bow Arts, TACO and East Children's Centres.
Between July and December 2022, artist and educator Jenny Pengilly worked with early years children (2-5yrs) and their families from Abbey Wood and Thamesmead to develop a co-produced publication that documented their lived experience. 

Commissioned and Produced by TACO!, in partnership with Bow Arts and Better Children's Centres Abbey Wood and Thamesmead, Jenny was in residence at Bow Arts Lakeside Centre, collaborating with children onsite at the children's centres. The residency aimed at engaging early years children and their families in the co-production of a publication (be that a book, a radio programme, a film!), led and determined by them. 

As part of her research Jenny produced a series of radio programmes on RTM.FM exploring experimental music in relation to childhood, children's learning, culture and experience. Check out Experimental Tunes and Children here.
We caught up with Jenny about her residency and her work as an artist. Read the interview in full below:
What are you working on at the moment?
JP: I'm currently the Children and Young CYP Studio Resident in partnership with Bow Arts, TACO and East Children's Centres so I'm working with 2-5yrs and their families to develop a publication of some kind. TACO hosts RTM radio so I've been making a radio show exploring experimental music and childhood, children's culture, learning and experience. These have been a great starting point to think through what activity sessions I'll be running with children and families at the centres as they've brought up lots of interesting themes for me to work with. I'm coming to the end of the residency so I have a couple of recording and making sessions and then it's focusing more on what the final outcome will be. At the moment it looks set to me some sort of album with a game element that plays with sound and image and maybe hopefully some sort of sound recording device or booth in the children centres.
What's the drive/motivation behind your work?
JP: People are my main motivation for making art. I find it exciting to observe and plan for the different ways people learn and engage with materials and ideas and finding ways to expand on this to make something, whether that's an event or objects. I love colour, weird ideas and sensory materials and find a lot of inspiration from plants and animals, comics, cartoons, music and physical activity like roller skating and dancing.
"Since studying a Masters in Art and Design in education and working as a museum and gallery educator I've witnessed how art can provide the opportunity for people to learn how to follow their instincts, play and ultimately experience joy and share that with others. This has led to read more about subcultures and collective joy and think about ways I can support and cultivate these through art events, parties, and workshops."

Jenny Pengilly
What themes are you interested in?
JP: For the last year I've been listening to lots of music and reading about the art and social scenes and structures surrounding them, especially disco, psychedelia and jazz such as Sun Ra and Don and Cherry's nomadic Organic Music Society. I think this has come out of my interest in joy, social networks and the need for alternatives and actions against the current neoliberal attitudes that dictate so much at the moment.
Who are your artistic influences/inspirations?
JP: I have many but in the last couple of years I've particularly been inspired by Niki de San Phalle's drawings, sculptures and letters, Sister Corita Kent, Sun Ra and radical art projects such as Rumpus Room and Red Sunday School in Glasgow. I enjoyed the Stephen Cripps show at Turner Contemporary recently, which satisfied by love of pyrotechnics and the kinetic. I'm mainly inspired by the children I work with though. Just observing them and the way they navigate the world is really exciting to me. For instance in a workshop I ran recently one boy carried a plastic carrot around with him the whole time, while another might spend ages throwing a sheet of tissue paper in the air and watching it fall or arrive, immediately cut a piece of play dough with scissors and throw it in the air shouting ' flying sausage!'. I live with my four year old niece at the moment and our conversations and play has fueled a lot into my work too and it's always more fun making things with her.
How has this residency impacted your practice/what is it you like about this residency programme?
JP: I'd been waiting for an artist residency that offered the chance to work with under 5s and families for ages, as they're in short supply! It's been great working with TACO! as they understand and encourage an experimental process led approach to developing work with people so there's room for mess and uncertainty. Having the opportunity to share ideas and experience with them and the families and the children's centre staff has been so helpful and fun. It's been amazing having such a big studio to spread out and move about in too and access to the huge terrace is such a luxury! Getting to get to know the other artists in the studios and explore Thamesmead has been great too. Cycling around the area feels like an adults playground with all the high walk ways and underpasses. Starting the radio show Experimental Tunes and Children on RTM has been a huge turning point in my work and opened up lots of avenues for working with different groups in the future and helped bring together lots of ideas that I've had bouncing around for years! Finding lots of amazing music made by children has made me feel more confident about making some myself.
What are the challenges you face as an artist/designer/maker?
JP: Finding real uninterrupted time and space for free play and creativity. It's hard, especially in the current ecological, financial and political climate! I can find it difficult to balance everything and choose what to focus on. I guess that's why I find working with others enjoyable as it gives me some structure. If you have a group of people you're working with you have to plan and show up! Being around and making things with people makes me feel good and connected too.
END
Jenny Pengilly is a visual artist working in education and social engagement. Her work predominantly focuses on the medium of the 'art workshop' and the use of affective materials and making to facilitate play, experimentation, collaboration and mutual growth and exchange with children, young people, families, and adults. Jenny is interested in the interactions, conversations, processes and objects that emerge from these sessions and exploring how they could be creatively expanded. Jenny is co-director of El-Warcha, a collaborative art and design collective working with different communities in London to improve their living environments.
https://taco.org.uk/Jenny-Pengilly
https://www.instagram.com/colourcollider/