As you walk down Portway Primary School's long corridors, it's impossible to ignore the yards upon yards of bright and beautiful displays that celebrate the artistic achievements of the pupils in this Newham school. However, at the end of this vibrant walkway sat a stretch of whitewashed wall and two blank, double doors.

These doors open into Portway's very own Royal Albert Hall, the space in which the whole school get together for drama, music and performance. Portway Primary School gave Bow Arts and artist educator Julia Clarke the task of transforming this blank space into a school hall entrance that matched the creative and exciting displays throughout the rest of the building.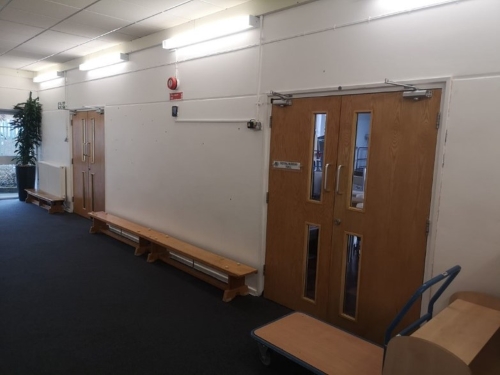 Taking inspiration from the more famous cultural space with which it shares its name, Julia and Bow Arts worked with Year 5 to design and build a decorative entrance to Portway's Royal Albert Hall. An entrance that makes an impressive statement, one that celebrates the school, the students and their successes in and enthusiasm for the arts.
After a conversation with the art lead at Portway to establish the overall aims and desired outcomes of the project, Julia drew up a design proposal for the school's headteacher. After a few adjustments based on the feedback given, the build began in earnest.
"This was an ambitious project, and the outcomes needed to match the quality of the other displays in the school. It really helped that Julia built up a great relationship with Airina, the art lead at Portway."

Bow Arts Project Manager
Over the course of nine days, the whole of Year 5 came in groups of three or four to work closely with Julia in short bursts, on all aspects from modelling wire frames, to layering wet strength tissue paper and painting over once dry.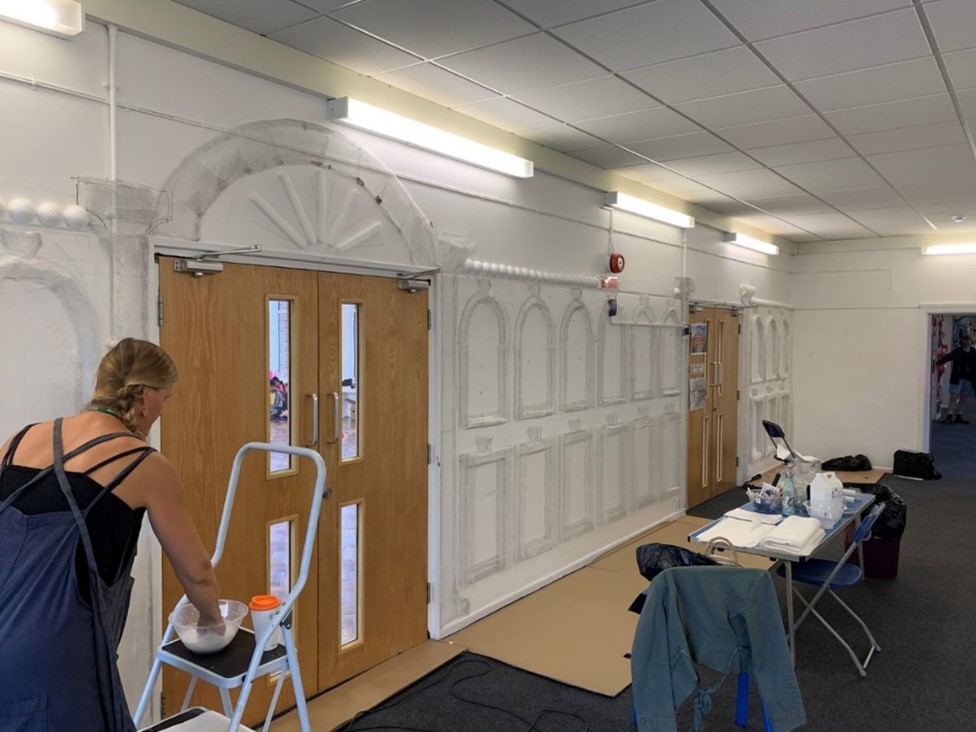 "Super duper pleased with the project!!!!! Well done! It looks fantastic and I really enjoyed working with you!"

School Art Lead
The characters that make up the frieze are a mixture of watercolours and monoprints, an attractive pastiche of the original Royal Albert Hall's iconic mosaic, The Triumph of Arts and Letters.
The images show the students engaging in all manner of artistic pursuits, echoing the activities that will take place behind these doors. These are interlaced with tributes to the local area and London more widely. The designs in the lower windows further champion performance and the arts at Portway. They were added by the following year's Year 5, who took part in an Arts Award Explore project that looked at the work of artists Peter Blake (whose work Appearing at the Royal Albert Hall similarly celebrates those that have performed there), and the striking figures of 2017 Turner Prize winner Lubaina Himid.
 "The children's art works looks fabulous and makes and great addition to our very own Royal Albert Hall! Thank you for your organisation of this successful enrichment opportunity for our pupils!"

Head Teacher