Woolmore Primary School wanted to address the lack of creative play opportunities in their reception playground. The staff were keen to work with an artist to develop an artwork or apparatus that would stimulate creative exploration and play, and be used collaboratively by pupils to develop role play, gross motor, fine motor and sensory skills.
This exciting task was given to Bow Arts and artist educator Kirsti Davies.
Kirsti initially spent time in the school interacting with the reception students, discovering how they liked to play and what might be missing from their outdoor space. She also led a teacher CPD session to encourage feedback from reception staff about what type of artwork would be most beneficial.
"I felt a great sense of trust from the school, in that they were open to exploring and listening to the ideas of all involved – the pupils, teachers and myself. This helped me to create ideas which combined their needs but also reflected my own practice"

Kirsti Davies, Lead Artist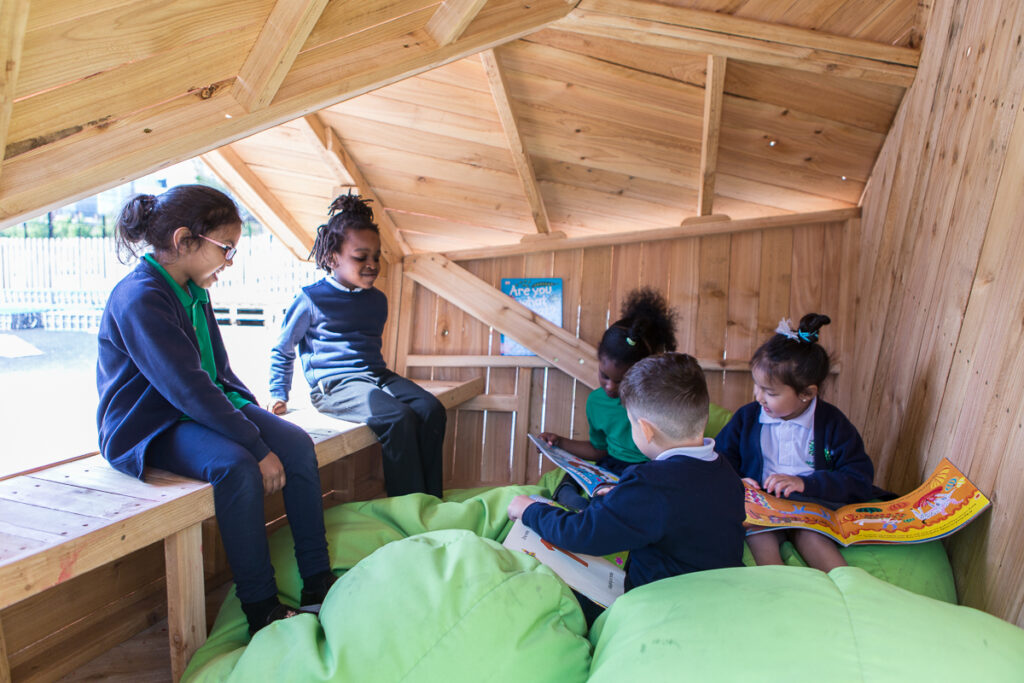 Through a series of workshops, Kirsti encouraged children to experiment and build dens with different materials such as canes, string, fabric and willow, which contrasted to the plastic toys often used in the playground.
The workshops demonstrated the active role children play in facilitating their own creative learning. This showed the importance of producing an apparatus that stimulated imaginative play dictated by the children, which could be enjoyed in multiple ways.
"It has been nice to work on a project where we can really focus on the children's ideas and the children's opinions in creating something for their outside play area. It has also led us to be more creative with materials we have in school"

Art Coordinator 
Kirsti then developed two designs based on her time at Woolmore. The final design was chosen by the reception pupils and the Head teacher. The resulting artwork, called Shelter, was installed onsite, allowing the pupils to see it being constructed.
"It's completely and utterly perfect for both the children and the adults working in the setting. Kirsti met the brief and truly excelled. We are all absolutely delighted with the outcome"

Art Coordinator