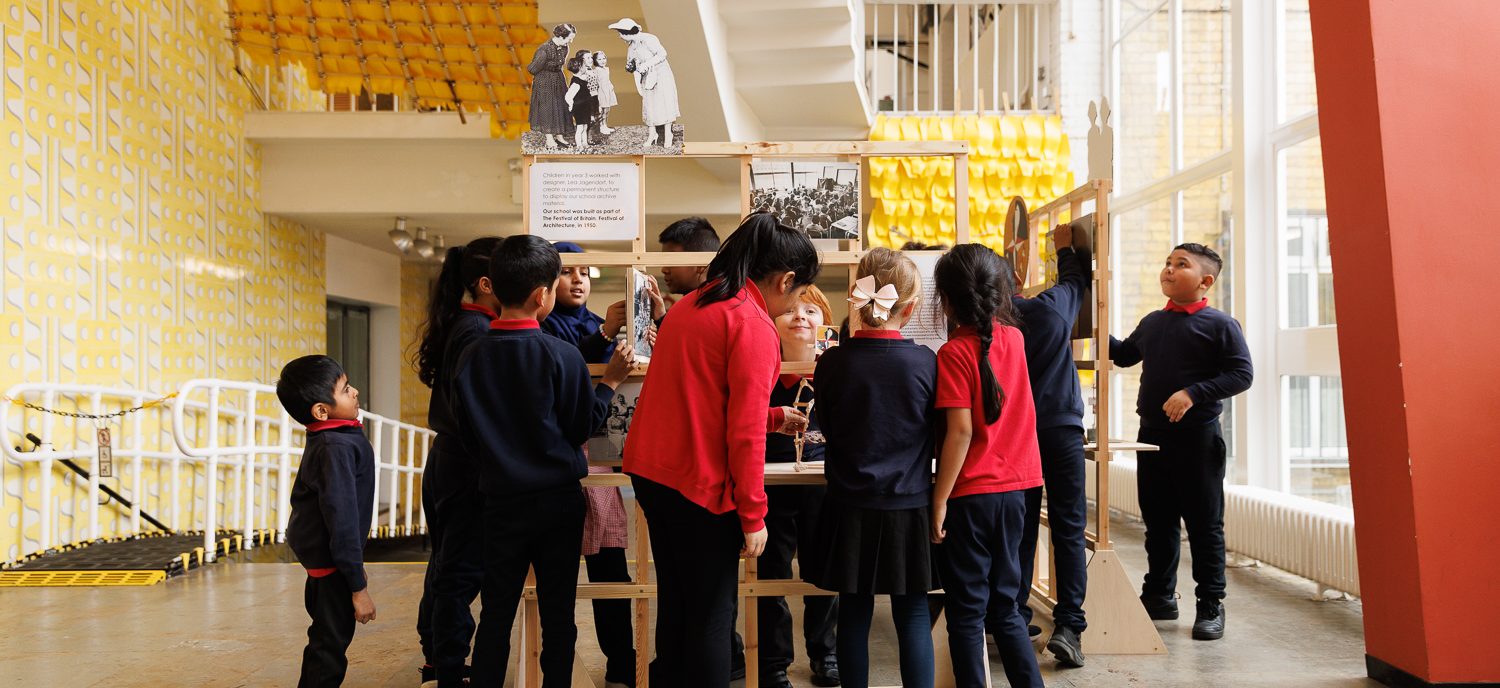 Introduction to the Project
In 2021 Bow Arts embarked on a significant project in response to the social injustices highlighted by recent global events. Funded by the Paul Hamlyn Foundation, we will work in collaboration with schools and artists to explore current issues and barriers that children and young people face.
"It is very good that these issues are being addressed on this scale of project and all ideas and reflections were welcome." – Teacher
Working on this project are five artist educators, all of whom have a social justice based practice and lived experience of the challenges faced by the young people we will be working with.
Over the next two years these partnerships will produce arts-based projects that respond to the specific needs of the students, helping them to engage with and address social justice issues.

Each artist has been partnered with a school until 2023. These schools were selected based on the positive impact this project could have on their student community, the social issues facing their students, and the teachers' belief in the value of arts-based learning.
Over the next two years these partnerships will produce arts-based projects that respond to the specific needs of the students, helping them to engage with and address social justice issues.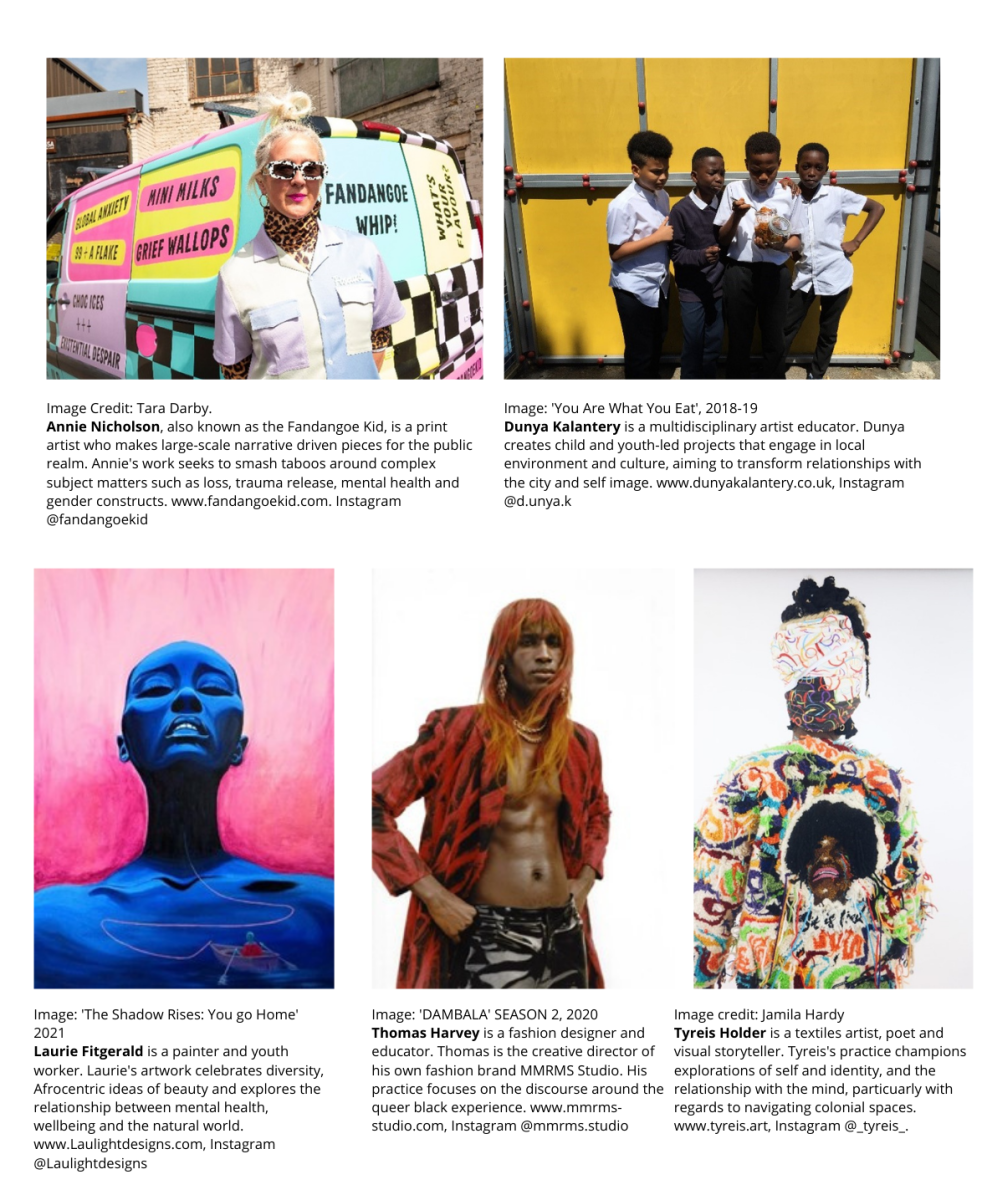 Research & Development Phase
To kick start this exciting project we created a space of sharing and learning, so that we could enter the planning stage in the best possible position to help and support young people.
In Autumn 2021, the lead teachers, artists and Bow Arts staff came together for five research and development days.
These were an important opportunity to utilize and gain from everyone's specific expertise and experience. Teachers explained their school contexts and the social issues facing their young people. Artists shared their practice and how they address social issues in their work.
Teachers brought stories of disengagement, a decline in mental wellbeing and inequalities within schools surrounding race and class. However, they also felt that young people want to engage with these issues and are keen to make a difference.
"I feel I have an increased understanding of the climate in schools from the personal accounts teachers gave of their schools at the moment"

Bow Arts Staff
The research and development days provided a chance for us to learn together. It is vital that we are educated on social justice issues to ensure we can create a safe space for young people to express themselves and their opinions.
"I have already made some adaptations to my own practice."

Teacher
We invited the below external trainers to run sessions on the main issues raised during the school application process; race, mental health and poverty.
Class 13: Anti-Racism and Intersectionality
Class 13 is a charity that works to challenge the systemic inequalities embedded in the Children's and Young People's sector. Their training educated us on the different types of racism and what it means to be anti-racist. It explored the inequalities in the education system, the flaw of the 'attainment gap' and deficit thinking.
Play for Progress: Creativity, Trauma and Self Care
Play for Progress are a charity who work with young refugees and asylum seekers using music and creative therapies to improve mental health, develop skills and build community. This training educated us on the connection between the body and the brain in the context of trauma. The session taught practical creative methods to support young people when they are triggered/flooded by a particular issue.
Children North East: Poverty Proofing
Children North East are a poverty charity aiming to ensure all children in the North East of England grow up happy and healthy. Their training walked us through the realities of poverty in the UK; the causes, consequences and impact on schools. They introduced the concept of 'Poverty Proofing' which supports schools to identify and overcome the barriers to learning that children and young people from families with less financial resources face.
"I found the practical session on movement and trauma very useful… I will bring time for rest into my sessions…and use some of the physical exercises we learnt"

Artist
What's Next?
"I'm looking forward to continuing with the sessions and running workshops with the young people" – Artist
Each school will run a five-day pilot programme, designed and led with their artist educator. This will be followed by a much larger project in the next academic year. The content of the legacy project will be informed by what we learn from the initial pilots this Spring Term.
We are also using this project as an opportunity to learn and share with the creative community and will be producing a research report on the impact of the project.
We are excited to embark on the next steps of this important project and to see how arts-based learning can empower young people to address social injustices in their worlds.