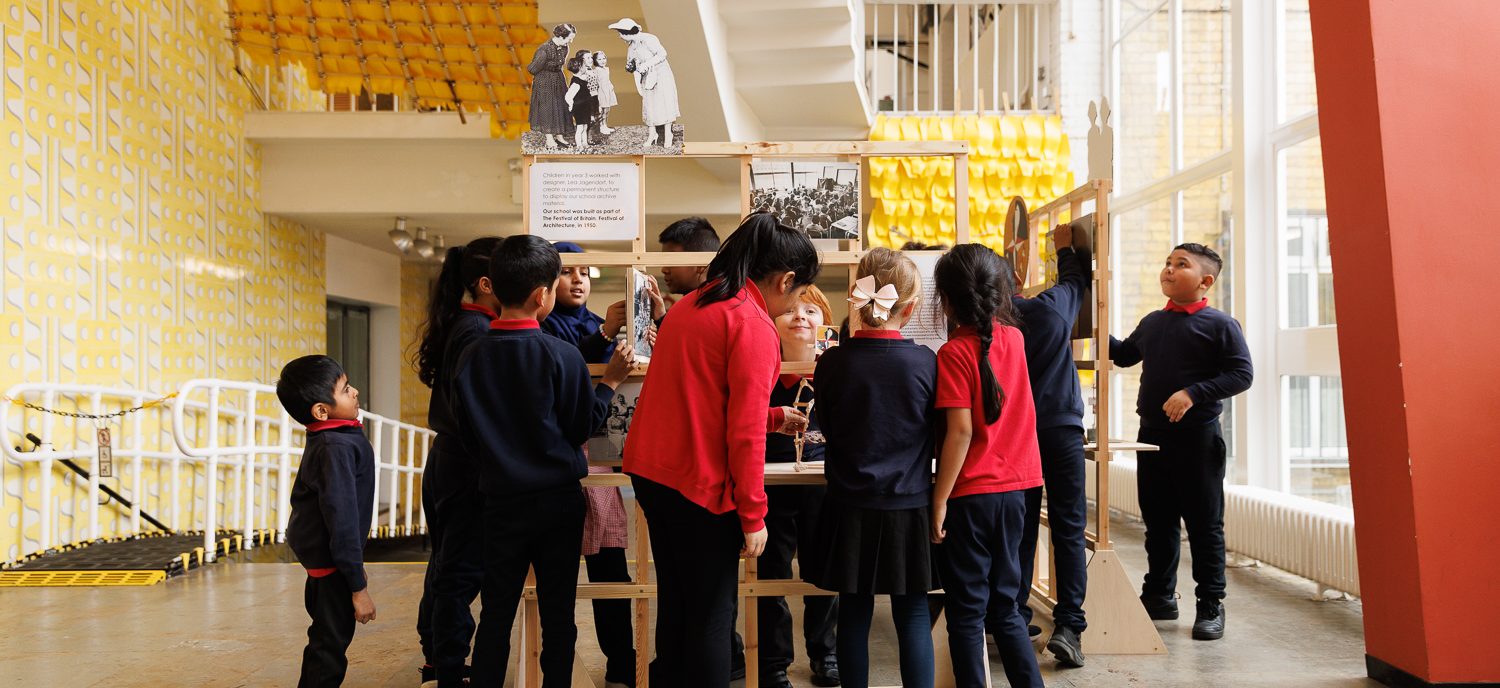 Project Overview
Between 2021-2023, Bow Arts delivered an action-research arts learning project funded by Paul Hamlyn Foundation, centred on the creative exploration of how educators and creative practitioners can use the arts to address ongoing social justice issues affecting children and young people.
Over the course of two academic years, we reached 726 students ranging between 7-15 years old across the boroughs of Hackney, Croydon, Lewisham and Barking & Dagenham, and embedded arts practice in Primary and Secondary schools.
Bespoke arts-learning projects rooted in key issues such as race, identity, mental health, poverty and empathy were collaboratively developed between five schools, and with five Bow Arts artist educators. It was important to us that the selected artist educators had a social justice-based practice and lived experience of the challenges faced by the young people participating.
The critical issues explored during the length of the project were identified during its Research & Development Phase (November – December 2021) where teachers, artists and Bow Arts staff engaged in conversation and learned from one another about the current injustices and barriers pupils were experiencing, and how a variety of creative processes could be used to develop programmes in response to students' needs in each unique school context. This phase included CPD (Continuing Professional Development) workshops for artists and teachers on the topics of trauma, racism and poverty.
Phase I (January – April 2022) included a series of small-scale pilot projects as a starting point for the artists and teachers to begin working together towards the development of their unique lines of enquiry. Phase II (September 2022 – April 2023) saw the delivery of more in-depth projects planned in response to our collective discussions during the first phase of research, as well as findings from the pilot.
Introduction to the Project
"It is very good that these issues are being addressed on this scale of project and all ideas and reflections were welcome." – Teacher
Working on this project are five artist educators, all of whom have a social justice based practice and lived experience of the challenges faced by the young people we will be working with.
Over the next two years these partnerships will produce arts-based projects that respond to the specific needs of the students, helping them to engage with and address social justice issues.

Each artist has been partnered with a school until 2023. These schools were selected based on the positive impact this project could have on their student community, the social issues facing their students, and the teachers' belief in the value of arts-based learning.
Over the next two years these partnerships will produce arts-based projects that respond to the specific needs of the students, helping them to engage with and address social justice issues.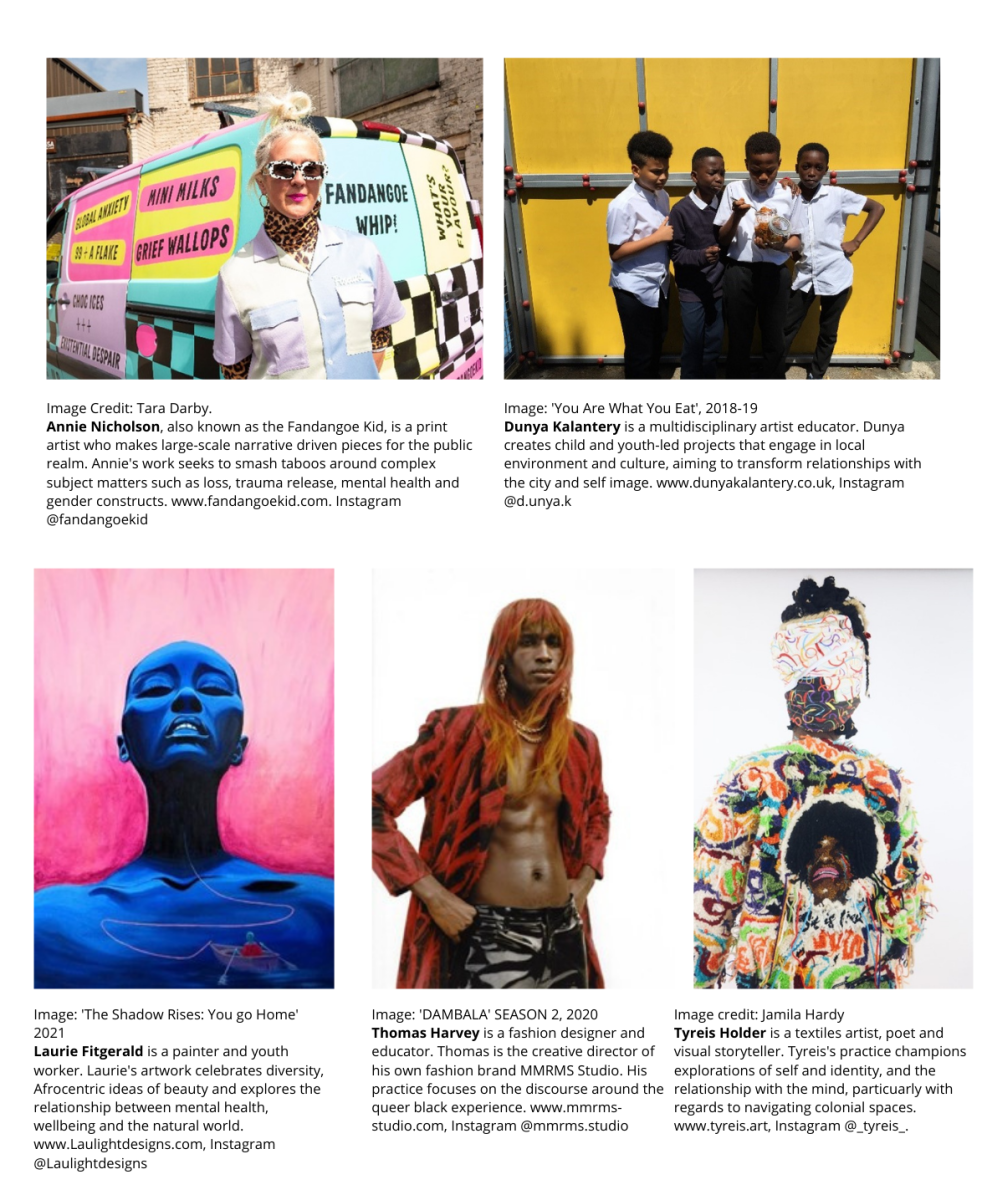 Research & Development Phase
To kick start this exciting project we created a space of sharing and learning, so that we could enter the planning stage in the best possible position to help and support young people.
In Autumn 2021, the lead teachers, artists and Bow Arts staff came together for five research and development days.
These were an important opportunity to utilize and gain from everyone's specific expertise and experience. Teachers explained their school contexts and the social issues facing their young people. Artists shared their practice and how they address social issues in their work.
Teachers brought stories of disengagement, a decline in mental wellbeing and inequalities within schools surrounding race and class. However, they also felt that young people want to engage with these issues and are keen to make a difference.
"I feel I have an increased understanding of the climate in schools from the personal accounts teachers gave of their schools at the moment"

Bow Arts Staff
The research and development days provided a chance for us to learn together. It is vital that we are educated on social justice issues to ensure we can create a safe space for young people to express themselves and their opinions.
"I have already made some adaptations to my own practice."

Teacher
We invited the below external trainers to run sessions on the main issues raised during the school application process; race, mental health and poverty.
Class 13: Anti-Racism and Intersectionality
Class 13 is a charity that works to challenge the systemic inequalities embedded in the Children's and Young People's sector. Their training educated us on the different types of racism and what it means to be anti-racist. It explored the inequalities in the education system, the flaw of the 'attainment gap' and deficit thinking.
Play for Progress: Creativity, Trauma and Self Care
Play for Progress are a charity who work with young refugees and asylum seekers using music and creative therapies to improve mental health, develop skills and build community. This training educated us on the connection between the body and the brain in the context of trauma. The session taught practical creative methods to support young people when they are triggered/flooded by a particular issue.
Children North East: Poverty Proofing
Children North East are a poverty charity aiming to ensure all children in the North East of England grow up happy and healthy. Their training walked us through the realities of poverty in the UK; the causes, consequences and impact on schools. They introduced the concept of 'Poverty Proofing' which supports schools to identify and overcome the barriers to learning that children and young people from families with less financial resources face.
"I found the practical session on movement and trauma very useful… I will bring time for rest into my sessions…and use some of the physical exercises we learnt"

Artist
Phases I & II: Project Summaries
Sebright Primary School, Hackney with Annie Nicholson aka The Fandangoe Kid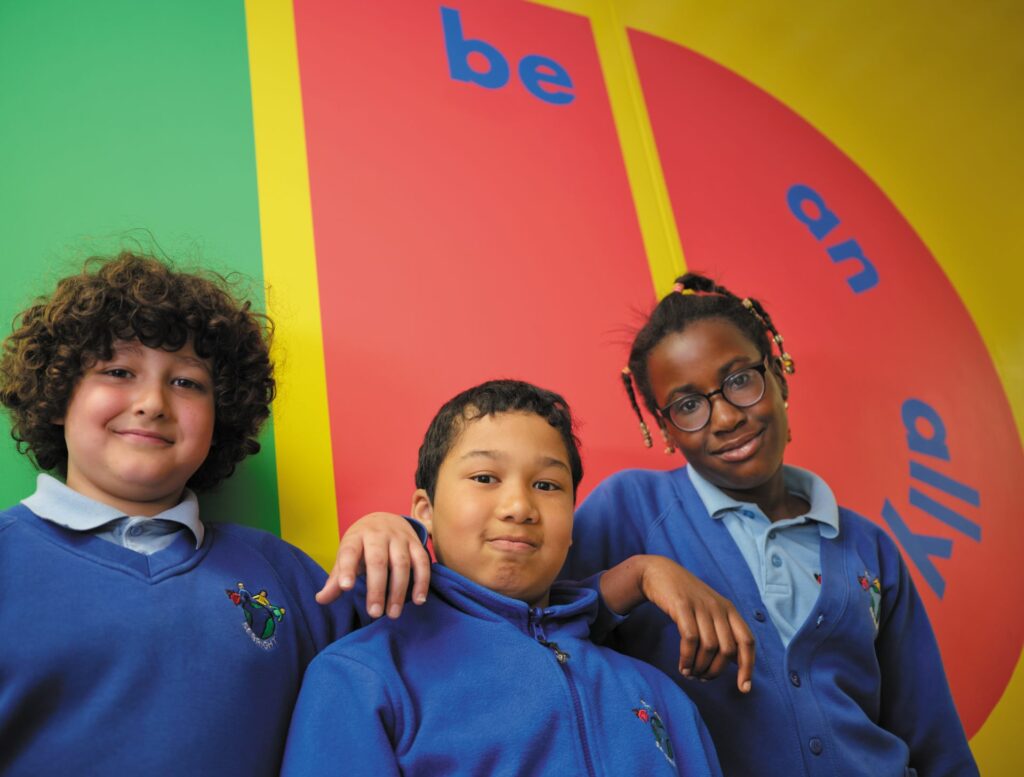 'I understand and can talk about what compassion and empathy mean'
Artist Annie Nicholson and students at Sebright Primary School in Hackney delved into the meaning of 'Social Justice' and its related concepts of equity, allyship and empathy – especially in relation to key issues such as institutionalised racism. Annie led sessions incorporating playful activities familiarising the children to textiles, photography and variations of typography as useful tools to get their voices heard. At the end of the project, the percentage of pupils who felt they could understand and talk about compassion and empathy nearly doubled.
The school now have a curriculum resource to use annually. In collaboration with pupils, Annie designed a striking mural in the school to remind children of some of the concepts explored in their workshops: togetherness and allyship.
Riverside Secondary School, Barking with Thomas Harvey – MMRMS Studio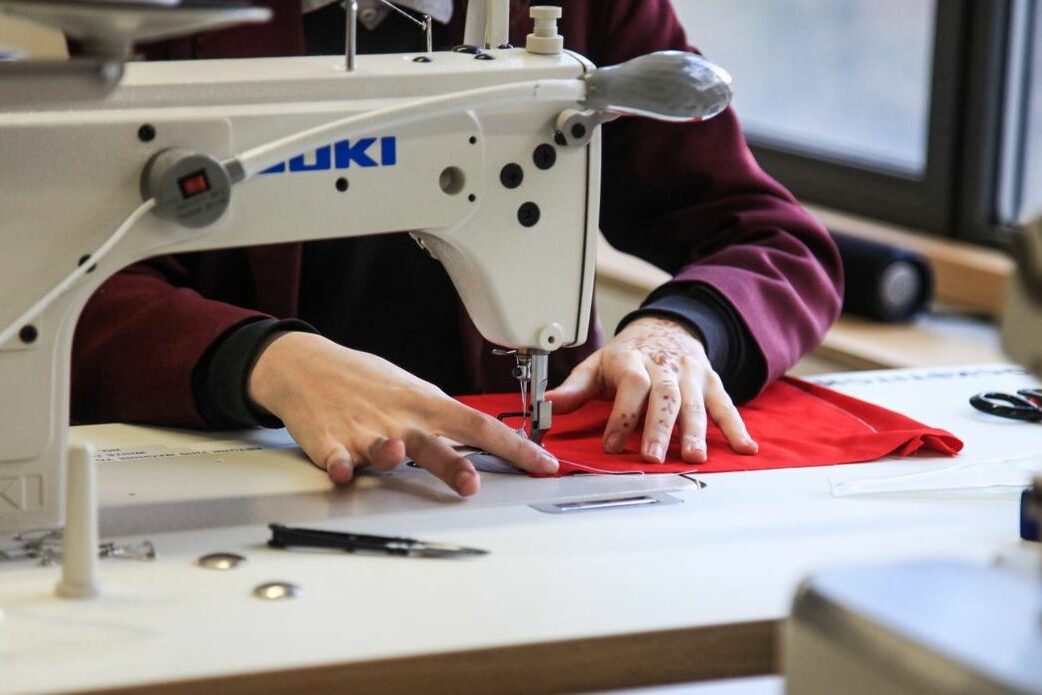 Using fashion as a practice, how can we explore culture and identity to positively impact ourselves and others?
Thomas Harvey worked with Year 8 and Year 10 students from Riverside Secondary School in Barking to think about how we empower ourselves and others to use fashion for positive impact, drawing on themes of race and gender. Students were further encouraged to reflect on notions of individual and collective identity through designing patterns on recycled blazers.
The students worked between the school and a local industrial warehouse where they learned technical skills of operating sewing tools and professional machinery, to create their garments. One student says, 'It is a form of therapy. It is calming and makes me feel relaxed'.
The school now have a bank of sewing machines for students to use, with some bespoke 'How To' resources designed for them by Thomas.
Morningside Primary School, Hackney with Dunya Kalantery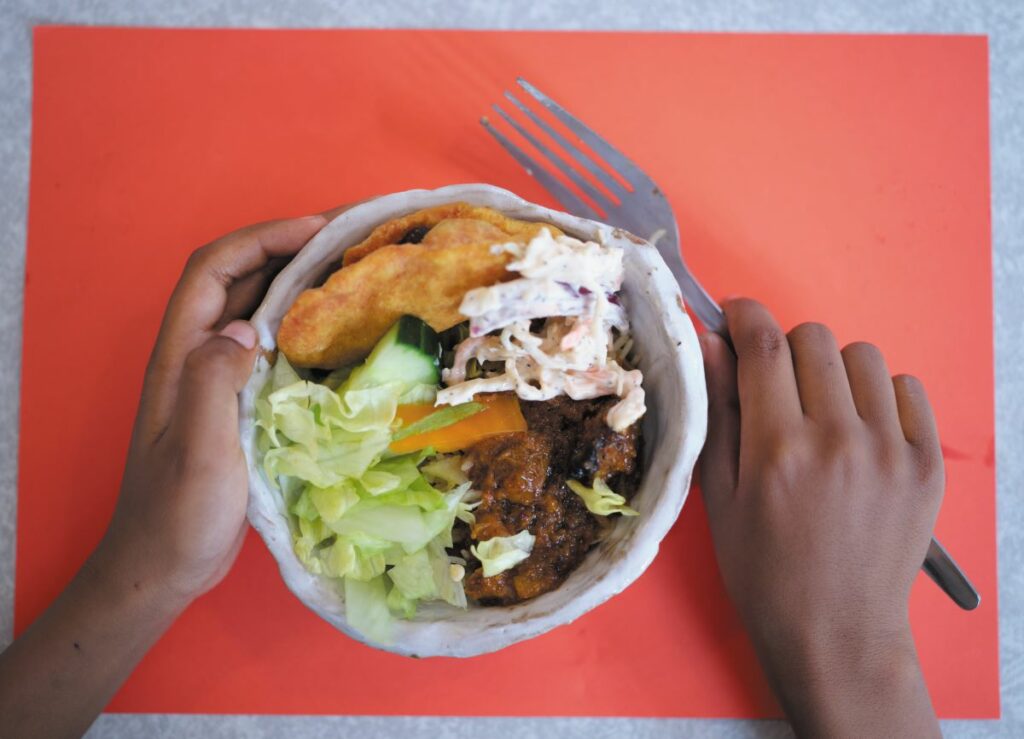 Can process-focused art activities which allow for discussion develop a greater sense of community at school?
Artist Dunya Kalantery and Year 3 pupils at Morningside Primary School in Hackney explored how habits and rituals can aid us in building independence and confidence in learning. By designing process-based, conversation-centred and student-led arts activities, Dunya focused on stimulating community-building through play and experimentation.
The children from one class made coil bowls, whilst the other class cooked a meal with the school cook, Awa. The bowls served as a point of connection with and between pupils in both classes.
This project also held a parental engagement element; parents, guardians and carers were invited to an after-school session where they collaborated with their children to make the bowls.
This was key to fostering a greater sense of community within the school. The project culminated in a community meal for the children and their families.
One parent says, "It felt light, and the children were really into the food, the bowls were beautiful, it was lovely".
Elfrida Primary School, Lewisham with Laurie Fitzgerald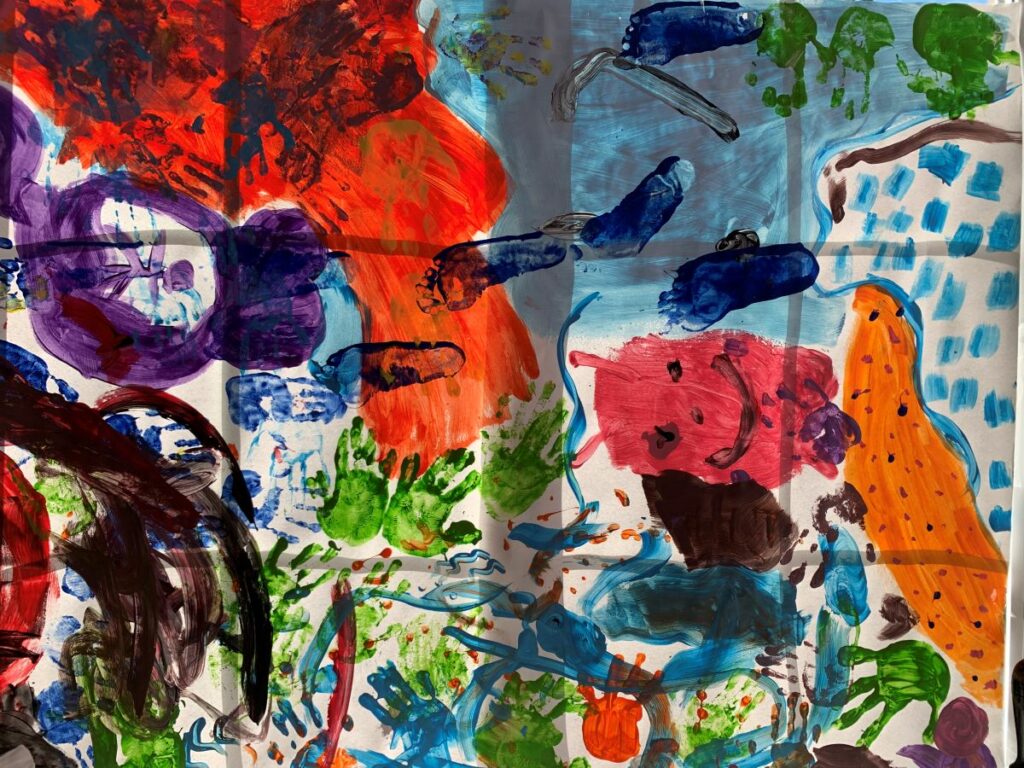 How can arts-based learning support children to become more emotionally literate?
Laurie Fitzgerald developed mark-making exercises and non-figurative drawing activities for Year 3 and Year 5 children at Elfrida Primary School in Lewisham to open conversation around their emotions, while encouraging the reinforcement and expression of positive feelings.
One pupil shared, '[I learned] how to get my worries away and talk to someone about it'.
With an embedded element of CPD (Continuing Professional Development), the project prompted teachers to think about how process-based arts learning could support trauma relief, particularly at a time of economic crisis. A teacher reports that the session helped them to rethink ways of allowing students to express themselves and how to help them through the fear of getting things wrong.
The school now has a teacher resource booklet with practical activities set alongside in-depth advice for delivery, and a poster to be used as classroom resource that children can use to emotionally regulate.
The Crecent Primary School, Croydon with Tyreis Holder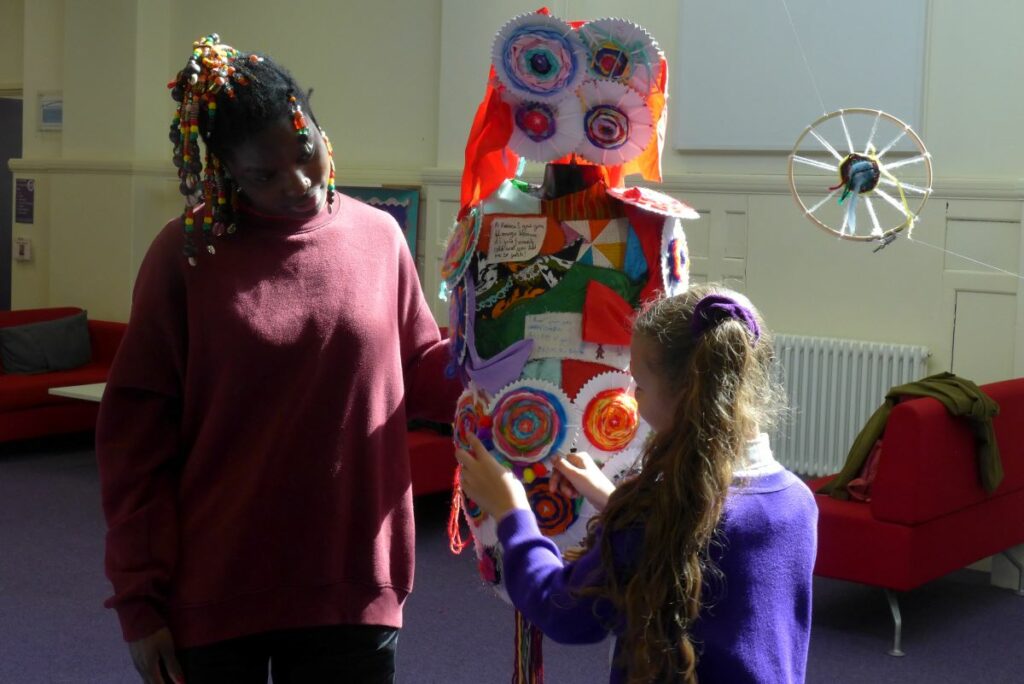 How can we teach self-regulation techniques to create a better school atmosphere?
Working with children in Year 4, Year 5 and Year 6 at The Crescent Primary in Croydon, artist Tyreis Holder intertwined poetry, mindfulness and textiles practice to consider how we build and maintain positive relationships with peers and at home.
Tyreis' aim was to equip pupils with self-regulation techniques of identifying and managing emotions; to engage parents in the pupils' artwork and to give teachers new art techniques to use in the classroom.
After a session, a pupil remarked that they had learned 'how other people feel through their emotions'.
The art activities culminated in the children producing individual affirmation artworks and collaborative garments that were put on public display in Whitgift Shopping Centre in Croydon, an accessible and familiar space for the families to visit.
Project Exhibition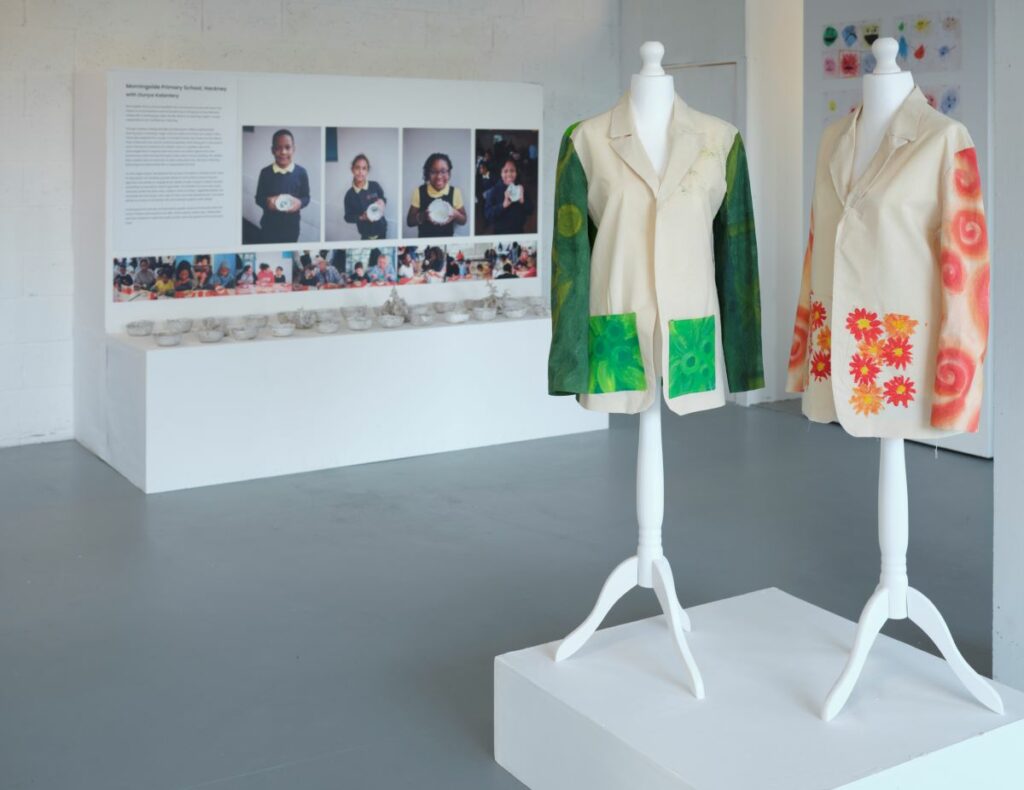 In May 2023, we commissioned artist Liane Harris to curate an exhibition showcasing the artworks produced by the students across the five schools. The exhibition hosted a panel talk with staff and artists involved reflecting and sharing insight on valuable creative tools to use when addressing social justice, and what they had learned during the length of the project.
Having reached its final stage, we want to highlight the project's legacy on the school communities that shaped it, and to emphasise the value of arts engagement within education for lasting positive impact on pupils' learning and self-expression – especially when it comes to tackling social justice, inequality and uncomfortable truths.
Read our report below
This project is an opportunity to learn and share with the creative community. As a sector resource, we produced a Social Justice and Creative Arts Learning in Schools report which details the projects and features top tips for artists and cultural organisations delivering projects in schools with a social justice focus.
We are excited to see how arts-based learning has empowered young people to address social injustices in their worlds.
For further info on our past school projects, click here Past Projects – Bow Arts