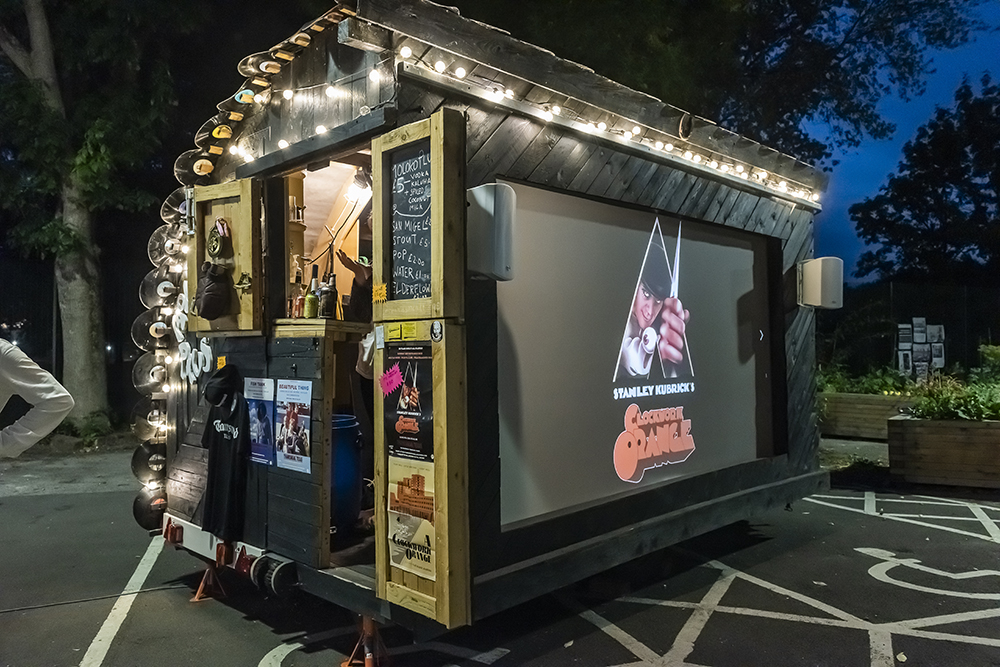 With their community lacking a local film venue, the Thamesmead Travelling Cinema was set up in 2020 to finally give the people of Thamesmead in south-east London a communal space to watch films. Stationed at the Lakeside Centre Complex in Thamesmead, an artist studio facility run by Bow Arts Trust, the cinema benefits from continued support from the arts charity. Now in the cinema's second year running events and training volunteers, Bow Arts Trust generously support the volunteers with a bursary, allowing young people from diverse backgrounds to fully commit to the season of film. The Thamesmead Travelling Cinema aims to provide invaluable experience to young people in the operations of a community cinema. At the end of each season the volunteers get the chance to put their learning into practice and run their own curated programme, with mentorship from experienced film programmers Scully and Scully. In this article, Thamesmead Travelling Cinema volunteers Lydia de Matos and Andre O'Garre are interviewed for Bow Arts Trust.
Can you introduce yourself?
I'm Lydia, 22 years old and from greater north London. Currently, I'm a student at UCL, where I study language and cultural theory. I'm a huge cinephile, fascinated by any film that plays around with temporality and space, and always happy to watch something that has a flare for grandiose storytelling.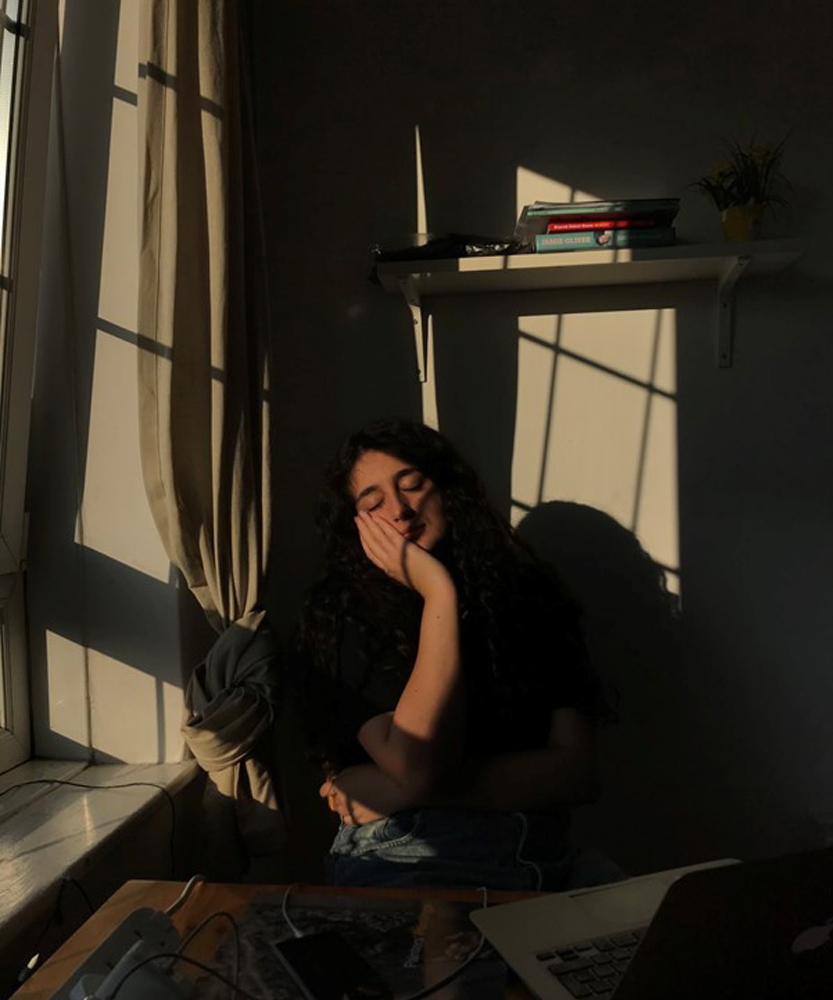 I'm Andre O'Garro a 23-year-old Film and Media graduate from Hackney, London. I'm currently working in hospitality but I'm actively looking for development research jobs in television. In my spare time, you'll likely find me in a Vue, Odeon or Curzon cinema or watching sports somewhere!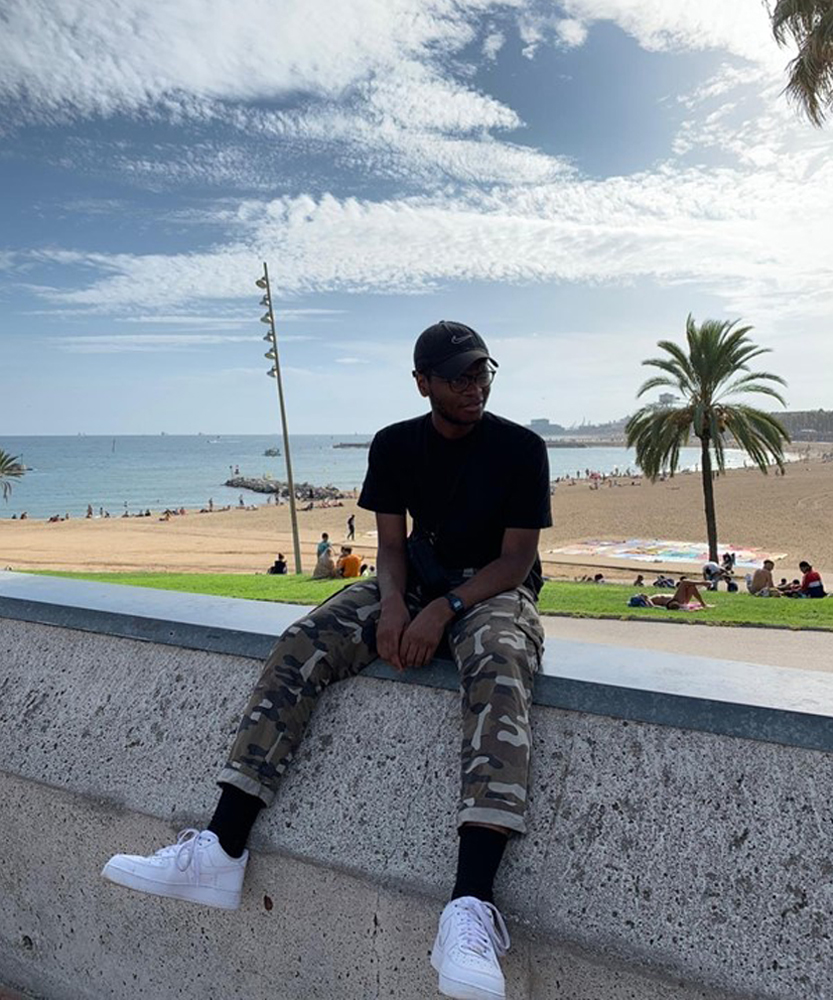 What are some of the reasons you joined the Thamesmead Travelling Cinema?
Lydia: Community-focused cinema can be a little hard to find in London, to say the least, so I was really keen to get involved with the Thamesmead Travelling Cinema and see how they do things.
Andre: I'd never heard of the Thamesmead Travelling Cinema before seeing it advertised on the ICO website. I've been heavily into the cinema for the best part of 3 years now, but I wanted to see how community-led cinema differs from your standard trip to Vue or Odeon in my case so I signed up. Looking back on my tenure with the cinema I found myself enjoying the experience quite a lot: the feeling of otherness you get while watching a film outdoors in a part of London made for a unique but pleasant time. While I don't think it'll be my model way of enjoying films expect to see me back for future screenings!
In your interview application you reflected upon your most memorable cinema experience. Do you have a memorable experience from volunteering at the Thamesmead Travelling Cinema?
Lydia: I think it has to be the screening of ET in Birchmere Park — seeing the number of people who came out after having gotten used to doing screenings for just 25 or so was really wonderful, and it was great to see the number of families there.
Andre: Watching A Clockwork Orange for the first time was great! It was pretty cool watching it right next to one of the shooting locations.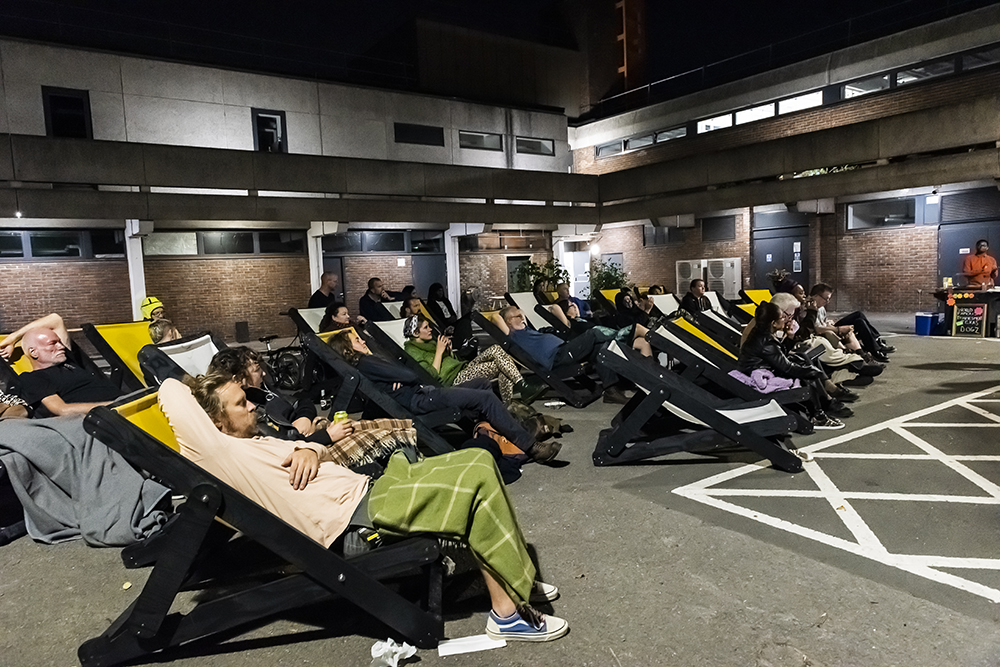 Did you overcome any fears you may have whilst volunteering over the summer at the Thamesmead Travelling Cinema?
Lydia: I'm quite a shy person naturally, so I've always got a little bit of fear when starting public-facing roles, but it dissipated pretty quickly when I got to meet all the regulars.
Andre: I'd volunteered at film festivals before where I was meeting customers, filmmakers and producers alike, so I went into this experience feeling very relaxed. Volunteering at the Travelling Cinema was a very unique experience but once I got used to being at the site it became very easy very quickly.
Tell us about your proposed screening programme. How did this collaboration come about? What films have you selected and why?
Lydia: Andre contacted me first; he knew I'm a huge fan of Varda and so asked if I'd be interested in programming a screening of her Cleo from 5 to 7. I of course said yes, and proposed we screen her short film The So-Called Caryatids alongside it, and theme the programme around the director's view of Paris, the city she spent most of her life in.
Andre: Lydia is a big Agnes Varda fan and I'm not too familiar with her work, but I wanted to use this as an opportunity to delve into her projects. After watching a few of her works we chose Cleo: From 5 to 7 as it best matched our theme: Paris: Through the lens of Agnes Varda. I think it'll be a great night at the Travelling Cinema.
What does community mean for you? Has this meaning changed whilst volunteering over the summer at the Thamesmead Travelling Cinema? Have you observed a sense of community at the Thamesmead Travelling Cinema?
Lydia: Community at the cinema can mean a lot of things. I think historically for me the kind of community I've found at the cinema has been quite a quiet, but welcoming one. Perhaps oddly, my favourite screenings have always been when, before the film starts, I'm surrounded by fashionable French pensioners reading and sharing the occasional joke with a seat neighbour! But the kind of community I've seen at the Thamesmead Travelling Cinema has been really wonderful for how diverse it is, and how much people are willing to mingle and speak to people they might've not had the chance to meet otherwise.
Andre: Community is all about collective enjoyment. While the Travelling Cinema is known to screen films with ties to Thamesmead as an area, the Elizabeth Line has made it easier for film buffs to make the trip. I met quite a lot of people from my borough Hackney. So you now have two communities enjoying films at the cinema: Locals and film fans. The summer programme served as an opportunity for outsiders like myself to learn more about the area through its connections to film while being a celebration of all that is Thamesmead for its locals. Whether you live in the area or not you feel welcome: it's very easy to speak to anyone and everyone because we're all there to enjoy cinema.
---
Did you feel you brought specific skills to the Thamesmead Travelling Cinema? How did you bring this out? Did you learn anything from your peers? Did you learn anything from Liam/ Vanessa?
Lydia: I think perhaps the most obvious one is written communication skills, which I've used with writing articles for the cinema for various outlets, and securing an interview in a national cinema blog. I've learnt a lot as well; from the smaller practicalities of how film screenings run to all the information that was given in the How to Run a Zero Budget Film Programme Course.
Andre: Working more closely with Mike (Dunford) felt like a great lesson. I saw him having extensive experience as a great opportunity to learn about his career through the ages and get any advice on how to navigate the industry. Liam and Vanesa were good people to speak to about opportunities post Thamesmead. I feel my chill relaxed personality served me well during shifts at the different sites. Because I'm always at the cinema I found it pretty easy to speak to the customers and work with my colleagues.
Do you feel you have enough skills, experience and confidence to run a screening programme based on your observations volunteering over the summer at the Thamesmead Travelling Cinema?
Lydia: I hope so! I think this screening programme, being my first, will teach me a lot in the process (it already has), and by the end of it I'll be much more confident trying to do the same kind of thing again in the future.
Andre: I feel confident about it yes! As long as Lydia and I continue working the way we have been working it should be a successful night for both customers and ourselves.
Would you recommend the Volunteer Training Programme to others?
Lydia: Absolutely!
Andre: If you're a cinema fan looking for casual work over the summer months this is a solid opportunity to experience community-led cinema done well.
Lydia and Andre present TWO FILMS OF PARIS BY AGNES VARDA/ SATURDAY 12 NOVEMBER 2022
BOOK HERE: https://www.thamesmeadtravellingcinema.com/two-films-of-paris-by-agnes-varda/
The Thamesmead Travelling Cinema is a 25-seater mobile outdoor community cinema made for the people of Thamesmead! Built using recycled materials, including almost 500 vinyl records, we launched in Spring 2021 and host seasonal screenings co-programmed for, by and with local residents from Thamesmead.
Read more about The Thamesmead Travelling Cinema in a blog by Lydia de Matos, who interviews the project's founders, couple Vanessa and Liam Scully, on their cinema's nomadic roots and their experience so far.
Lydia de Matos is a student, filmmaker, and writer based in London. She's a lover of community cinema, and you can usually find her raving about Agnès Varda or John Berger, often at the same time.
You can find out more about the Thamesmead Travelling Cinema via their website or Instagram.
Supported by Bow Arts