Artist Spotlight: Dan Turner
Meet Dan Turner, artist and educator from London, a Romani born in Kent, currently artist in residence at the Lakeside Centre, Thamesmead. 
What work are you focused on while you are at the Lakeside Centre? 
It's a continuation of what I've been working on for Thamesmead Texas (Liam and Vanessa). I made a short film 'Glamour' (2021) at the Thamesmead Travelling Cinema for the Estuary Festival 2021, which was on Thamesmead and its communities and about how the different communities have a similar back story. Thamesmead was a new town where people got moved in to from different parts of the country, it was a new thing. And with some of the changes that are happening now, some of that community is being moved on and different people are coming into the area. So, it's this change and movement and that's also reflected in, particularly for me, where Thamesmead is. It was the largest Romani encampment in Britain from 1897 to 1956. In 1956 they were evicted because of 'health concerns' and that paved the way for the building of Thamesmead.
What is your personal connection to Thamesmead? 
I still have family that live on the Thistle Brook site and my mother, my father, my two grannies and two great grannies they all lived there. There has been a long tradition of people and my sister still lives there. When I was a kid, they were building Thamesmead we used to go up there and throw stones and things.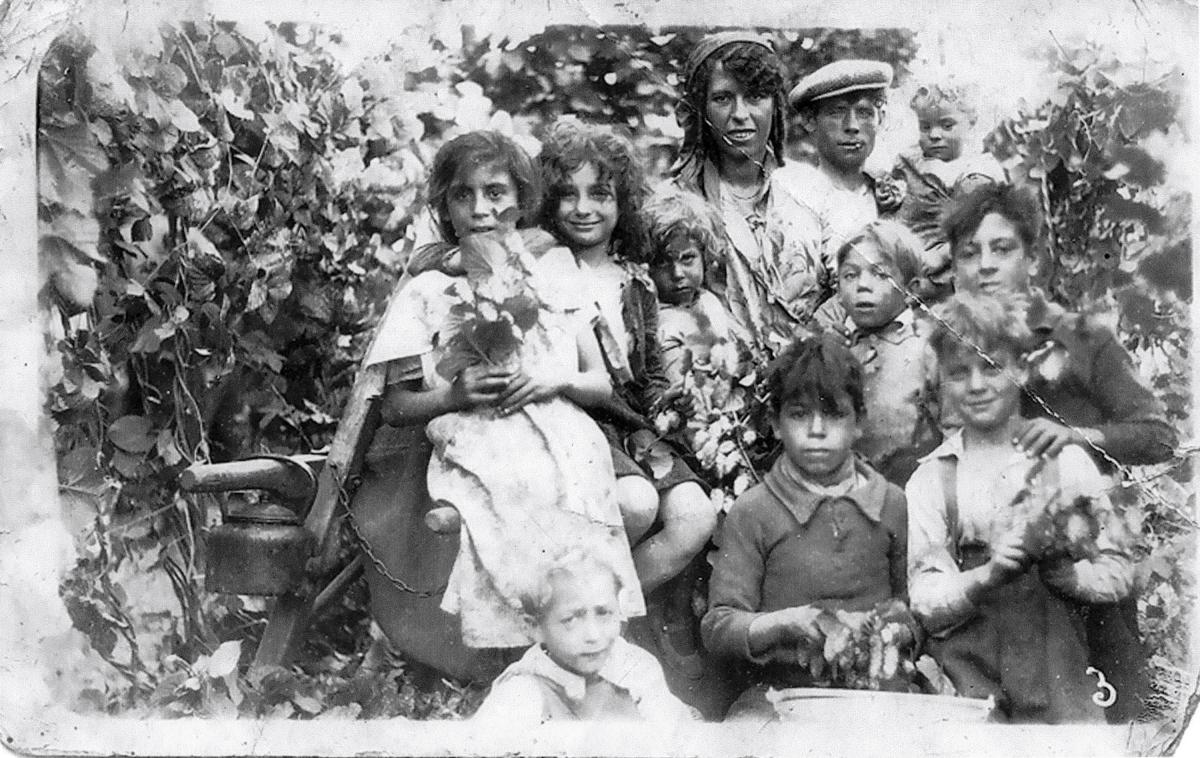 Does that personal connection to the area inspire your work? 
There are two strands to things. With my work fundamentally I look at the things that communities like. Each community has specific traditions which often overlap with other communities. Instantly you think of basket making. A lot of different people do basket weaving. In Romani/Roma tradition there's certain objects we use. So, in my work, I look at how those communities are defined and, in some ways, archived by those things that they make. I have used traditional Romani peg making, flower making and herbalism, which is what I looked at when I was in the Venice Biennale. These traditions have defined Roma and Romani communities across time. I try to look at it from a different way.
What I am doing in Thamesmead now is looking at birds and birdcages. That is a very traditional thing; my grandfather used to have an aviary, my uncle used to keep birds and sell them and make cages. But what I'm trying to do is use sound to make a sound piece. I will put birds in there and there will be speakers. While working on 'Glamour' (2021) with Thamesmead Texas (Liam and Vanessa), I was really interested in the soundtrack, so I've been looking at ways of turning images into sounds. I've been looking at Roma DNA, the printouts of Roma DNA, and you can put it into a programme that reads it as a tone. You can alter the sound, record clips and change it, I've been using Audacity and things like that. So, I've got recordings of Roma DNA, speaking, accordion playing and family photos that relate particularly to Thamesmead. I've got about 8 to 10 clips that I want to assemble into, what I hope, will be a choral piece. It's completely out of my comfort zone, not something I've done before. But I'm hoping to get a bass voice, an alto, a soprano, a tenor, and probably get them singing the same song. It's focusing on the art first rather than being focused on it being Roma/Romani.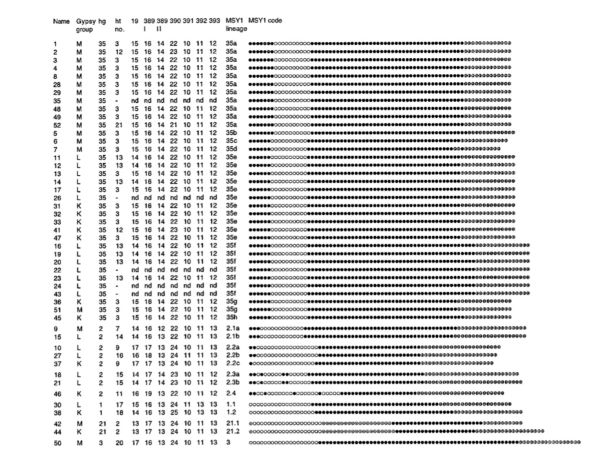 Roma DNA
Is there anything you want people to take away from your work? 
Hopefully what my work does is make people think about this disconnect between '60 days with the Gypsies' on channel 4 and someone making art. There are loads of artists, filmmakers, writers, archaeologists in this country that have Romani heritage and it's a different story that people can get. Particularly with Thamesmead and with Lakeside Centre, there is a personal connection with me, it's where we had my mum's wake when she died because my cousin used to run Lakeside Centre when it was a restaurant. That area, there's been a continuous presence there since at least the middle part of the 19th century. And it's quite hidden away and not discussed. It's trying to make different, positive contributions to the idea of being Romani, not this completely unbalanced representation you get. You can't do that with other communities, assume the fact that everybody's bad when they're not. It's like any community, there's a spectrum and it's getting people to understand that. We are not seen, so it's really difficult.
What you see in Europe is there's been lots of positive initiatives around education for Roma, they've been helped with support. There's a brilliant Roma scene in Europe, supported by ARICA. They have been supporting collateral events at Venice Biennale since 2007. Which was when the first Roma pavilion was there. What you have there is emerging artists, mid-term artists and artists that have been making work for years. It's a sustainable thing. People like Damien Le Bas (we could include link to our programme which included his film – Portrait of a tap dancer (2014). See at end. are worshipped in the streets and made some great work. This year at the Biennale there's a collateral event which is run by area and the Polish Pavilion has chosen a Romani artist of Polish descent. They will be allowed to go to the dinner, it's really good.
Here, you wouldn't know there were any Roma/Romani artists at all. The thing I worry about is trying to have that here. Trying to get people to go to art college and not be questioned about using their heritage. It's denied to us, we don't fit anywhere. There's no way in because it's all particularly geared one way.
Do you enjoy exploring different ways to get that message across? 
Yes, it's a lockdown thing, a lockdown project. I was on the wrong side of various lockdowns, so I ended up in Wales for most of the lockdown. And Glynn Vivian was doing a digital art school online and one of the things was sound work and I worked with these sound artists which was just great. It made me think about the possibilities of using sound. I'm not a filmmaker but I really enjoyed working with Thamesmead Texas (Liam and Vanessa) on 'Glamour' (2021), I really enjoyed the sound part of it and the way it built up and the layers and the way it told a narrative. That's what I started to look at. It's like seeing the art first and then thinking about it. Rather than being like oh this is by a Romani/Roma artist. Engage with it on an art level first like you do with other art. And then hopefully it draws you in and makes you think about what you've heard, what you've seen, and where the ideas come from. It draws you in to make a more informed decision and that's what it's all about.
And that's what I'm working on in Thamesmead and it really is research. I'm running into problems trying to see what works.
https://www.danturnerartist.com/
@the_romani_chal_sculptor 
THAMESMEAD TEXAS is a nomadic artist led project space, based in Thamesmead founded by artists & filmmakers Vanessa Scully & Liam Scully, who create events, exhibitions, screenings, workshops and residencies centered around an art bar. Their latest project 'The Thamesmead Travelling Cinema' is a 'social sculpture' that aims to bring people together through the shared love of cinema, as well as continue sharing histories & archives unique to the people of Thamesmead, the biggest social housing estate in England.
Our interview on Bow Arts website: http://bowarts.org/news/behind-thamesmead-texas-interview
www.thamesmeadtravellingcinema.com
https://thamesmeadtexas.com/
@thamesmeadtexas 
@thamesmeadtravellingcinema 
#keepthamesmeadunique
Dan's work will culminate in a final event at Lakeside Centre on April 16th, 3-6pm
2 Bazalgette Way, Thamesmead SE2 9AN