Artist Spotlight: Emily Crookshank – Just the place for an Etching Press
Sat outside on a striking bold orange table, you may find Emily Crookshank working in the sunshine just outside her new studio at the Lakeside Centre, as one of the first artists to join us and settle here.
Emily is eager to show off her new studio where she displays large gestural prints inspired by nature and the environment. Right at the heart of her studio you'll find her new etching press placed proudly. Even though all of the printing equipment is viewable, demonstrating her original printmaking techniques (which includes etching, mono-printing, drypoint and carborundum), Emily's studio has a homely feeling to it, with potted plants and a tea tray ready to welcome you at the door.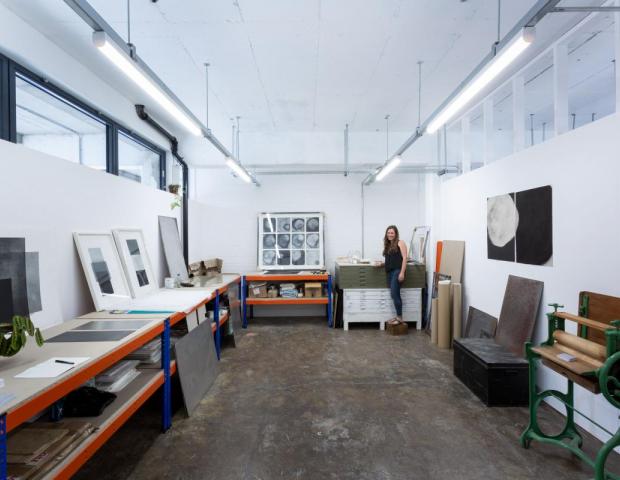 Emily studied at The Glasgow School of Art in Fine Art Painting and Printmaking, where she instantly fell for printmaking and is intrigued by the various processes of printmaking and the different materials you can use; such as metals, inks and acids.  
"There are so many different ways to make a mark and create an image, it implores you to be experimental!" said Emily
After attending art school, Emily moved to London for a one-month residency in Deptford where she focused on drawing, which is still a fundamental part of her working process. Due to the residency being so short, Emily concentrated on experimenting with limited materials and reminisces with a smile, 'this taught me how to explore materials deeply rather than widely.' Emily was later introduced to Artichoke Print Workshop, and was based there for four years where she worked alongside inspirational printmakers and has now developed her style of mono-chrome etchings and mono-prints and enjoys "placing emphasis on the process and composition."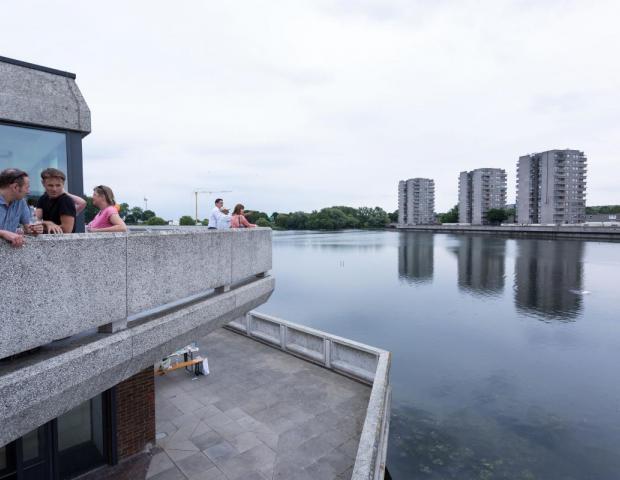 Emily was recently funded by Arts Council England through the Developing Your Creative Practice Fund. The funding has been the catalyst for long anticipated change, giving her the opportunity to transform her creative practise. Emily will be working towards a solo exhibition of her work as well as offering workshops in original printmaking. 
"I feel so fortunate to now be in this position. The funding is enabling me to work at a new level, and has completely transformed how I now go on from this point." said Emily
Kick-started by the new funding, Emily's next step was to find her own studio and one that she could not only afford, but also somewhere she could settle and not have to keep moving her very large etching press.
"It was so difficult to find a studio where I could be for longer than 1 or 2 years, that's another reason I was so excited to find the Bow Arts low cost accommodation scheme."  recalls Emily – she also joined part of our Thamesmead tethered housing scheme which allows her to live affordably in her flat, only a stone's throw away from her spacious studio at the Lakeside Centre.
The Lakeside Centre is Bow Art's latest capital project funded by both the Mayor's London Regeneration Fund and Peabody, with additional funding by Arts Council England, and is the most recent creative hub to join the Bow Arts portfolio.
Emily Crookshank is also keen to work collaboratively with the other 40 established artists living and working in Thamesmead, which she views 'having such a positive impact on how I work.' – in fact she has already started, as she was one of two artists recently displayed in Thamesmead Texas's first exhibition at the Lakeside Centre which focused on representing the local area. Thamesmead Texas is an artist-led initiative originated from artists living in the Bow Arts flats, Scully&Scully, who are actively promoting and supporting local artists. 
Featured as part of the Thamesmead Festival, Emily displayed a series of structural geometric prints that worked elegantly against the Thamesmead architectural backdrop, seen through the floor to ceiling windows where it was displayed.  When Emily compared her work showcased here from her previous work before she moved, it struck her how much "on reflection, Thamesmead has positively influenced my work."
Delighted to be finally both living and working in Thamesmead, Emily looks forward to being involved in more group exhibitions and providing workshops for adults over the coming months.
All images © Alberto Romano
Bow Arts is committed to supporting communities and artists, offering affordable, top-notch creative workspaces at 13 sites across London to help creatives to thrive and grow their practices. If you're an artist, designer or maker who's interested in our studios, find out more and apply here!