Artist Spotlight: Matt Gage
Finalist on Series 6 of the Great British Sewing Bee and committed to sharing the joy of sewing meet Matt Gage, studio holder at our Royal Albert Wharf studio site!
Tell me about your practice 
It's sewing. I've been creating costumes for theatre and drag performers for a few years now. During lockdown all that ended as there were no performances going on anywhere. But it's picking up a little more now. I've recently done some costumes for the Dreamgirls UK tour, but this was before we had the studio so my flat was covered in material and sequins, it was all over the place, so I'm glad that I now have a dedicated space. I've also recently done an outfit for a drag performer called Lady Aria Grey, who is currently performing at the Kings Head Theatre until April 9th. So the studio is primarily used to create costumes and to work on my other designs
Due to everything going quiet with performances during lockdown, I started a website called 'Keep Britain Sewing.com' As a lot of people discovered sewing as a hobby during lockdown, I wanted to keep encouraging them to sew and to keep their enthusiasm going. My appearance on Sewing Bee was also during lockdown, so I wanted to use my profile to encourage more people to sew and keep learning new skills. So, I've been working on the website and developing some easy to sew sewing patterns. I've got a couple of new patterns coming out soon, hopefully this month. I've also been developing a couple of sewing kits, such as, a sew your own tote bag kit and a zipper pouch kit. These will be available online soon.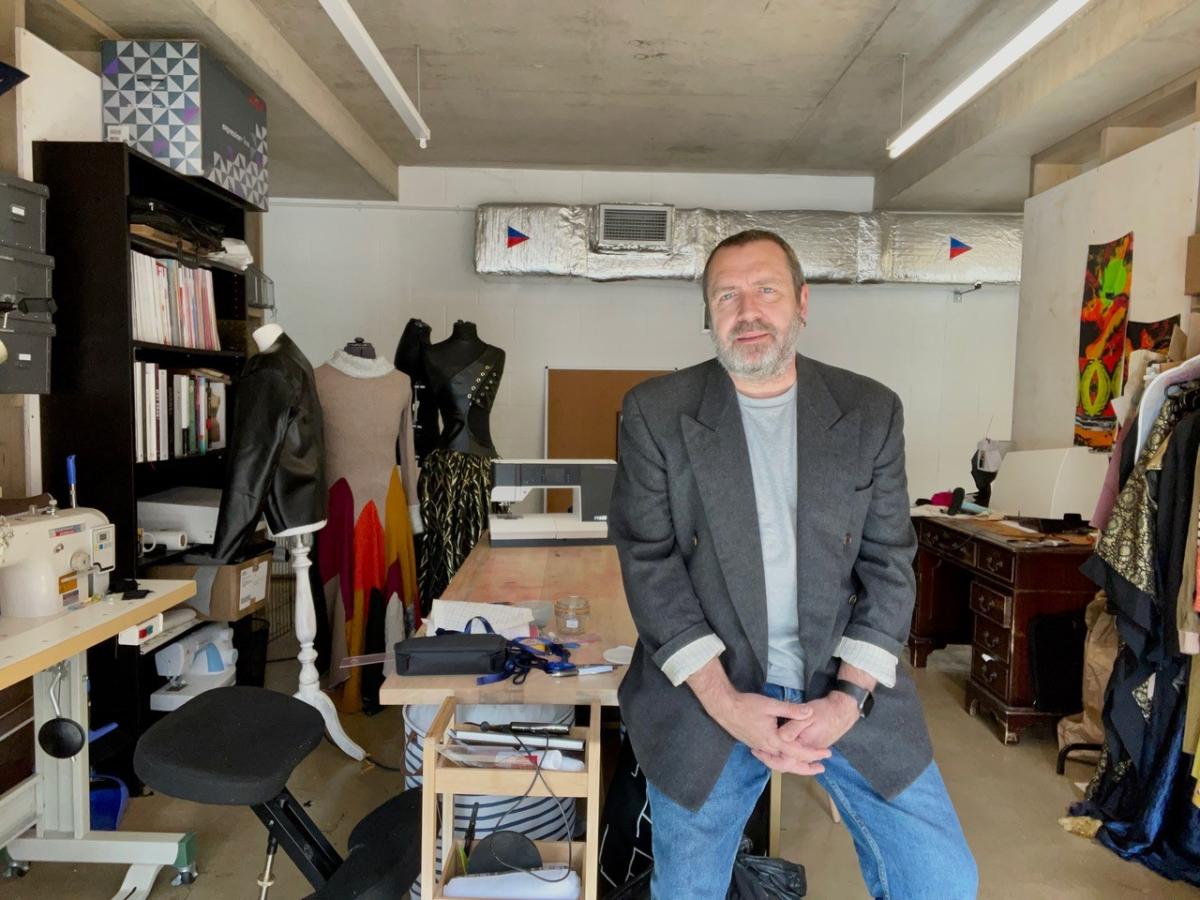 Where do you get your inspirations and ideas from? 
For Keep Britain Sewing I get ideas from patterns from the 70s and give them a modern feel. I design all the patterns myself on illustrator and then get them professionally graded. I also write all the instructions and the diagrams to explain clearly how to sew the garment. I have a lot of creativity with that. With the theatre work, and with the Dreamgirls costumes, we get sent sketches from the designer (I worked with my partner on this as it was so much work). They also send us all the fabrics they want us to use. We then interpret the design and create the costumes, which hopefully matches the sketch. It's fun to do but very stressful as you have about four weeks to do everything – from making a toile (a draft version of the garment) to fitting and then the final costume. And we had to do 16 dresses! The flat was a mess! The sequins were everywhere. It's quite mad.
How are you finding having your studio? 
It's great to get all the equipment out of the flat. We have three sewing machines, lots of fabric, mannequins, it was taking over the flat. We've even moved the dining table down there to use as a cutting table, so the flat is looking quite bare now. It's great to have a space where I can go to and work and then come back home and home is home and not a workplace. It's an ideal location for us, a two-minute walk down the road from our flat.
As you mentioned you were on the Great British Sewing Bee in 2020, what was that like? 
That was amazing, it seems like years ago now. It was filmed before lockdown and so much has happened since then. But it was very fun to film and to be on. I'd only been sewing for five or six years, so to be able to go on Sewing Bee and try to compete with people who have been doing it all their lives it was quite nerve-wrecking, but it was a fun experience and I got to the final which was pretty good.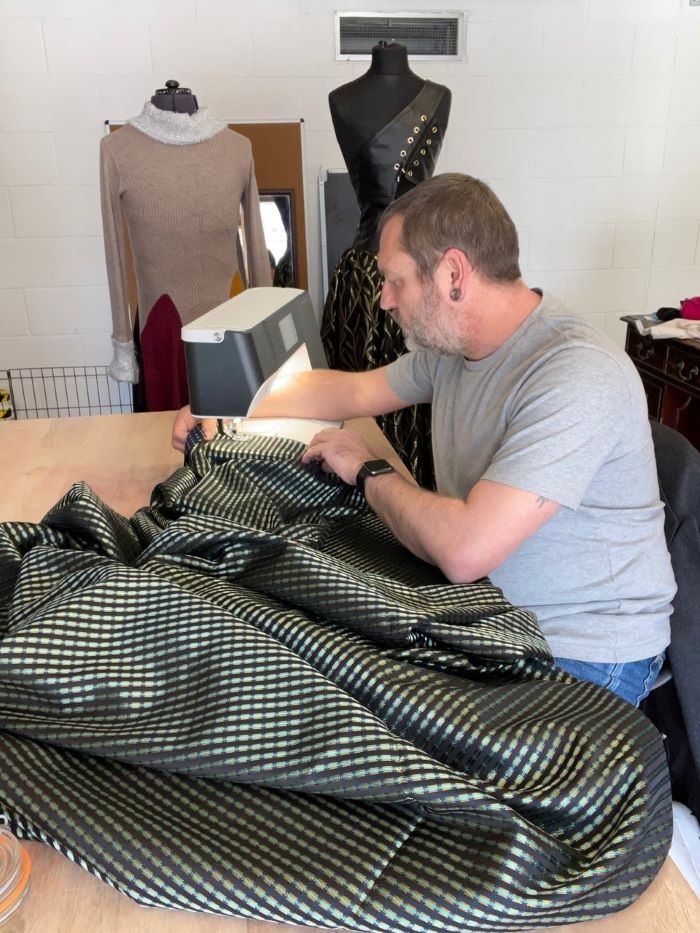 What got you into sewing? 
It was drag, I used to go to a drag night at the White Swan in Limehouse called Cybils House and every month they would have a theme and I would make an outfit for myself, my partner and for friends. So I got into sewing that way. I learnt techniques from online tutorials and articles. I finally found something that I was kind of good and at something creative. I'd never been able to find that creative side before, but I found it in sewing.
Can you tell us a little more about your website, Keep Britain Sewing? 
There's lots of different bits on there.  There's lots of tutorials and projects on how to sew. There's a page where if anyone runs a sewing group they can add it to the database and people can search the database and find a sewing group near them. We have a forum section where people can connect with other sewers. I sell my sewing patterns on there, as well as haberdashery items. And there's also a blog on there. It certainly kept me busy during lockdown setting it up.
It's been going for a while, and I've been developing these patterns, there's five patterns on there at the moment, which I did last year. I'm doing a seventies maxi dress pattern which is nearly done and that will be launched this month. And I have another pattern which is a button-down dress which will hopefully launch in April too.
Have you got any other projects coming up? 
Yes, I've been talking to a friend of mine who is a tailor and I hear that there aren't enough men's patterns out there. He's interested in working with me to develop some menswear patterns such as trousers and shirts. So I'll be working with him on developing more menswear patterns. He will draft the pattern and then I will get it graded and do the designing of the sewing instructions. I'm also looking forward to working on more costumes so I can sprinkle the studio with sequins, rather than my flat.