Artist Spotlight: Simon Kennedy
Simon Kennedy is a sculptor creating three-dimensional work with found objects. He produces work on the full spectrum of scale, from miniaturised meteorites to oversized ice-cream cones. He is inspired and driven by themes of space and the cosmos, seen through a prism of wonder, incongruity and absurdity, the result of which is a light-hearted existentialism and gleeful relish in his work. Simon uses objects he comes across in his daily life, often during his walk or cycle ride to his studio at Bow Arts. Although, he says, it is the objects that choose him, and not the other way around. It is an important aspect of his work – the idea that an object presents itself to him at a certain time, seemingly without planning or forethought, an offering from the cosmos.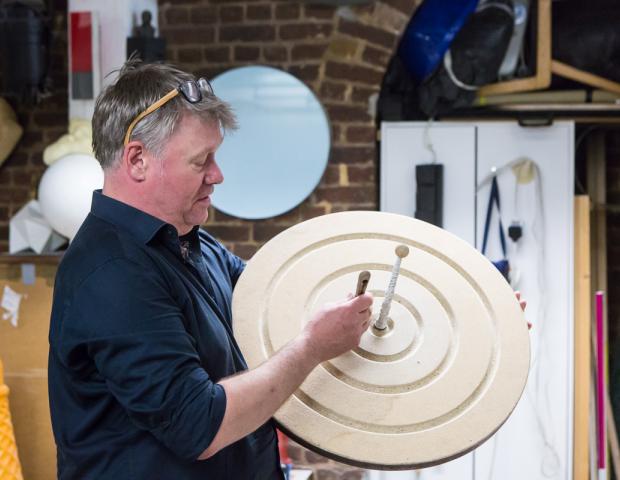 I've always been intrigued by things that fall from the sky – maybe I was hit on the head as a kid.
Although a traditionally-trained fine art graduate, Simon also embraces a punk ethos of DIY and considers his practice to be in the handling of materials, and his human reaction to them, be it over a period of time or in a fleeting moment.
A lot of the time I don't know what I'm doing. What's the point in doing anything if you know how it's going to come out?
In 2017, Simon's work 'Stardust Principle' was chosen to be part of the 57th Venice Biennale. This lifesize sculpture featuring a table and chairs in a Python-esque collision with a meteorite and atom-like shapes –  currently on display at Palazzo Mora – reminds us that ultimately everything and everyone shares the same basic components.   Being part of this international event is a milestone for any sculptor and Simon now hopes to exhibit at other prestigious exhibitions such as Documenta in Germany.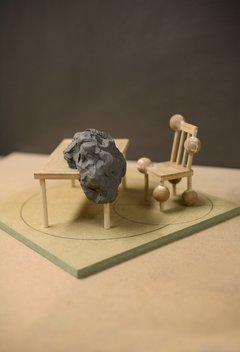 Early Working Model "Stardust Principle no 1"
In terms of his work, Simon plans to develop his exploration of the cosmos and in particular what scientists refer to as dark matter. He has in the past worked at the Natural History Museum and he now hopes to work with, or within, other scientific organisations to greater inform and inspire his work. Simon sees many parallels between the arts and science, because research and experiments – like great artworks – require funding and resources and the open minds of many, in order to flourish.
Many of our artists find success in finding residencies in places other than London. Bow Arts provides affordable workspace in order to promote growth and sucess for artists and it is always wonderful to hear when someone finds an opportunity in the next step!
I intend to remain a member of Bow Arts as at some point I will need to rent a studio in London again when my residency is over. Thank you for all your work in making the Rum Factory an enjoyable, creative working space. I have enjoyed very much getting to know you!
Simon is currently completing a residency in Scotland and you can keep up with his work here: www.simonkennedy.org
Bow Arts is committed to supporting communities and artists, offering affordable, top-notch creative workspaces at 12 sites across London to help creatives to thrive and grow their practices. If you're an artist, designer or maker who's interested in our studios, find out more and apply here!