Artist Spotlight: Stephen Guy, One Residency Later
Stephen Guy is a designer and engineer working with both found and made objects to create surreal kinetic sculpture. He operates under the company name Fire the Inventor and delivers educational workshops in schools and at science fairs. He was our first resident practitioner at Raw Labs ; A public space designed around placemaking and public interaction with creatives. We caught up with him to see how his residency went:
This has been an incredible experiment- Would I like being in a fishbowl? The answer is yes!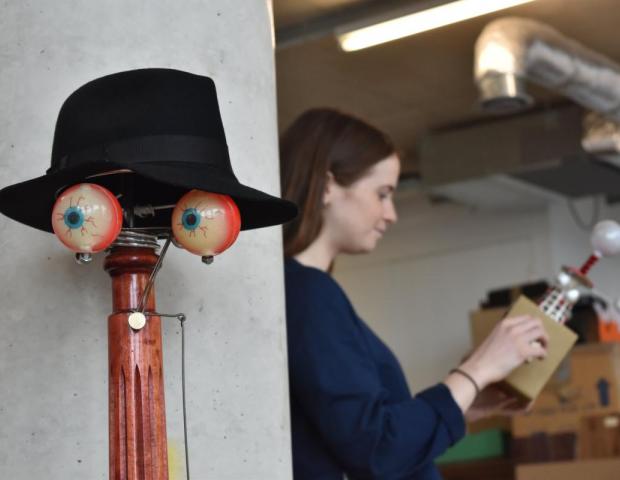 Stephen has been working in a space where the public can regularly interact. With floor to ceiling windows, his work has been constantly on show and he has run a series of workshops creating the World's Longest Automata. The idea behind this is to firmly cement the presence of the practitioner within the community. This way, everyone benefits from the new development of artist studios and residency space. At the age of 12, Stephen created his own business of buying and selling push bikes. This entrepreneurial spirit is one of the factors he attributes to his success today as an entirely self-taught designer. His company, Fire the Inventor , is world-renowned for providing educational workshops which engage young people in science, engineering and art. In 2016 he went to places such as Abu Dhabi, Guangdong and Shanghai. His achievements span across industries; commissions from the Crafts Council , exhibitions at science fairs and his heavy involvement with education across the globe. Looking farther afield than art galleries is an approach he would advise young practitioners to use, as it has enabled him to gain a steady income and maintain his practice without needing to work part time:
Think about where your audience is coming from and look beyond conventional outlets. At schools you have an enthusiastic audience, and science fairs have enabled me to present my work from a different viewpoint.'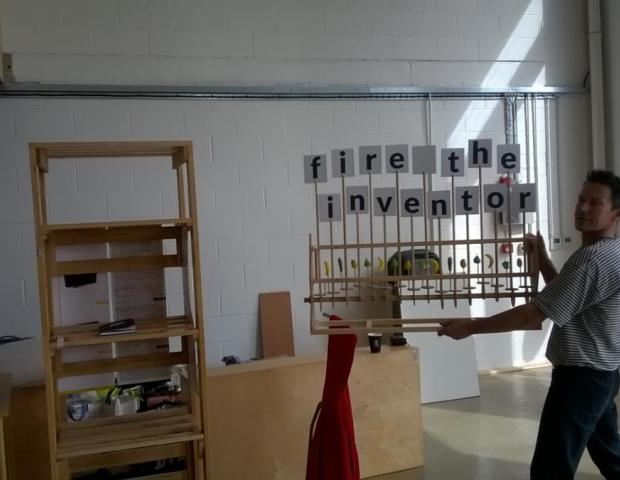 When Stephen first moved into his residency at RAW
His work easily translates into workshops, which is how he was spotted for the residency at RAW. During the Open Studios in 2016 at the Rum Factory , Stephen held his own workshop showing visitors how to create kinetic sculpture. He has consistently created opportunities for himself throughout his career, and he advises other artists and practitioners to take any chance to publicise themselves, as he has done. Stephen has worked with Cabaret Mechanical Theatre ; an organisation showing contemporary automata and Sharmanka ; a kinetic theatre company. By mixing engineering and art, he has created a platform for himself in different branches of design, education and entertainment.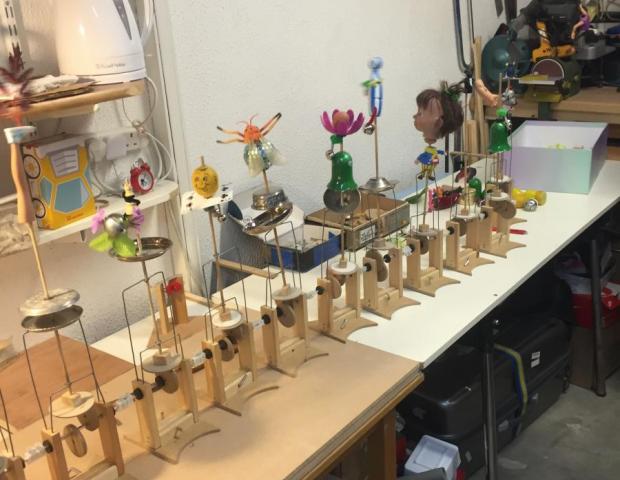 Stephen's Automata in his previous studio at the Rum Factory
Despite being adamant that he would return to his studio at the Rum Factory after his residency, Stephen has now 'upped sticks and moved to RAW' permanently in a studio within the same complex as his residency space.
The sense of space is invigorating. Along with the bustling skyline and marina, I feel there is a great benefit from being in a friendly area where you can achieve regular publicity just by having your studio viewable from the street.
Stephen is now working on new build-your-own automata to sell: flat pack MDF experimental kits in kinetic sculpture. His ambition is to establish Fire the Inventor as a producer of educational resources, and to be able to create larger mechanical sculpture in the future. One of his driving forces has been that museums which exist to educate tend to be a little dry and uninteresting. He wants to try to make sure that museums which show educational interactives do it in a more interesting and engaging way.
Local residents throughly enjoyed his workshops at Royal Albert Wharf, and his wealth of advice has been truly appreciated by recent graduates at professional development sessions we have held both at Bow Arts and at art Universities across London. We look forward to seeing what he does next!
You can keep up to date with his work and future educational projects on his website here: http://www.firetheinventor.co.uk
Bow Arts is committed to supporting communities and artists, offering affordable, top-notch creative workspaces at 12 sites across London to help creatives to thrive and grow their practices. If you're an artist, designer or maker who's interested in our studios, find out more and apply here!