Thursday 6th July 2023 , 7:30pm to 9:00pm
Bask in an evening celebrating the publication of Nathalie Abi-Ezzi's Needle Around her Neck, featuring readings from the collection, a late-night viewing of the exhibition, and a chance to get your copy signed by Nathalie herself.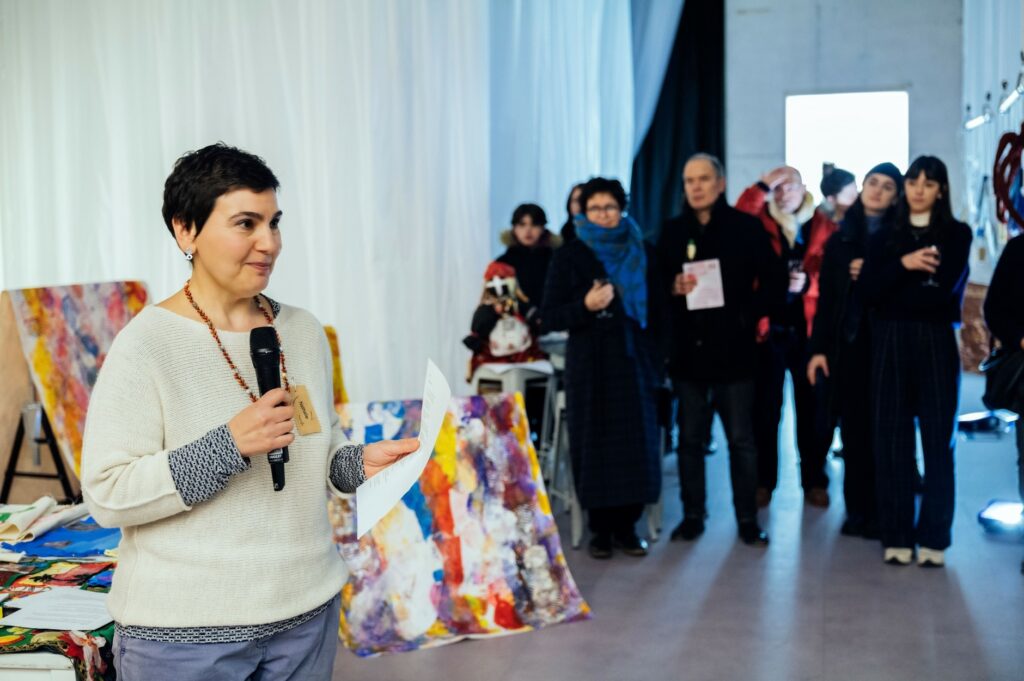 For #FirstThursdays this July, we're opening the doors to the gallery to celebrate the publication of Needle Around her Neck, a collection of poems penned by Nathalie Abi-Ezzi that takes its cue from the multiplicity of experiences shared during the Traces: Stories of Migration project, weaving more recent migrant stories into the history of the East End rag trade. 
Bringing together communal feelings, dreams, imaginings, and the things we love and lose through displacement, Needle Around her Neck is an ode to the stories and people that make East London what it is today.
Alongside a late-night viewing of the Traces: Stories of Migration exhibition, expect to hear a selection of readings from Nathalie, chat to some familiar faces from the Traces project, and get the chance to have your copy signed by the author herself.
The Nunnery Café will be open and serving snacks, home-made cakes and refreshments for the entirety of the evening.
Free
Drop in event – no booking required!
More about Nathalie Abi-Ezzi
Nathalie Abi-Ezzi is the author of two novels, short stories, poetry, and a published PhD in English Literature. She runs creative writing workshops and has been a Royal Literary Fund Fellow at the London College of Fashion, UAL, since 2021.
Nathalie's first novel, A Girl Made of Dust (4th Estate, 2008), tells the story of a ten-year-old girl trying to unravel family intrigues in the midst of the Lebanese civil war. It won the LiBeraturpreis,
was shortlisted for the Desmond Elliott prize, Waverton Good Read award and Author's Club Best First Novel award, longlisted for the International IMPAC Dublin award and chosen for Edinburgh International Book Festival's New Voices list. It has also been adapted into a film script. Her follow-up, Paper Sparrows (Holland House Books, 2020), follows a teenager's search for her missing brother through Beirut during the July War of 2006, and explores themes of belonging and exile.
Nathalie's new poetry collection, Needle Around Her Neck (Fair Acre Press, 2023), is inspired by the stories she heard in the 'Traces: Stories of Migration' project currently being exhibited at the Nunnery Gallery.
Access information
The Nunnery Gallery and Cafe have step-free access throughout from street level, including to the accessible toilet, and is service animal friendly. This venue does not have a hearing loop system. Accessible parking is not available on-site but blue badge parking can be found 500m away on Fairfield Road.
If you have any questions regarding accessibility at this venue or event, would like to make us aware of any access requirements that you have in advance of visiting, or would like this information in an alternate format including Easy Read, please email nunnery@bowarts.com or call 020 8980 7774 (Ext. 3)
Access requirements could include things like providing equipment, services or support (e.g. information in Easy Read, speech to text software, additional 1:1 support), adjusting workshop timings (e.g. more break times), adjustments to the event space (e.g. making sure you have a table near the entrance) or anything else you can think of!
Transport Information
Opening hours: Mon-Friday, 9am to 5pm
Address: Bow Arts Trust, 183 Bow Road, London, E3 2SJ
Nearest station(s): Bow Road (District and Hammersmith and City lines) is a 6-minute walk away, and Bow Church (DLR) is a 3-minute walk away.
Bus: 205, 25, 425, A8, D8, 108, 276, 488 and 8 all service the surrounding area.
Bike: Bicycle parking is located at Bow Church Station. The nearest Santander Cycles docking station is at Bow Church Station.