Saturday 1st July 2023 , 2:00pm to 4:30pm
Taking inspiration from nature and the flora around us, learn about the history of natural dyes and use extracts from flower petals and food waste pigments to create your own colourful, bundle dyed designs to take home with you.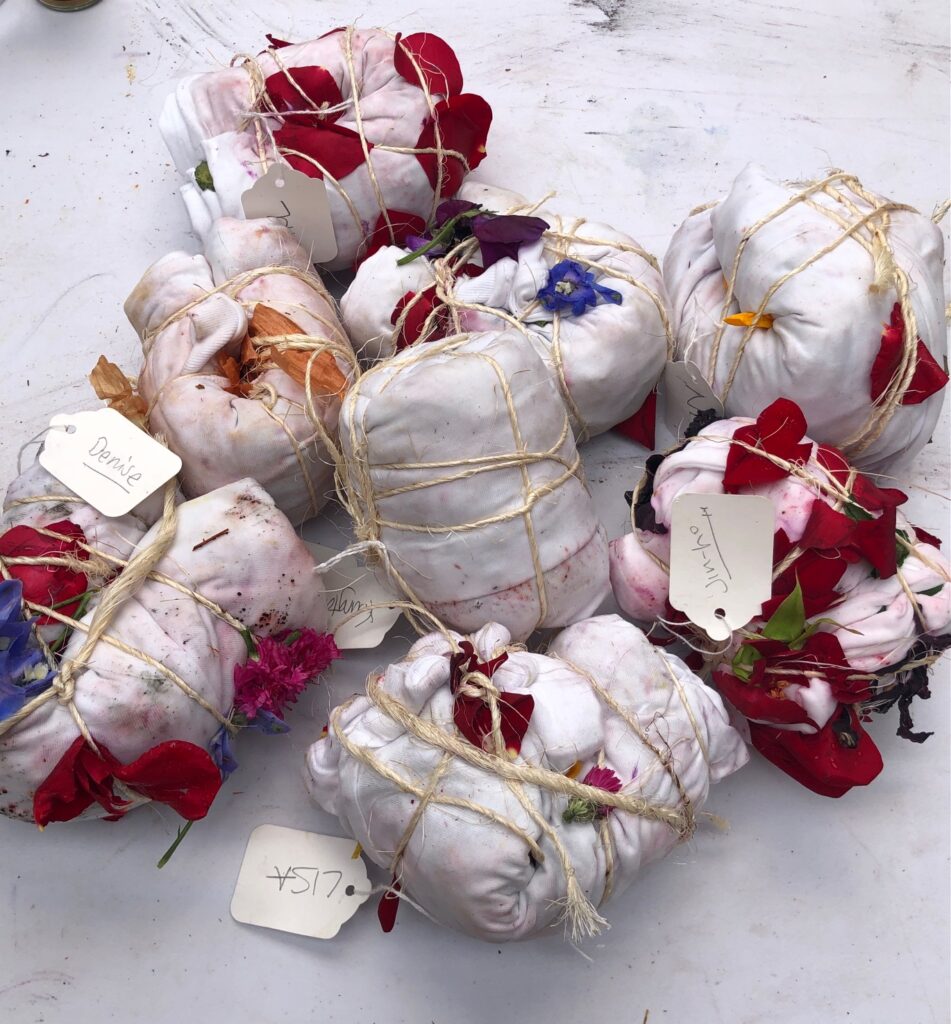 Mariana will begin the workshop by giving us a brief introduction of the history of natural dyes and her personal connection and experience with this particular kind of eco dye.
She will break down the concept of bundle dyeing and the importance of process, as well as the different types of flowers, plants, and organic material that are most effective when using this method. You will then have plenty of time to play and experiment yourselves to create your own bundle dyed designs on silk scarves!
The workshop will finish up with a 101 on post-dyeing treatments and how to care and maintain naturally dyed fabrics, so you will leave the workshop with a solid foundation and practical understanding of this meditative and gentle dyeing method.
No experience necessary – all materials provided!
Concessions rate applies to Bow Arts artists, students, over 65s, under 18s, National Art Pass members, and key workers
More about Mariana Leyva
Mariana Leyva is a fashion designer and textile artist. Having worked as a buyer, creative design manager, merchandiser, product developer and consultant, she now works solely with natural dyes and organic materials. She is the founder and person behind Studio Kühü.
She was born and raised in Mexico City. She has a Masters of Luxury Fashion Business Management from Esden, Fashion Business School, Spain, Fashion Business from Istituto Marangoni, Milan. In addition, she also has a Diploma from Saint Martins in Sustainable Fashion colour and dyeing.
From her connection with plants and flowers since she was a child and the frustration of working in the fashion industry without being able to produce sustainable designs, Mariana continued studying botanical gardens and opened her perception to a more energetic relationship with plants. Expanding her knowledge of colour and the dye properties of plants and flowers, linked to her desire to create conscious clothing. Nearly 7 years ago, it was then when Studio Kühü was born and Mariana continues her journey experimenting, learning, and sharing her passion for sustainable dyes and techniques. 
Access information
The Bow Arts Outdoor Courtyard has step-free access throughout from street level, including to the accessible toilet, and is service animal friendly. This venue does not have a hearing loop system. Accessible parking is not available on-site but blue badge parking can be found 500m away on Fairfield Road.
If you have any questions regarding accessibility at this venue or event, would like to make us aware of any access requirements that you have in advance of visiting, or would like this information in an alternate format including Easy Read, please email nunnery@bowarts.com or call 020 8980 7774 (Ext. 3)
Access requirements could include things like providing equipment, services or support (e.g. information in Easy Read, speech to text software, additional 1:1 support), adjusting workshop timings (e.g. more break times), adjustments to the event space (e.g. making sure you have a table near the entrance) or anything else you can think of!
Transport Information
Opening hours: Mon-Friday, 9am to 5pm
Address: Bow Arts Trust, 183 Bow Road, London, E3 2SJ
Nearest station(s): Bow Road (District and Hammersmith and City lines) is a 6-minute walk away, and Bow Church (DLR) is a 3-minute walk away.
Bus: 205, 25, 425, A8, D8, 108, 276, 488 and 8 all service the surrounding area.
Bike: Bicycle parking is located at Bow Church Station. The nearest Santander Cycles docking station is at Bow Church Station.