Wednesday 29th March 2023 , 6:00pm to 8:00pm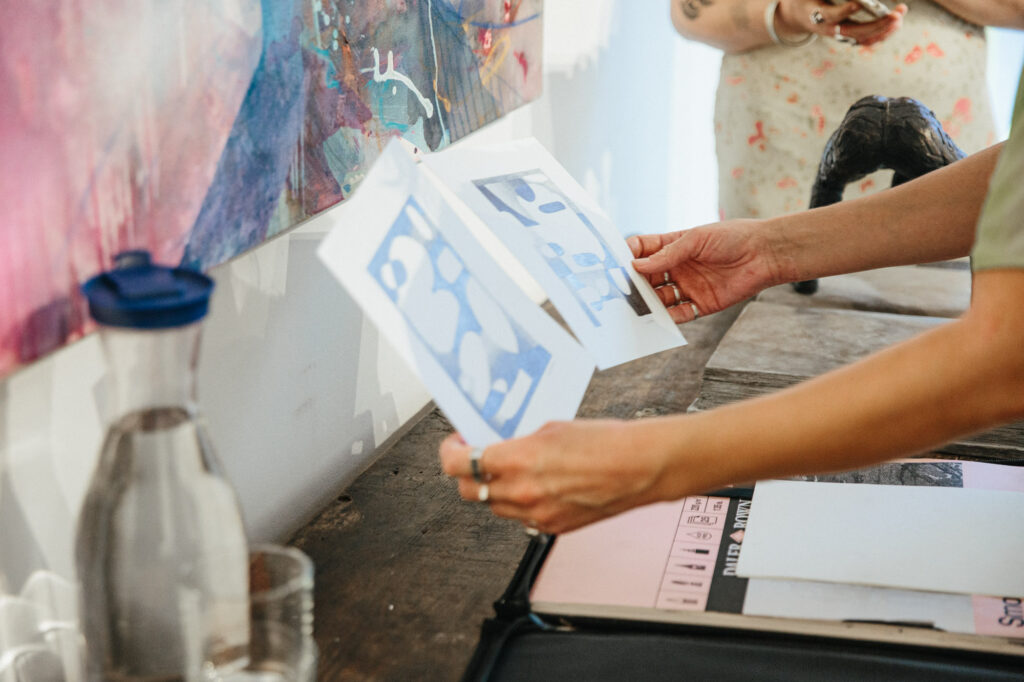 Join Claudia Kennaugh, art advisor and founder of Art and People, as she gives advice on approaching galleries and representatives, presenting your work, and advocating for yourself.
It can be hard to know where to start when it comes to figuring out how to approach galleries and effectively present your work in a way that really lands. Where do I find the opportunities? What do I say? Who should I approach first? Are some of the many questions that artists find themselves stuck on.
In the first part of this interactive workshop, Claudia will walk through a simple guide on presenting your work, as well as sharing insights from her years of experience in the sector on the different representatives, open calls, and types of opportunities that artists can consider.
In the second half, Claudia will then open up the floor for a whole host of exploratory activities, role-play and opportunities for individual feedback as artists put into practice the lessons learnt from the first part of the session and experiment with how these conversations and connections actually work in real life contexts.
In this workshop, Claudia will mainly be focusing on approaching and presenting your work to galleries. However, she will also share her insights on how to approach art institutions too.
Elements of this workshop are highly interactive. However, all activities are entirely optional – participants are invited to take part and share what is comfortable for them, however much or little that might be.
Session overview:
• Introduction to the guest speaker's professional practice
• A practical guide on presenting your work and different representatives and open calls to consider
• The chance for artists to role-play scenarios, so they can experiment and practice how conversations and connections work in real life contexts
• Opportunity to network and meet other artists with similar experiences, who are working and practicing today
What you will gain:
• Practical advice and information on how to approach and present your work to galleries
• An understanding of the gallery's perspective in these scenarios and what they are looking for in artists who approach them
• An insight how other artists practicing today are approaching this topic
• A new network of artists and creative professionals
More about Art & People and Claudia Kennaugh
Art & People is a Bristol-based art advisory service offering guidance to artists and collectors.
Art & People founder, Claudia Kennaugh, has worked in the arts for over 15 years. First as a musician and performing artist, then gallery manager, art advisor and partner of the Hollywood Road Gallery, London. Claudia has nurtured the careers of many artists over the years, curated countless fairs & exhibitions and helped many collectors to buy, frame and hang art in their homes. Her keen curatorial eye is eagerly sought after and in Spring 2022 she was on the judging panel of Jackson's Painting Prize.
Since the launch of Art & People in 2019, Claudia has supported the professional development of artists all over the UK, as well as in Europe and North America with one-to-one guidance, workshops and online tutorials. In partnership with organisations such as Bow Arts Trust, Wimbledon Studios, Visual Artists South West and Spike Island, Claudia delivers workshops and talks to help to support and foster thriving artist communities.
Her empathetic understanding of what it takes to live off your art and inside knowledge of the industry are a rare combination. By guiding artists and collectors simultaneously, Claudia is able to create new connections and opportunities, bringing it all full circle.
''Artists are often on the back foot due to a lack of knowledge and support. I want to help change that.'' – Claudia Kennaugh
About Bow Skills
Bow Arts seeks to support creative professionals at all stages of their careers. In 2015 Bow Arts launched Bow Skills in response to an artist survey which showed over 90% of practicing artists find it useful to receive further support outside formal education.
Bow Skills is a dynamic and relevant programme of Continuing Professional Development (CPD) which is informed by an artist steering group and open to all creative practitioners across London. The programme of talks, panel discussions, new skills labs and peer crits is open to all, with concession rates available to students, over 65s, under 18s, Bow Arts artists and key workers.
Access information
If you have any questions regarding accessibility at this venue or event, would like to make us aware of any access requirements that you have in advance of visiting, or would like this information in an alternate format including Easy Read, please email nunnery@bowarts.com or call 020 8980 7774 (Ext. 3)