Sunday 16th July 2023 , 11:00am to 1:30pm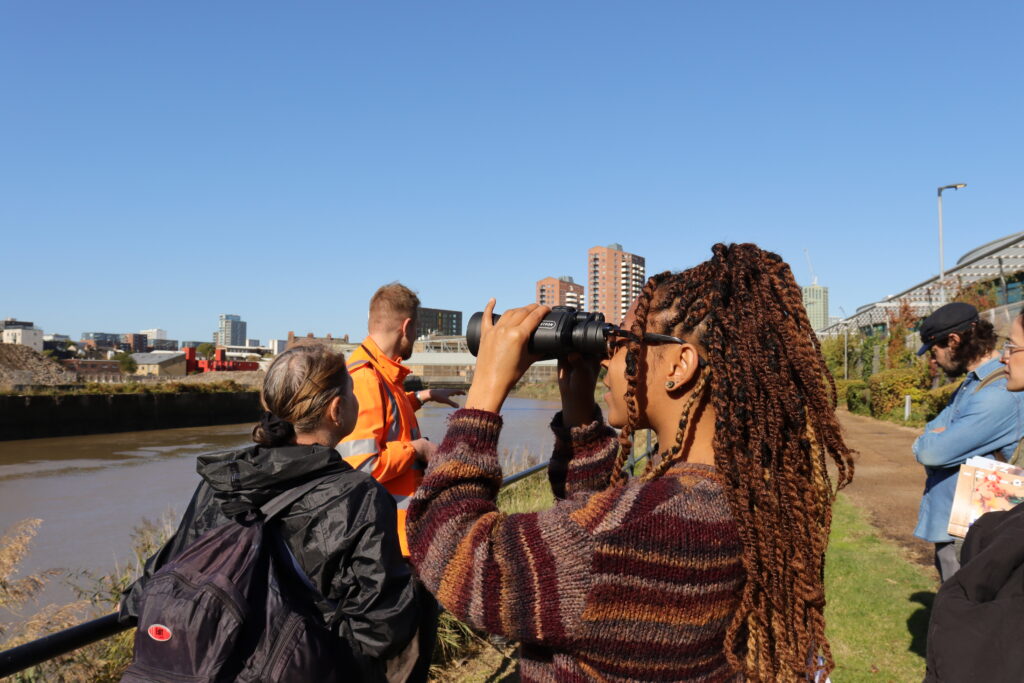 Come along for a guided walk along part of The Line's route with Sarah Carrington, their Head of Strategy and Partnerships, encountering and experiencing artworks by a range of brilliant artists including Rana Begum, Serge Attukwei Clottey, Antony Gormley, and Richard Wilson along the water's edge.
The walk will be followed by a Q&A where you can put your questions to Sarah about anything you want to know about commissioning, developing, and curating public art.
Refreshments and a light lunch will be provided for all ramblers who attend!
Route information
The initial meeting point for the walk will be at North Greenwich tube station. We will make our way along Greenwich foreshore before taking the cable car across to Royal Docks. After visiting the works there, we will then travel by DLR to London City Island, ending at Rana Begum's work artwork and the Q&A. All travel costs for the cable car and DLR will be covered by us!
The guided tour will last roughly from 11am-1pm, with the final half an hour reserved for Q&A and a light lunch and refreshments.
Free
Tickets must be booked to guarantee your place!
More about Sarah Carrington
Sarah Carrington is a curator and cultural strategist who is passionately committed to engaging new audiences in art through innovative thinking and new partnerships. As Head of Strategy and Partnerships at The Line, Sarah focuses on building audiences and increasing engagement as well as supporting artistic and strategic direction, cultural partnerships and development.
More about The Line
The Line is an ambitious public art project in East London that connects Queen Elizabeth Olympic Park and The O2, following the waterways and the line of the Greenwich Meridian. Its mission is to connect communities and inspire individuals through a dynamic outdoor exhibition programme where everyone can explore art, nature and heritage for free.
Its collaborative engagement projects in Tower Hamlets, Newham and Greenwich aim to support wellbeing and learning, as well as providing opportunities for young people to develop skills and improve employability.
The Line believes in the transformative impact of art and nature and is committed to increasing access to the arts through its programmes, as well as challenging barriers to participation.
Access information
If you have any questions regarding accessibility at this event or would like to make us aware of any access requirements that you have in advance of attending, please email us on nunnery@bowarts.com
Access requirements could include things like providing equipment, services or support (e.g. information in Easy Read, speech to text software, additional 1:1 support), adjusting workshop timings (e.g. more break times), adjustments to the event space (e.g. making sure you have a table near the entrance) or anything else you can think of!
About the East London Art Prize Events programme
The East London Art Prize events programme is a dynamic, free public programme open to all, which builds on the Prize's ethos of providing ongoing support, development, and networking opportunities for artists in east London and beyond.
Featuring a constellation of workshops, talks, panels, lates, socials, labs, walks, and takeovers in collaboration with our Prize partners and featuring some familiar faces from our inaugural shortlist of 12 fantastic artists, this year's events programme celebrates and pays homage to the huge abundance of talent and creativity nestled in east London.
These events have been developed in collaboration with our Prize partners the British Council, The Line, London College of Fashion (LCF), London Legacy Development Corporation, University College London (UCL), V&A East, Whitechapel Art Gallery, and Dulux.
Find out more about the wider events programme here.
More about the East London Art Prize
The East London Art Prize is an all-media art prize designed to showcase the talent of artists working and living in east London, with an accompanying event programme supporting artists' careers and opportunities.  The Prize is generously funded by Minerva and Prue MacLeod. Find out more on the Prize webpage here.