Sunday 29th October 2023 , 11:00am to 1:00pm
Did you know the UK is home to some amazing cold-water coral reefs over 400m deep? With the Lophelia species being the most common in our waters. Learn more about these habitats as we build up a collective coral reef sculpture out of clay.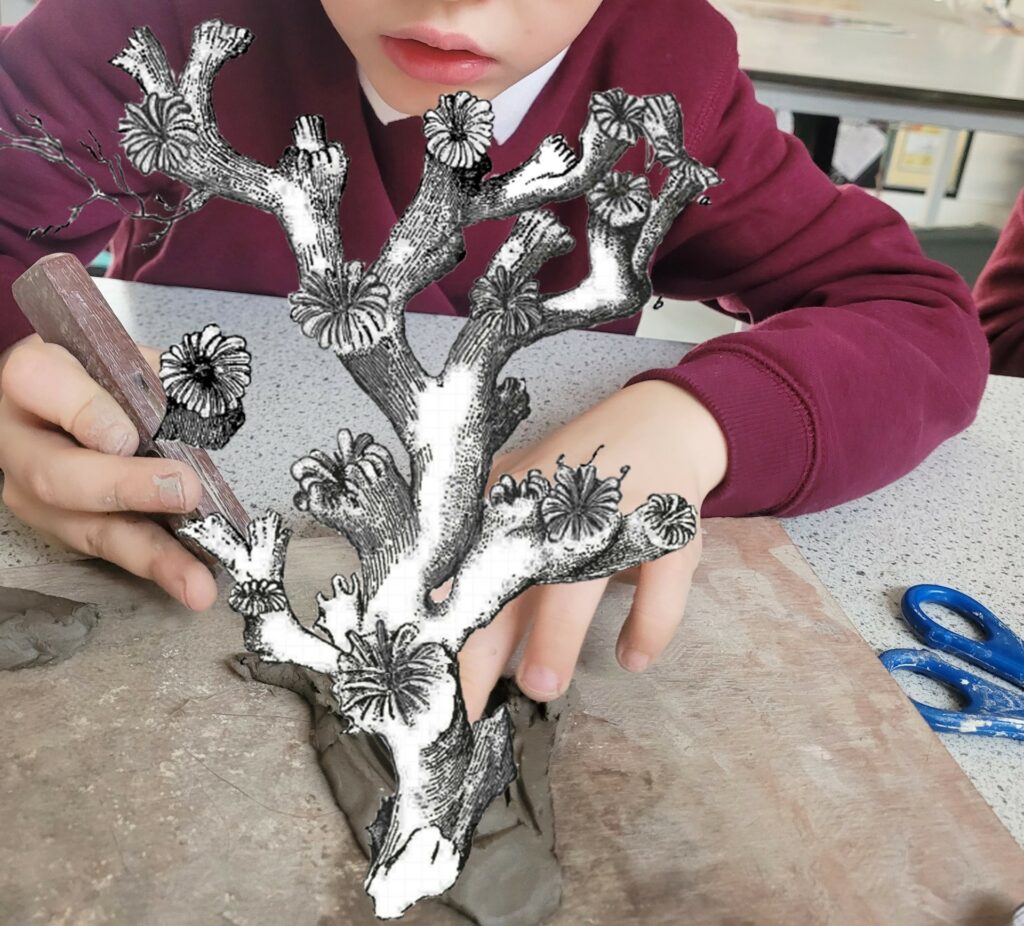 Connecting to her cyanotype artwork exhibited in this year's Bow Open show curated by Chila Burman, in this workshop, Miyuki will be telling us all about the UK's cold-water coral reefs and how they are being destroyed due to damaging fishing practices and the impacts of the climate crisis.
Getting stuck in using clay and moulding tools, we will shape our own anemone and tentacle-like structures, gradually building a collective cold-water coral reef to symbolise the slow process of re-growth and re-building, and how we can only create change when we do it together!
In this workshop, children will learn about cold-water coral reefs, the environment, how to mould 3D sculptures, and how to work together to make a collective artwork.
This event is an inclusive, friendly environment which is accessible to all abilities and age groups.
Bow Families is a series of free, drop-in family art workshops that take place on the last Sunday of every month in the Bow Arts Courtyard. These sessions are a wonderful opportunity for local families to get creative and try something new! Each session is led by a Bow Arts' Artist and all materials are provided.
Free
Drop in – all are welcome!
More about Miyuki Kasahara
Born in Japan, Miyuki Kasahara graduated with an MA from the Royal College of Art and is based in London. Her work is research driven and addresses the impact of humans on the ecosystem. How we can find ways to reconnect with a losing grasp of the natural world and stop poisoning it and ourselves. She examines in her work the environmental factors affecting global issues, including those arising from politics and societal change. Warfare and weaponry appear as an ongoing theme through her work, as she believes it is one of the greatest human catastrophes to the natural environment. The outcomes from her research have included drawing, film, installation, interactive performance, sculpture, or a combination of those. 
Access information    
The Bow Arts Trust courtyard room has step-free access throughout from street level, including to the accessible toilet, and is service animal friendly. This venue does not have a hearing loop system. Accessible parking is not available on-site, but blue badge parking can be found 500m away on Fairfield Road.
If you have any questions regarding accessibility at this venue or event, would like to make us aware of any access requirements that you have in advance of visiting, or would like this information in an alternate format including Easy Read, please email nunnery@bowarts.com or call 020 8980 7774 (Ext. 3)
Access requirements could include things like providing equipment, services or support (e.g. information in Easy Read, speech to text software, additional 1:1 support), adjusting workshop timings (e.g. more break times), adjustments to the event space (e.g. making sure you have a table near the entrance) or anything else you can think of!
Transport Information    
Opening hours: Mon-Friday, 9am to 5pm
Address: Bow Arts Trust, 183 Bow Road, London, E3 2SJ
Nearest station(s): Bow Road (District and Hammersmith and City lines) is a 6-minute walk away, and Bow Church (DLR) is a 3-minute walk away.
Bus: 205, 25, 425, A8, D8, 108, 276, 488 and 8 all service the surrounding area.
Bike: Bicycle parking is located at Bow Church Station. The nearest Santander Cycles docking station is at Bow Church Station.