Wednesday 29th November 2023 , 6:00pm to 8:00pm
THIS WORKSHOP IS NOW SOLD OUT. PLEASE EMAIL NUNNERY@BOWARTS.COM IF YOU WOULD LIKE TO BE ADDED TO THE WAITLIST.
Learn how to repurpose old Tetra Pak drink cartons to create your very own DIY etchings and prints connected to your roots, dreams, and future imaginings with artist and illustrator Matilda Ellis.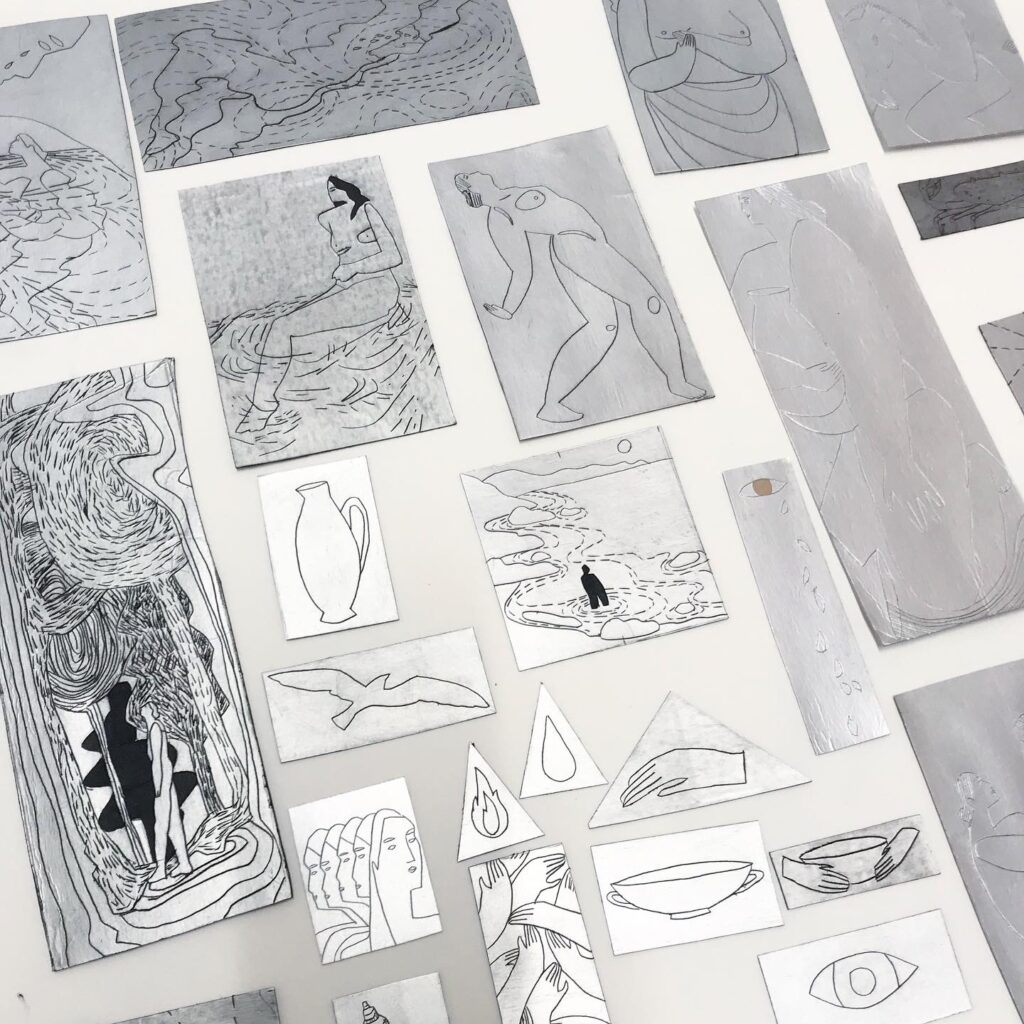 Tetra Pak printing is a form of DIY etching and intaglio-style printmaking that repurposes second-hand Tetra Pak cartons used to package plant-based milks and boxed soups as its starting point. Designs which are cut and scratched into the shiny foil on the inside of the cartons can be inked up to produce unique prints that you can repeat again and again!
After an initial warm up activity, artist and illustrator Matilda Ellis will gently walk us through the Tetra Pak printing technique and expand upon how we can use all the different sections of a carton to produce mini frames and vignettes that spark our creativity and create unique designs.
Riffing off the themes touched upon in this year's Bow Open show, we will be producing triptychs around the theme of past, present, and future, expressing where our roots lie, where we're at now, and our hopes, dreams, and imaginings for the future.
No experience necessary – all materials provided!
THIS WORKSHOP IS NOW SOLD OUT. PLEASE EMAIL NUNNERY@BOWARTS.COM IF YOU WOULD LIKE TO BE ADDED TO THE WAITLIST.
Concession rate applies to students, over 65s, under 18s, Bow Arts artists, National Art Pass members, and key workers
More about Matilda Ellis
Matilda Ellis a queer artist and illustrator who creates work that explores queer intimacy, the power of a body and personal and ancient odysseys. Through textiles, drawing and printmaking, her practice is a series of fragments, traces and vignettes that build to form a poetic language exploring identity, history, and non-linear narrative. She is fascinated by what is passed down and survives through time be that story, song, or object; and how we can re-examine these treasures through a contemporary lens.
Access information
The Bow Arts Courtyard Room has step-free access throughout from street level, including to the accessible toilet, and is service animal friendly. This venue does not have a hearing loop system. Accessible parking is not available on-site but blue badge parking can be found 500m away on Fairfield Road.
If you have any questions regarding accessibility at this venue or event, would like to make us aware of any access requirements that you have in advance of visiting, or would like this information in an alternate format including Easy Read, please email nunnery@bowarts.com or call 020 8980 7774 (Ext. 3)
Access requirements could include things like providing equipment, services or support (e.g. information in Easy Read, speech to text software, additional 1:1 support), adjusting workshop timings (e.g. more break times), adjustments to the event space (e.g. making sure you have a table near the entrance) or anything else you can think of!
Transport Information
Opening hours: Mon-Friday, 9am to 5pm
Address: Bow Arts Trust, 183 Bow Road, London, E3 2SJ
Nearest station(s): Bow Road (District and Hammersmith and City lines) is a 6-minute walk away, and Bow Church (DLR) is a 3-minute walk away.
Bus: 205, 25, 425, A8, D8, 108, 276, 488 and 8 all service the surrounding area.
Bike: Bicycle parking is located at Bow Church Station. The nearest Santander Cycles docking station is at Bow Church Station.