Tuesday 14th November 2023 , 6:00pm to 8:00pm
Join Kneed in this interactive workshop playfully exploring different kinds of reflection systems that artists can use to check in on our creative practices, whilst at the same time imagining the different ways that we might be able to sustain wider systems of collective support when navigating the sector.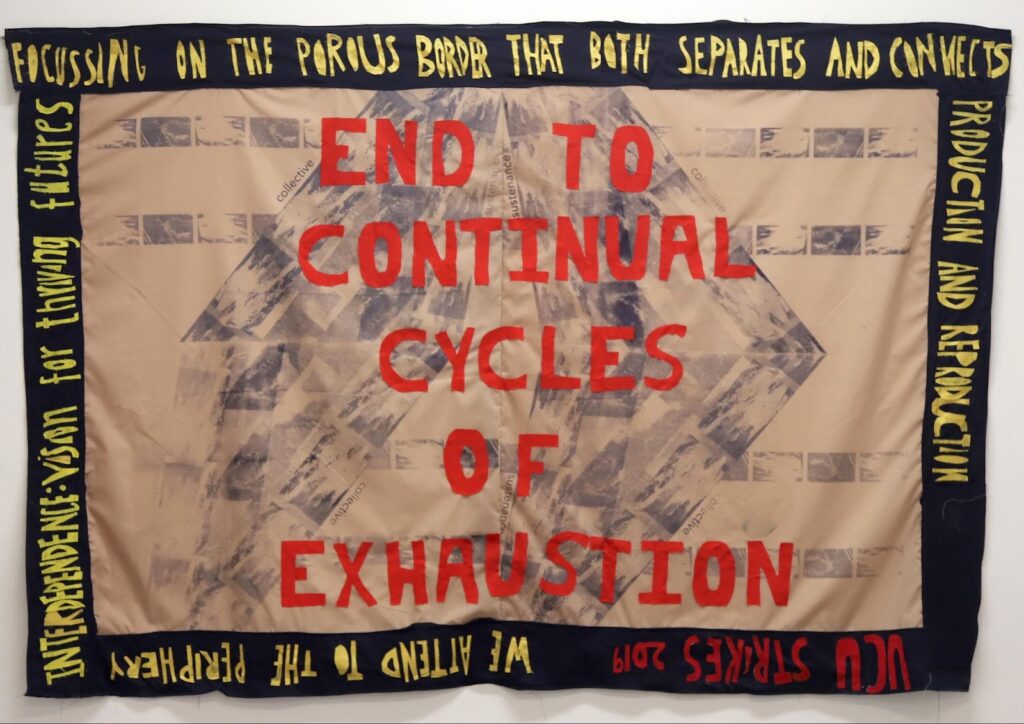 If your arts practice is a body, how do its systems function?
Kneed will begin the session working through a new body of work that they have developed over the past couple of years, building out new systems of reflection for artists that are grounded in time and the human body. Together, we will consider what reflecting and feeling through bodily systems like the digestive, circulatory, and nervous system encourage us to ask of ourselves and help us identify what nourishes and feels out of balance in the ecology of our artistic practices.
We will discuss the role of creative 'collaboration' in all senses of the word – whether with other artists, institutions, organisations, or communities – and think through how we can nurture systems of support for artists working in this way. Before ending with a conversation about learning and education programmes within galleries and institutions and how we can extrapolate new systems and ways of doing otherwise into this work.
In this session you will: 
Gain an understanding of new models of reflection to enable you to identify what nourishes and feels out of balance in your artistic practice
Learn from and with other artists and practitioners about what a truly 'collaborative' artistic practice could look like
Imagine different ways of working beyond what we currently experience in the sector
Connect with other artists and practitioners  
Concession rate applies to students, over 65s, under 18s, Bow Arts artists, National Art Pass members, and key workers
More about Kneed
Kneed, led by artists Ishwari Bhalerao and Leonie Rousham, is a collaborative practice that explores responses to structural violence, hostile bureaucracy, collective histories, and informal economies of care in British landscapes and institutions. Taking inspiration from walking, conversations, and chance encounters, we use film, performance, workshops, text and textiles, to work with the communities we find ourselves within – migrants, artists, care workers, educators and more. By challenging power dynamics in language, image production, observation, and documentation, we seek to promote critical awareness, and play with rehearsing new social formations.
With over four years of collaborative experience, we believe in the transformative potential of collective artmaking. We continuously refine our methodologies to adapt to different contexts, actively learning alongside everyone we work with. Our focus is on amplifying and nurturing systems of care and support, particularly in contexts where external pressures strain available resources. Through our workshops, we create spaces for identifying and addressing shared needs.
About Bow Skills 
Bow Arts seeks to support creative professionals at all stages of their careers. In 2015 Bow Arts launched Bow Skills in response to an artist survey which showed over 90% of practicing artists find it useful to receive further support outside formal education.   
Bow Skills is a dynamic and relevant programme of Continuing Professional Development (CPD) which is informed by an artist steering group and open to all creative practitioners across London. The programme of talks, panel discussions, new skills labs and peer crits is open to all, with concession rates available to students, over 65s, under 18s, Bow Arts artists and key workers.   
Access information
The Bow Arts Trust office has step-free access throughout from street level, including to the accessible toilet, and is service animal friendly. This venue does not have a hearing loop system. Accessible parking is not available on-site but blue badge parking can be found 500m away on Fairfield Road.
If you have any questions regarding accessibility at this venue or event, would like to make us aware of any access requirements that you have in advance of visiting, or would like this information in an alternate format including Easy Read, please email nunnery@bowarts.com or call 020 8980 7774 (Ext. 3)
Access requirements could include things like providing equipment, services or support (e.g. information in Easy Read, speech to text software, additional 1:1 support), adjusting workshop timings (e.g. more break times), adjustments to the event space or anything else you can think of!
Transport Information
Opening hours: Tues-Sun, 10am to 4pm
Address: Nunnery Gallery, 181 Bow Road, London, E3 2SJ
Nearest station(s): Bow Road (District and Hammersmith and City lines) is a 6-minute walk away, and Bow Church (DLR) is a 3-minute walk away.
Bus: 205, 25, 425, A8, D8, 108, 276, 488 and 8 all service the surrounding area.
Bike: Bicycle parking is located at Bow Church Station. The nearest Santander Cycles docking station is at Bow Church Station.