Thursday 24th November 2022 , 6:00pm to 9:00pm
Join us for an evening of boundary-pushing film, with exclusive screenings of The Visitor (2019) by Sharone Lifschitz, Art as Problematic Waste (2019) by David Chapman and Aimo Hyvärinen, and a curated selection of Visions shorts responding to their themes.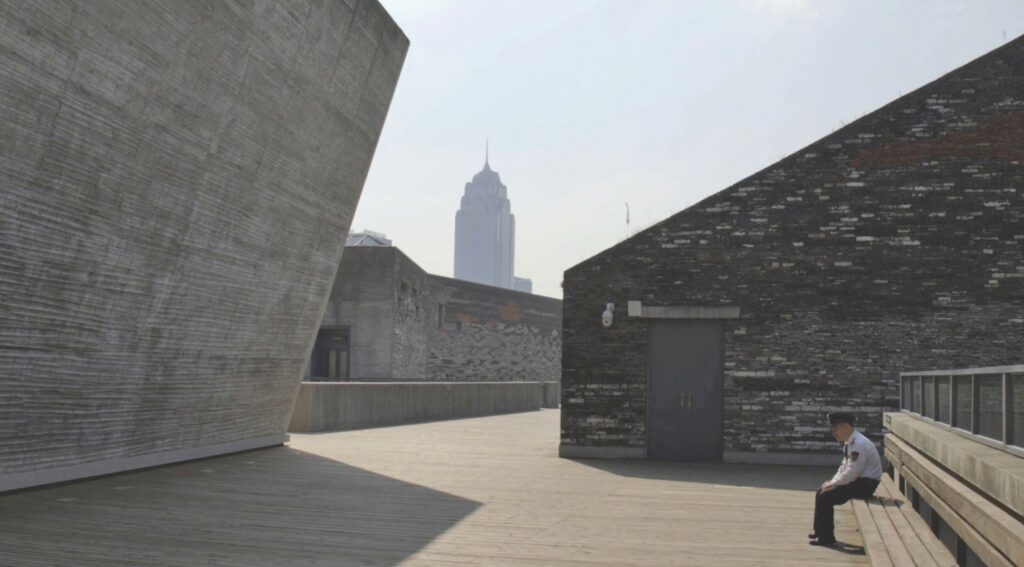 The Visitor (2019) is a major collaboration between award-winning artist and filmmaker Sharone Lifschitz and Pritzker Prize-winning Chinese architect Wang Shu. The film revolves around Ningbo Museum of History and its presence as an unofficial memorial to China's colossal peacetime destruction in its emergence from the debris of hundreds of villages that were eradicated to make way for the new district of Yinzhou.
Through a non-linear narrative that portrays the museum from conception to its imagined future, The Visitor negotiates personal and collective memory against the daily movement and rituals of the museum's visitors and workers; memory's physical embodiment into the building's fabric; our expectation of architectural permanence; and the all-consuming, relentless process of destruction and rebirth that underpins much of China's urbanscape, economy and state of mind.
Art as Problematic Waste (2019) is a documentary co-directed by documentary filmmaker, media artist and academic David Chapman and Finnish media artist Aimo Hyvärinen that forms part of the wider Art as Problematic Waste project.
Shot in Finland, Germany and the UK, the work is based on interviews with artists, art critics and curators on issues relating to the 'excess' of art production and at what point does art itself become waste. Diving into topics including the material management of art, cover storage, legacy, and the disposal of artwork, the documentary contributes to an ever-shifting discussion around making change within the art paradigm and the building of new perspectives around the potential of art to become a very particular form of problematic waste.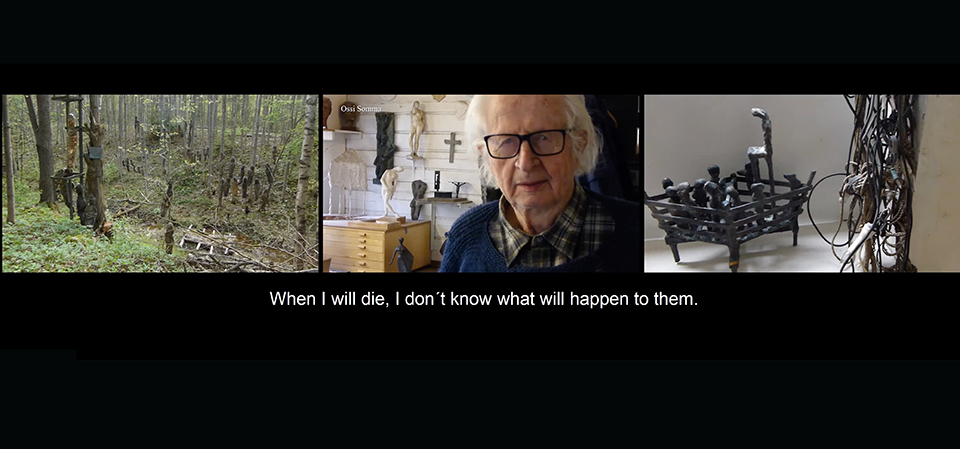 The evening will also include screenings of We Send our Signal (2021) by Andrew Demirjian and This place is a message (2021) by British-Canadian artist filmmakers Web-Ellis, the lead artists of programme 2 of this year's Visions in the Nunnery.
All the screenings will be followed by an informal conversation featuring Sharone Lifschitz and David Chapman.
The Nunnery Café will be open for the duration of the event, with refreshments and snacks available to purchase.
Free
(Tickets need to be booked using the link below to guarantee your place)
More about David Chapman
David Chapman is a London based documentary filmmaker, media artist and academic with a particular interest in sound and image interaction. He creates video and multichannel sound pieces for both gallery and site-specific exhibitions. His most recent works investigate the sonic mediation of the natural world, the durational dimensions of place, and historical and cultural issues through audio-visual installations.
More about Aimo Hyvärinen
Aimo (Ami) Hyvärinen is a media artist, photographer and documentary filmmaker. He works mostly with culture-oriented content and his track record includes ten long documentaries, three large multimedia productions, several corporation films, many video installations and more than twenty photo art exhibitions. Aimo lives in Tampere, Finland with his wife Irma and two sons.
More about Sharone Lifschitz
Sharone Lifschitz is an artist/ filmmaker and academic. Her work in moving image, urban interventions and text-based objects, play at the interaction of the ephemeralities of experience, encounter and conversations and the concreteness of architecture, networks and public space. Her work emerges from lived experience and chance encounters to trace the shape of collective and personal memory in everyday occurrences.
Access information
The Nunnery Gallery has step-free access throughout from street level, including to the accessible toilet, and is service animal friendly. This venue does not have a hearing loop system.
Accessible parking is not available on-site but blue badge parking can be found 500m away on Fairfield Road.
If you have any questions regarding accessibility at this venue or event, would like to make us aware of any access requirements that you have in advance of visiting, or would like this information in an alternate format including Easy Read, please email nunnery@bowarts.com or call 020 8980 7774 (Ext. 3)
Transport Information
Address: Nunnery Gallery, 181 Bow Road, London, E3 2SJ
Nearest station(s): Bow Road (District and Hammersmith and City lines) is a 6-minute walk away, and Bow Church (DLR) is a 3-minute walk away.
Bus: 205, 25, 425, A8, D8, 108, 276, 488 and 8 all service the surrounding area.
Bike: Bicycle parking is located at Bow Church Station. The nearest Santander Cycles docking station is at Bow Church Station.