Walk: herbalism and natural remedy walk with Rasheeqa Ahmad
Saturday 22nd April 2023 , 11:00am to 1:00pm
Uncover the remedial and liberatory properties of herbs and plants as we wander down the canal towpath, exploring practices of care and the healing histories that our local botanical landscapes hold.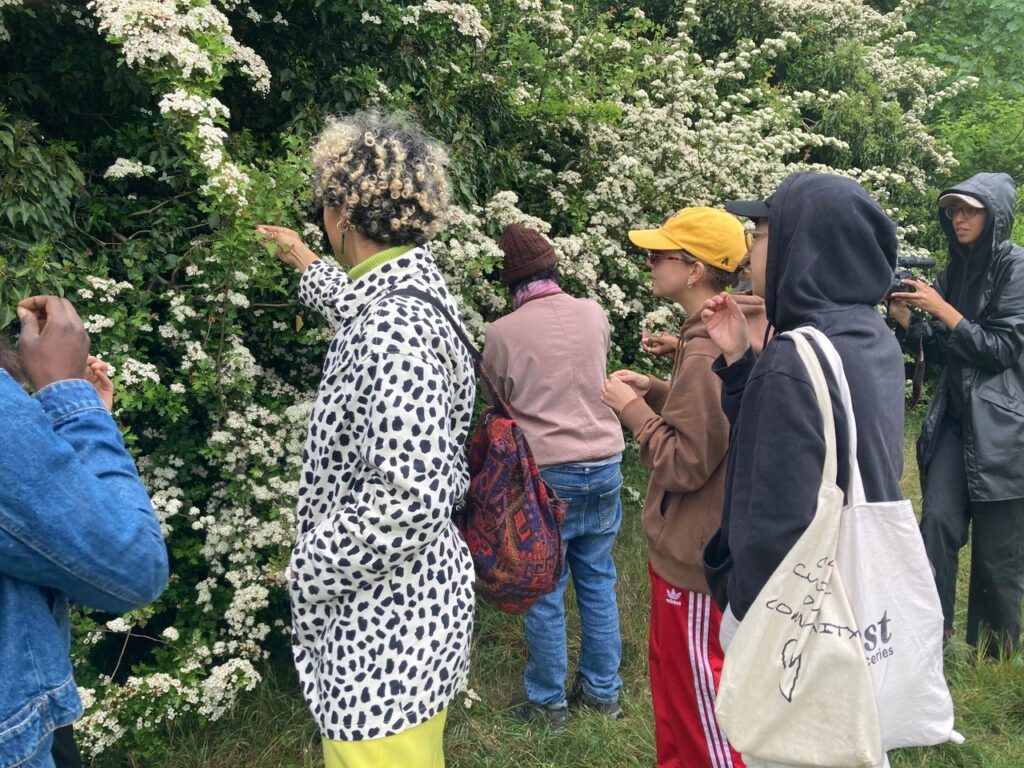 Homing in on the plants that we encounter in our local landscape of east London, join medical herbalist Rasheeqa Ahmad for a ramble as we walk and talk about what the histories and ecologies of plants might mean for collective healing and liberation.
Using the plants and herbs we meet along the way, we will make a communal foraged tea to sit and taste together, connecting ourselves with the local landscape and acknowledging the presence and power of these plants that have always played a crucial role in communities' practices of care and health.
There will be opportunities for attendees to free-write, draw, or reflect on their impressions from the walk and the meditative tea tasting.
All materials provided! However, if you wish to consciously forage and reciprocally receive things from the land along your way, then feel free to bring a jar or a cloth bag etc. with you, and a small offering to leave in exchange.
The walk will take place along a section of the canal towpath in east London. The exact meeting point on the day will be emailed out to all attendees a few weeks before the walk.
Concessions rate applies to Bow Arts artists, students, over 65s, under 18s, National Art Pass members, and key workers
More about Rasheeqa Ahmad
Rasheeqa Ahmad (Hedge Herbs) is a medical herbalist in her community in Walthamstow in north London. She has been practicing since 2012, offering treatment with herbal medicine and teaching about its many aspects, alongside a wider mix of work whose aim is reconnecting us as communities with the potential of this knowledge and craft as a way to support healthier living systems and relationships. She is inspired by her early involvement with the Radical Herbalism Gathering in exploring how to make plant medicine accessible and restore balance to its practice in the contexts of systemic inequalities and oppressions that are part of our shared histories.
She is part of the Community Apothecary in her locality, a social enterprise that brings community members together around a patchwork of medicinal herb gardens where they can learn about growing and making medicines together, exchanging knowledge and peer support and seeding the model in other neighbourhoods so that we create landscapes of healing everywhere! She was also a co-founder of the Mobile Apothecary in Bethnal Green, a street medicine distribution project bringing solidarity herbal healthcare to people from rough sleeper and less well resourced communities there.
Access information
If you have any questions regarding accessibility at this venue or event, would like to make us aware of any access requirements that you have in advance of visiting, or would like this information in an alternate format including Easy Read, please email nunnery@bowarts.com or call 020 8980 7774 (Ext. 3)
Access requirements could include things like providing equipment, services or support (e.g. information in Easy Read, speech to text software, additional 1:1 support), adjusting workshop timings (e.g. more break times) or anything else you can think of!
Related Events