Bow Skills Peer Crit: communicating your practice as an interdisciplinary artist with Art & People
Wednesday 26th April 2023 , 6:00pm to 8:00pm
Next up in our Peer Crit series, art advisor, gallerist, and founder of Art & People Claudia Kennaugh will grapple with how interdisciplinary artists can communicate the many strands of their practice, the core intentions of their artistic journey, and the importance of focusing on what art is saying as opposed to how it's saying it. These peer crits give artists the opportunity to present their work and get practical, personalised advice and feedback.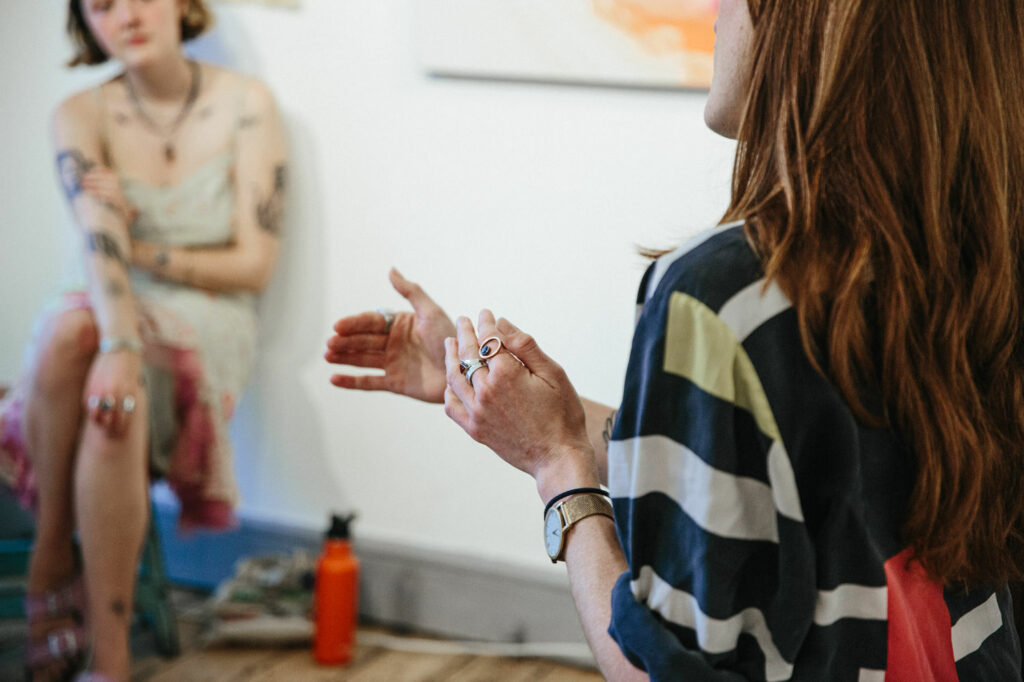 Claudia will begin by launching into the fundamentals of how to present a multi-facetted artistic practice with many different strands. You will tease apart the different strands of your practice to interrogate how they link together or reference each other and how this translates in online contexts and in person. Do you have a dominant practice that grounds all the others? Is one more consistent and others more sporadic? What are the tributaries and disciplines that extend from your principal practices and how does everything connect?
We will then home in on how crucial it is to talk about intention over medium when articulating your practice to make sure you're communicating in a way that feels cohesive and representative to your core self. It's so much more about what your artwork and practice is saying as opposed to how it's saying it.
The main part of the session will be reserved for the individual peer crits, where each artist will get around 12- 15 minutes to present their work and get personalised feedback from Claudia, as well as advice from wider group discussions with the other artists present.
Attendees are encouraged to bring along 3 examples of their work to the peer crit that they can speak to, either physically or digitally.
Concessions rate applies to Bow Arts artists, students, over 65s, under 18s, National Art Pass members, and key workers
Session overview

Opportunity for 8 artists to present their practice, join the conversation and receive personalised feedback
Introduction to the guest speaker's professional practice
Opportunity to network and meet other artists with similar experiences, who are actively working and practising today

What you will gain

Curatorial feedback on your individual practice and how you are currently communicating it, as well as an actionable plan on how to build on this
An insight into how other artists practicing today are approaching this topic
A new network of artists and creative professionals
More about Art & People
Art & People is a Bristol-based art advisory service offering guidance to artists and collectors. Prior to launching in 2019, founder Claudia Kennaugh worked in the arts for 15 years. First as a songwriter and performing artist and then art advisor and gallery partner. Over her years co-running the Hollywood Road Gallery, London – established by her family in 1980 – she curated countless fairs and exhibitions with hand-sourced artworks from the UK, Europe & South America. During this time, she nurtured the careers of many artists. Her dual experience of life on both sides of the business motivated her to create a service that helps the people who create art, just as much as those who collect it.
Today, Art & People supports the professional development of early-mid career artists with one-to-one coaching, online tutorials and workshops. By partnering with organisations such as Bow Arts Trust, Spike Island, Visual Artists Ireland and Wimbledon Art Studios, Claudia helps to foster thriving artist communities with her practical group sessions. Claudia's curating work continues both in exhibitions and in people's homes, where she helps collectors to buy, frame and hang art that they love. Her keen curatorial eye is eagerly sought after and in 2022 she was on the judging panel of Jackson's Painting Prize. By guiding artists and collectors simultaneously, Claudia creates new connections and opportunities, bringing it all full circle.
About Bow Skills 
Bow Arts seeks to support creative professionals at all stages of their careers. In 2015 Bow Arts launched Bow Skills in response to an artist survey which showed over 90% of practicing artists find it useful to receive further support outside formal education.  
Bow Skills is a dynamic and relevant programme of Continuing Professional Development (CPD) which is informed by an artist steering group and open to all creative practitioners across London. The programme of talks, panel discussions, new skills labs and peer crits is open to all, with concession rates available to students, over 65s, under 18s, Bow Arts artists and key workers.  
Access information
The Bow Arts Trust office has step-free access throughout from street level, including to the accessible toilet, and is service animal friendly. This venue does not have a hearing loop system.
Accessible parking is not available on-site but blue badge parking can be found 500m away on Fairfield Road.
If you have any questions regarding accessibility at this venue or event, would like to make us aware of any access requirements that you have in advance of visiting, or would like this information in an alternate format including Easy Read, please email nunnery@bowarts.com or call 020 8980 7774 (Ext. 3)
Access requirements could include things like providing equipment, services or support (e.g. information in Easy Read, speech to text software, additional 1:1 support), adjusting workshop timings (e.g. more break times), adjustments to the event space (e.g. making sure you have a table near the entrance) or anything else you can think of!
Transport Information
Opening hours: Mon-Friday, 9am to 5pm
Address: Bow Arts Trust, 183 Bow Road, London, E3 2SJ
Nearest station(s): Bow Road (District and Hammersmith and City lines) is a 6-minute walk away, and Bow Church (DLR) is a 3-minute walk away.
Bus: 205, 25, 425, A8, D8, 108, 276, 488 and 8 all service the surrounding area.
Bike: Bicycle parking is located at Bow Church Station. The nearest Santander Cycles docking station is at Bow Church Station.
Related Events