Thursday 2nd February 2023 , 7:00pm to 9:00pm
THIS EVENT IS NOW SOLD OUT. PLEASE EMAIL NUNNERY@BOWARTS.COM IF YOU WOULD LIKE TO BE ADDED TO THE WAITLIST
Enter the enchanting world of interdisciplinary artist and performance maker Lulu Wang as she takes over the Nunnery Gallery with a live performance of her shortlisted artwork for the East London Art Prize, LOVE.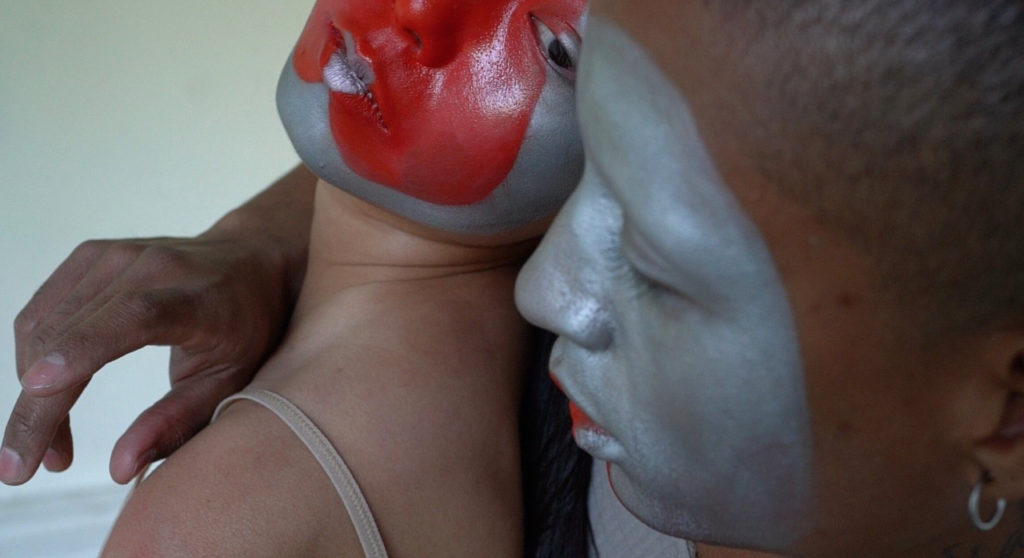 Wang's performance, movement and trace-making practice seeks to explore the ebb and flow between tender states of being, feeling, and emotional experience. Her selected piece for the Prize LOVE is an extension of her previous 'trace' works that archive the conscious and unconscious thoughts that arise when reflecting on the worlds we inhabit through our bodies. In LOVE, she embraces the many different manifestations of love as a language through which humans can become and hold each other close.
Harnessing the tender states of feeling explored and archived in the trace map on view in the Shortlist Exhibition, in this mesmerising live performance with her collaborator Josh Woolford, the two will engage in a communal exploration, immersing the audience into the emotional, bodily and at times other-worldly experience of love.
Taking cues from ancient Chinese mythologies, folklore, and the childhood game tug of war, Wang and Woolford will be bonded by a thin red thread as they perform the pull and push of the deep emotional exchange of joy and pain that loving someone intimately involves.
This performance will be followed by an informal conversation between Wang and Woolford, where they will dive deeper into their performance process and open up the floor for dialogue with the audience.
The Nunnery Café will be open for the duration of this event, with drinks and snacks available for purchase
Free
(This event is free but tickets must be booked to guarantee your place)
THIS EVENT IS NOW SOLD OUT. PLEASE EMAIL NUNNERY@BOWARTS.COM IF YOU WOULD LIKE TO BE ADDED TO THE WAITLIST
More about Lulu Wang (she/her)
Lulu Wang is a London-based Chinese interdisciplinary artist. Wang graduated from Contemporary Art Practice at the Royal College of Art in London.
Through mixed media mark-making and performances, her practice explores the body and its spontaneous movements as a shifting space that reveals the shape of relationships with surroundings. By incorporating Chinese mythology, dance and posthumanism narratives, her work expands symbiotic connections between emotional worlds and their physical embodiment-seeking the power and beauty of imperfection inside humanity and its nature.

More about Josh Woolford (they/them)
Born and raised in the South of England with mixed Dominican-British heritage, Joshua Woolford has been actively seeking community and understanding of the world(s) around them from a young age.
Woolford's work largely explores and critiques shared experiences of contemporary (sub) culture(s). Identity, belonging and freedom are concepts which heavily inspire the outcomes of their work, ultimately leading them to uncover and address opposing themes of rejection, detachment and disorientation.
Woolford's articulation process acts as a conversation; sometimes between them and themself, but mostly between the many versions of their portrayed selves and the people who surround them. Coming to terms with their queer diasporic identity and what it means to be in a place that they're not really from, and from a place they are not really in.
Access information
The Nunnery Gallery has step-free access throughout from street level, including to the accessible toilet, and is service animal friendly. This venue does not have a hearing loop system.
Accessible parking is not available on-site but blue badge parking can be found 500m away on Fairfield Road.
If you have any questions regarding accessibility at this venue or event, would like to make us aware of any access requirements that you have in advance of visiting, or would like this information in an alternate format including Easy Read, please email nunnery@bowarts.com or call 020 8980 7774 (Ext. 3)
Transport Information
Opening hours: Tues-Sun, 10 – 4
Address: Nunnery Gallery, 181 Bow Road, London, E3 2SJ
Nearest station(s): Bow Road (District and Hammersmith and City lines) is a 6-minute walk away, and Bow Church (DLR) is a 3-minute walk away.
Bus: 205, 25, 425, A8, D8, 108, 276, 488 and 8 all service the surrounding area.
Bike: Bicycle parking is located at Bow Church Station. The nearest Santander Cycles docking station is at Bow Church Station.