Saturday 15th July 2023 , 2:00pm to 10:00pm
Small, friendly festival celebrating the 1888 Matchwomen's strike, and all who try to make the world a better place today.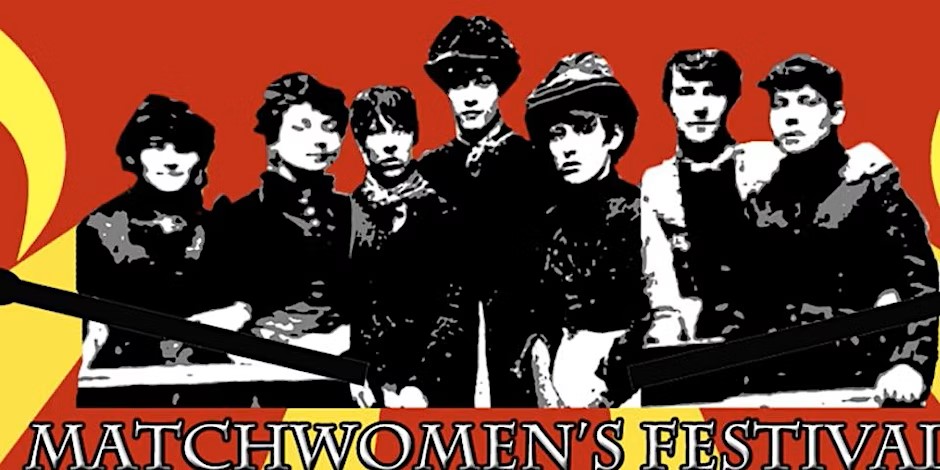 How do we resist, survive, support one another, and have FUN in tough times? Women like the Bryant & May matchworkers knew.
Hear lessons from history and today's activists at this relaxed, accessible and friendly mini-festival with Jeremy Corbyn and Laura Alvarez, A L Kennedy, The Orgreave Justice Campaign, and Emma Flowers.
What to expect:
This is an outdoor event but we do our best to provide shelter in case of high heat/rain.
Speakers and bands
We welcome everyone- children, and well-behaved men, as well as women! NB there may be adult language and themes
Courtyard venue on one level with dedicated disabled toilet
We are 'social anxiety' friendly! We have a small chill out area; we welcome people coming solo and promise to talk to you if you indicate you'd like a chat, or leave you the hell alone if not! We have a steward who is a trained mental health nurse. –
Bookstall and bar
Nunnery Cafe adjacent for food and hot drinks
£13
(+ £1.79 booking fee)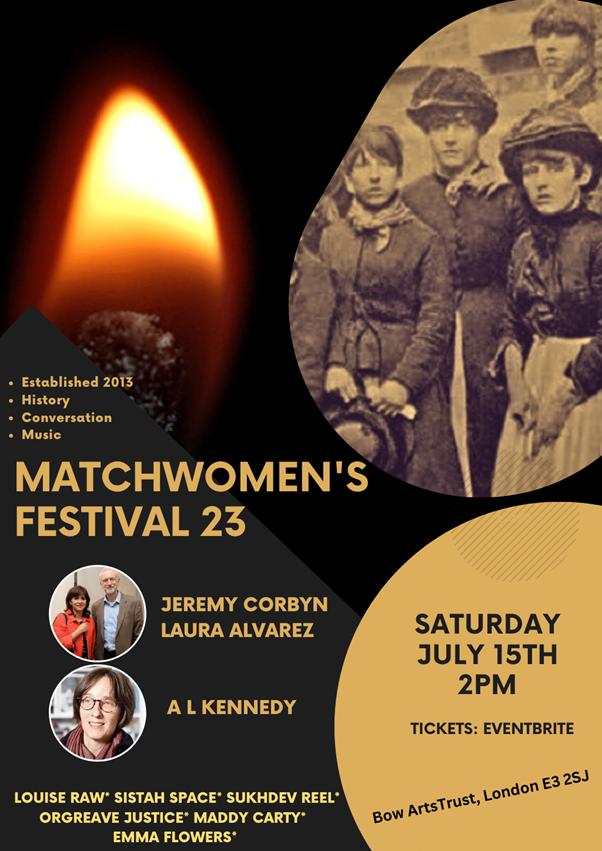 Louise Raw – Organiser of Matchwomen's Festival 2023
Louise Raw is a historian, writer and trade unionist who discovered the secret history of the Matchwomen's strike and the fascinating, inspiring women behind it. After several years research she published a book, Striking a Light, about them, and has worked and campaigned ever since to bring the importance of the women's actions to light. Her efforts were recognised by Parliament in 2013.
Twitter profile @LouiseRawAuthor
Access information
The Bow Arts Trust courtyard has step-free access throughout from street level, including to the accessible toilet, and is service animal friendly. This venue does not have a hearing loop system. Accessible parking is not available on-site but blue badge parking can be found 500m away on Fairfield Road.
If you have any questions regarding accessibility at this event or would like to make us aware of any access requirements that you have in advance of visiting, please email nunnery@bowarts.com
Access requirements could include things like providing equipment, services or support (e.g. information in Easy Read, speech to text software, additional 1:1 support), adjusting workshop timings (e.g. more break times), adjustments to the event space (e.g. making sure you have a table near the entrance) or anything else you can think of!