Sunday 26th November 2023 , 11:00am to 1:00pm
Join artist and educator Dunya Kalantery to mould your own tiny treasures, vessels, and objects out of salt dough and bring them to life with a splash of colour using food colouring and other fun materials.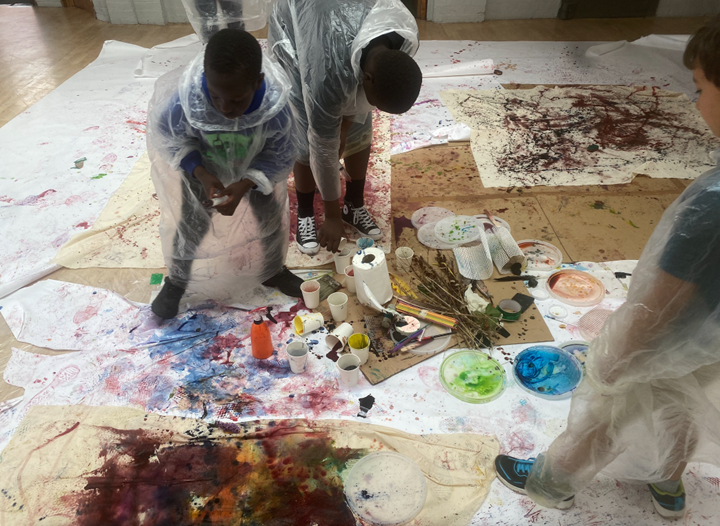 Taking inspiration from the colourful and playful provocation informing this year's Bow Open show curated by Chila Burman, Dunya will walk us through the process of how to make a simple salt dough using materials and ingredients you can find at home.
They will then encourage children to dream up and mould tiny vessels, objects, and treasures inspired by their own stories and messages they want to share, before using food colouring and a range of fun materials to personalise them and add a splash of colour!
In this workshop, children will learn how to make salt dough, mould 3D artworks, and experiment with different colours.
This workshop is going to be a messy one, so make sure you wear appropriate clothing! We will also be using plain flour to make our salt dough, so please do keep this in mind if you're stopping by. 
This event is an inclusive, friendly environment which is accessible to all abilities and age groups.
Bow Families is a series of free, drop-in family art workshops that take place on the last Sunday of every month in the Bow Arts Courtyard. These sessions are a wonderful opportunity for local families to get creative and try something new! Each session is led by a Bow Arts' Artist and all materials are provided.
Free
Drop in – all are welcome!
More about Dunya Kalantery
How do I listen to others? As if everyone were my Teacher, speaking to me (Her) cherished last words.
Hafiz 
Dunya is a queer Iranian/Croatian artist, educator and researcher from London. Their practice is concerned with (re)creating practices of belonging, with and in ecologies. They collaborate across generations and species, exploring displacement; loss; belonging; play; trauma; transformation and healing. Their work is fundamentally concerned with the power of narratives as a transformative tool. Their studio and education practices sit at the intersections of storytelling, radical pedagogy, healing work and site-specific public art, spanning sculptural objects, artist publications, sound, and performance.
Access information    
The Bow Arts Trust courtyard room has step-free access throughout from street level, including to the accessible toilet, and is service animal friendly. This venue does not have a hearing loop system. Accessible parking is not available on-site but blue badge parking can be found 500m away on Fairfield Road.
If you have any questions regarding accessibility at this venue or event, would like to make us aware of any access requirements that you have in advance of visiting, or would like this information in an alternate format including Easy Read, please email nunnery@bowarts.com or call 020 8980 7774 (Ext. 3)
Access requirements could include things like providing equipment, services or support (e.g. information in Easy Read, speech to text software, additional 1:1 support), adjusting workshop timings (e.g. more break times), adjustments to the event space (e.g. making sure you have a table near the entrance) or anything else you can think of!
Transport Information    
Opening hours: Mon-Friday, 9am to 5pm
Address: Bow Arts Trust, 183 Bow Road, London, E3 2SJ
Nearest station(s): Bow Road (District and Hammersmith and City lines) is a 6-minute walk away, and Bow Church (DLR) is a 3-minute walk away.
Bus: 205, 25, 425, A8, D8, 108, 276, 488 and 8 all service the surrounding area.
Bike: Bicycle parking is located at Bow Church Station. The nearest Santander Cycles docking station is at Bow Church Station.