Sunday 9th July 2023 , 3:00pm to 4:00pm
Come along to an exclusive curator's tour of Traces: Stories of Migration with curator and researcher Camilla Palestra (Curatorial Associate, Centre for Sustainable Fashion, University of the Arts London) to discover the diverse migration histories and stories woven into the landscape of east London through textile-related practices.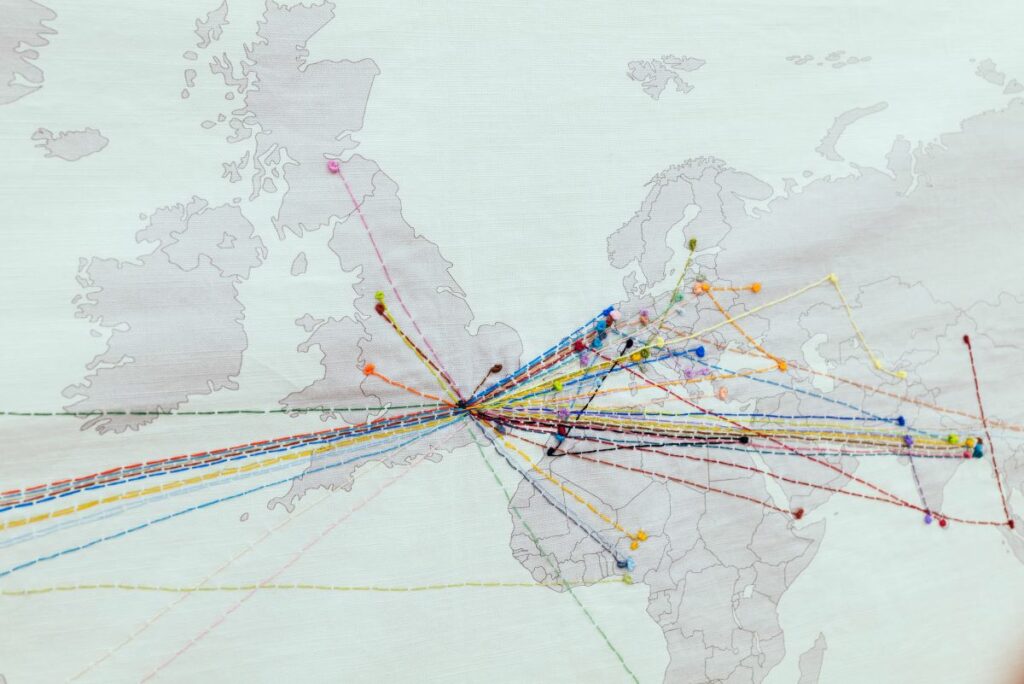 Led by international artist and researcher Lucy Orta – in partnership with London College of Fashion's Making for Change as part of The Portal Centre for Social Impact – the participants of the Traces: Stories of Migration workshops came together to share textile knowledge, follow the threads of community migration in the context of the East End rag trade, and celebrate east London's history of clothing and textile industry.
As the culmination of a 2-year project involving over 80 residents across Newham and Tower Hamlets, the resulting exhibition at the Nunnery Gallery is collective tapestry of lived experiences and memories.
During the tour, you will have the opportunity to engage with Camilla and her curatorial practice, and gain a deeper insight into the collaborative exchange of textile knowledge, embedded into the engagement and outreach that lies at the very core of the entire Traces project.
The tour will end with Q&A, where you can put all your burning questions to Camilla herself!
Find out more about the exhibition here.
Free
Tickets must be booked to guarantee your place!
More about Camilla Palestra
Camilla Palestra is a curator, researcher and educator concerned with multidisciplinary and collaborative practices that critically engage with urgent issues of our contemporary society, in connection to the socio-political environment and its diversity.
She has more than fifteen-year experience in curating and developing research-led projects for museums, galleries, higher education institutions, including the Venice Biennale, Fashion Space Gallery, Devi Art Foundation, Royal Academy of Arts London, and MART museum. Camilla has worked on solo exhibitions and commissioned projects with established and emerging artists, including Lucy + Jorge Orta, Shezad Dawood, Rainer Ganhal, Wendelien van Oldenborgh, Annie-Marie Akussah, Hanae Utamura, among others. She is currently working as Curatorial Associate at the University of the Arts London.
Camilla is an Associate Lecturer at the University for the Creative Arts and held teaching positions at Goldsmiths University of London, the London College of Fashion and Central Saint Martins (UAL). She received a MA Curating Contemporary Art from the Royal College of Arts London and was awarded the Fellowship of the Higher Education Academy (FHEA). Camilla is currently a doctoral researcher in the Advanced Practices programme in the Visual Culture Department at Goldsmiths, University of London.
Access information
The Nunnery Gallery has step-free access throughout from street level, including to the accessible toilet, and is service animal friendly. This venue does not have a hearing loop system. Accessible parking is not available on-site but blue badge parking can be found 500m away on Fairfield Road.
If you have any questions regarding accessibility at this venue or event, would like to make us aware of any access requirements that you have in advance of visiting, or would like this information in an alternate format including Easy Read, please email nunnery@bowarts.com or call 020 8980 7774 (Ext. 3)
Access requirements could include things like providing equipment, services or support (e.g. information in Easy Read, speech to text software, additional 1:1 support), adjusting workshop timings (e.g. more break times), adjustments to the event space (e.g. making sure you have a table near the entrance) or anything else you can think of!
Transport Information
Opening hours: Mon-Friday, 9am to 5pm
Address: Bow Arts Trust, 183 Bow Road, London, E3 2SJ
Nearest station(s): Bow Road (District and Hammersmith and City lines) is a 6-minute walk away, and Bow Church (DLR) is a 3-minute walk away.
Bus: 205, 25, 425, A8, D8, 108, 276, 488 and 8 all service the surrounding area.
Bike: Bicycle parking is located at Bow Church Station. The nearest Santander Cycles docking station is at Bow Church Station.