Friday 2nd June 2023 – Sunday 27th August 2023 , 10:00am to 4:00pm
Lucy Orta Traces: Stories of Migration will offer an insight into the diversity of first and second-generation migration histories woven into the landscape of east London.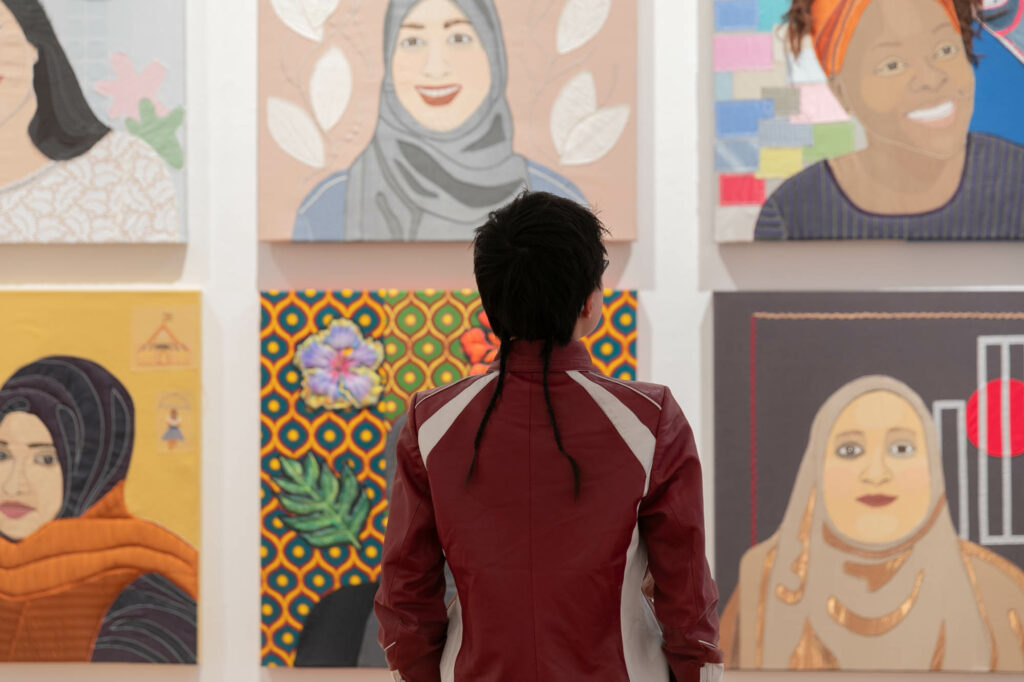 Led by international artist and researcher Lucy Orta, in partnership with London College of Fashion's Making for Change as part of The Portal Centre for Social Impact, the participants of the Traces: Stories of Migration workshops came together to share textile knowledge, follow the threads of community migration in the context of the East End rag trade, and celebrate east London's history of clothing and textile industry. As the culmination of a 2-year project involving over 80 residents across Newham and Tower Hamlets, the installation is a collective tapestry of lived experiences.
The walls of the Nunnery Gallery will reveal two distinct artistic responses that celebrate the collaboration. A 'Portrait Gallery' by Lucy Orta: a frieze of 40 large format canvases depicting the makers involved in the workshops recalls motifs from their migration stories. 'Story Cloths' made by each maker depict their physical or metaphorical journeys using a range of dexterous textile craft techniques.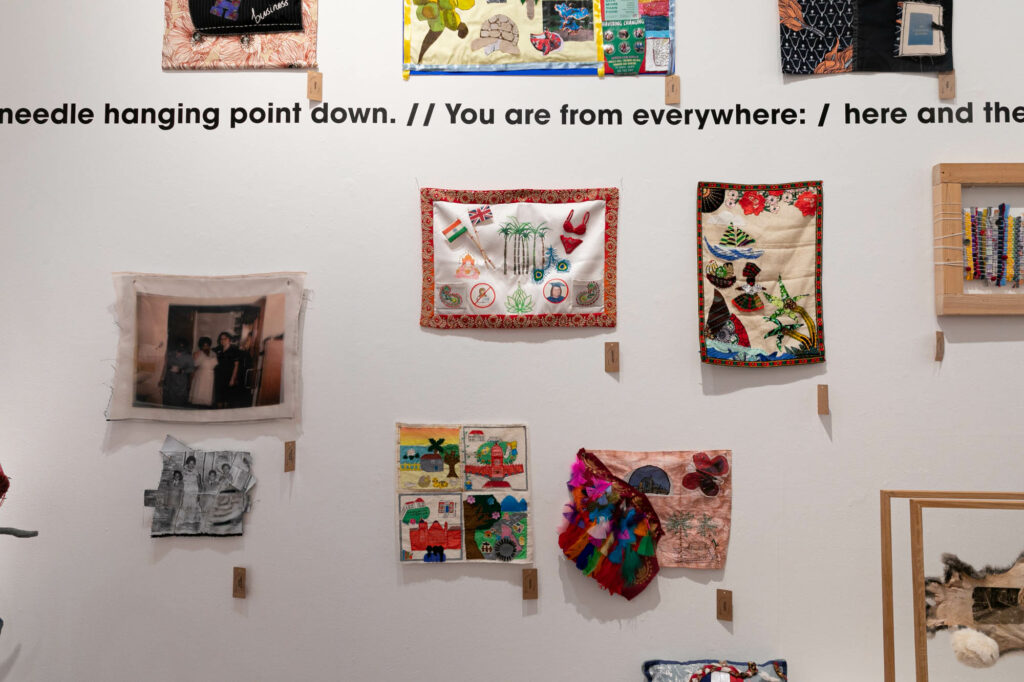 On display will also be exerpts from Needle Around Her Neck (Fair Acre Press), a collection of poems penned by author and Royal Literary Fellow Nathalie Abi-Ezzi, who accompanied the project. A film produced by AKO Storytelling Institute that follows the journey of the Story Cloths will debut at the exhibition.
An inspiring public programme accompanies the exhibition, featuring workshops on upcycling fabric offcuts, Nakshi Kantha embroidery techniques, botanical bundle dyeing, and an introduction to oral history and more, featuring some familiar faces from Traces: Stories of Migration participants. The programme provides opportunities to experience and appreciate the deep connections between storytelling, migration, heritage, and textile-based craft.
Traces: Stories of Migration is supported by the National Lottery through Arts Council England, the Portal Trust, Foundation for Future London, and the AKO Storytelling Institute, as well as Bromley by Bow Centre, Making for Change as part of The Portal Centre for Social Impact, Rosetta Arts, The Fashion District, and The Lab E20.
Tell us your thoughts: Feedback Form
Collaborators
We would like to thank all the participants involved in the workshops:
Alison, Angela, Anh, Anna, Annette, Anushka, Arfa, Aziza, Bilkis, Brenda, Carol, Caroline, Christine, Clare, Coral, Cristiane, Diego, Elena, Elisa, Ella, Foujia, Hajia, Hasna, Husna, Iman, Isabel, Jas, Jasmine-Karis, Jay, JC, Jeanmarie, Jennifer, Jess, Julia, Juris Prudence, Kadria, Keren, Layla, Margarita, Mariana, Marie, Migle, Milou, Mitale, Nahis, Nataljia, Neha, Nosira, Olivia, Pascale, Paula, Penelope, Peter, Poppy, Ruth, Sabinna, Saffie, Shama, Suma, Sylwia, Talula, Thandi, Vanessa, vincente, Yasmin, Yen-Yen, Zoey.
We would also like to thank the project team:
Nathalie Abi-Ezzi (Author), Jess Amarel (Assistant Cultural Producer, LCF-Rosetta Arts) David Betteridge (Filmmaker), Lori Demata (Photographer), Jasmine-Karis Fontiverio-Hylton (Textile Designer), Cheski Granger (Project Coordinator, Making for Change, LCF), Jasbinder Jhumat, (Specialist Technician, LCF), Margaux Lalanne (Head designer, Studio Orta), Susan Leen (Visual Artist, Studio Orta), Victoria Maira (Designer, Studio Orta), Lucy Orta (Artist and Researcher, Centre for Sustainable Fashion, LCF), Camilla Palestra (Associate Curator, Centre for Sustainable Fashion, LCF), Jo Reynolds (Projects Manager, Making for Change, LCF), Caroline Stevenson (Programme Director of Fashion Studies and Cultural and Historical Studies, LCF), Yen-Yen Teh (Director, Emulsion Architecture).
Access information
The Nunnery Gallery and Cafe have step-free access throughout from street level, including to the accessible toilet, and is service animal friendly. This venue does not have a hearing loop system.
Accessible parking is not available on-site but blue badge parking can be found 500m away on Fairfield Road.
If you have any questions regarding accessibility at this venue or event, would like to make us aware of any access requirements that you have in advance of visiting, or would like this information in an alternate format including Easy Read, please email nunnery@bowarts.com or call 020 8980 7774 (Ext. 3)
Access requirements could include things like providing equipment, services or support (e.g. information in Easy Read, speech to text software, additional 1:1 support), adjusting workshop timings (e.g. more break times), adjustments to the event space (e.g. making sure you have a table near the entrance) or anything else you can think of!
Transport Information
Opening hours: Tues-Sun, 10am to 4pm
Address: Nunnery Gallery, 181 Bow Road, London, E3 2SJ
Nearest station(s): Bow Road (District and Hammersmith and City lines) is a 6-minute walk away, and Bow Church (DLR) is a 3-minute walk away.
Bus: 205, 25, 425, A8, D8, 108, 276, 488 and 8 all service the surrounding area.
Bike: Bicycle parking is located at Bow Church Station. The nearest Santander Cycles docking station is at Bow Church Station.