Saturday 24th June 2023 , 11:00am to 4:00pm
Join community textile artist Jasmine Karis as she guides us through the DIY print method of photo transfer, before stitching together and creating your own photographic textile journal to document cherished memories you want to hold close. This workshop will run twice throughout the day – the first session from 11am-1pm and the second session from 2 – 4pm.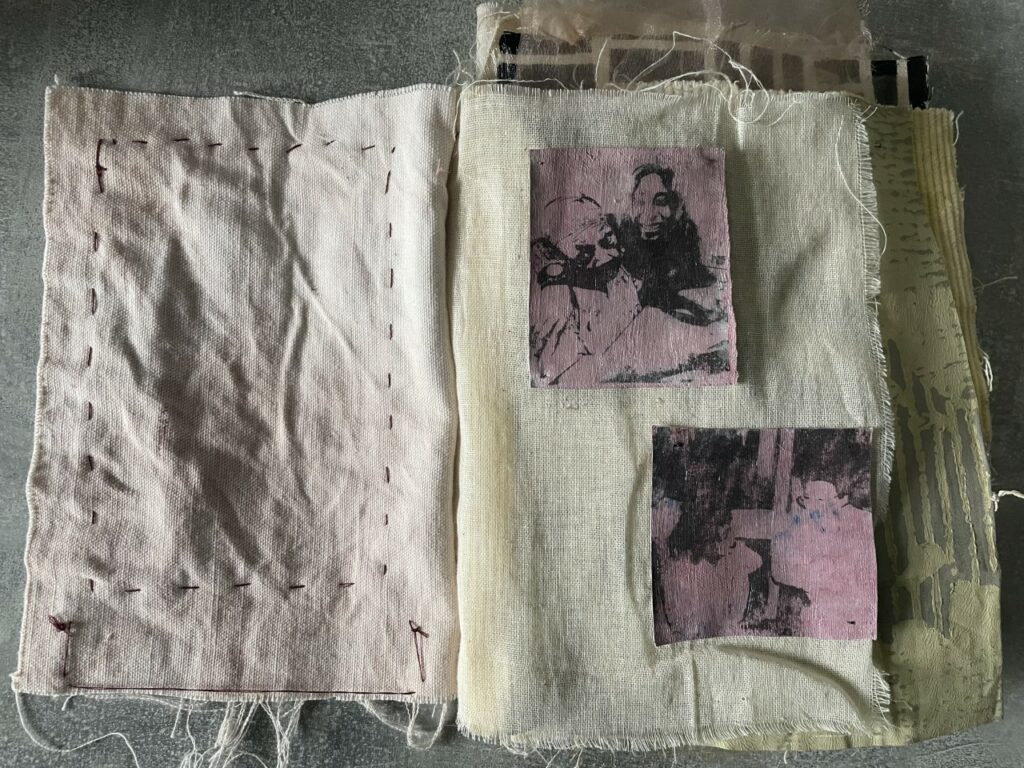 How we choose to remember and express our own individual stories is a very different and personal journey for us all. Community textile artist (and keen journalling advocate) Jasmine Karis invites you to create a visual record of memories, people, places, and experiences that you would like to honour and cherish.
By using the medium and vessel of the journal as a space for personal and collective healing, Jasmine will gently guide participants through the entire process of DIY photo transfer, so you can continue adding in and referencing your own stories and memories far beyond the workshop itself.
To start the workshop, you will create your journal using simple binding techniques, incorporating hand stitching methods. You will then experiment with the image transfer method on smaller scale images to get familiar with the process, before moving onto slightly larger images if you wish.
For those who also want to decorate their journals in the workshop, there will be a range of fun materials on hand to jazz up your journals with extra designs, patterns, and embellishments.
No experience necessary and all materials provided!
What do you need to do beforehand?
If you are able to, please bring along some print outs of photographs (max A5 size) that you want to work with during the workshop. If you don't have access to a printer, you're more than welcome to use our printer on the day itself or email your images to nunnery@bowarts.com so we can print them out beforehand.
For folks who might not have any personal photos they want to use during this workshop, you're more than welcome to select images online that speak to you in some way or represent a certain message that you want to share.
This workshop will run twice throughout the day – the first session from 11am-1pm and the second session from 2 – 4pm. Please book onto your chosen workshop by selecting one of the two buttons below.
Free
Tickets must be booked to guarantee your place!
More about Jasmine Karis
Jasmine Karis is an LCF Fashion Textiles: Print graduate and Textiles Community Artist, firmly rooted in creativity, craft, community, nature, and wellbeing. Within her work she typically seeks to engage her audience by creating safe spaces for people to show up as their authentic selves and encouraging them to creatively express themselves in low pressured environments with no judgement. Her inherent interest in her Jamaican heritage has fuelled her natural affinity for storytelling through making, and the interweaving of language and visual imagery.
Access information
The Bow Arts Trust courtyard room has step-free access throughout from street level, including to the accessible toilet, and is service animal friendly. This venue does not have a hearing loop system. Accessible parking is not available on-site but blue badge parking can be found 500m away on Fairfield Road.
If you have any questions regarding accessibility at this venue or event, would like to make us aware of any access requirements that you have in advance of visiting, or would like this information in an alternate format including Easy Read, please email nunnery@bowarts.com or call 020 8980 7774 (Ext. 3)
Access requirements could include things like providing equipment, services or support (e.g. information in Easy Read, speech to text software, additional 1:1 support), adjusting workshop timings (e.g. more break times), adjustments to the event space (e.g. making sure you have a table near the entrance) or anything else you can think of!
Transport Information
Opening hours: Mon-Friday, 9am to 5pm
Address: Bow Arts Trust, 183 Bow Road, London, E3 2SJ
Nearest station(s): Bow Road (District and Hammersmith and City lines) is a 6-minute walk away, and Bow Church (DLR) is a 3-minute walk away.
Bus: 205, 25, 425, A8, D8, 108, 276, 488 and 8 all service the surrounding area.
Bike: Bicycle parking is located at Bow Church Station. The nearest Santander Cycles docking station is at Bow Church Station.