Thursday 1st June 2023 , 6:00pm to 9:00pm
Join us for the private view of Lucy Orta Traces: Stories of Migration – an exhibition that offers an insight into the diversity of first and second-generation migration histories woven into the landscape of east London. Read more about the exhibition here.
In partnership with London College of Fashion's Making for Change, we proudly celebrate the opening of Lucy Orta Traces: Stories of Migration.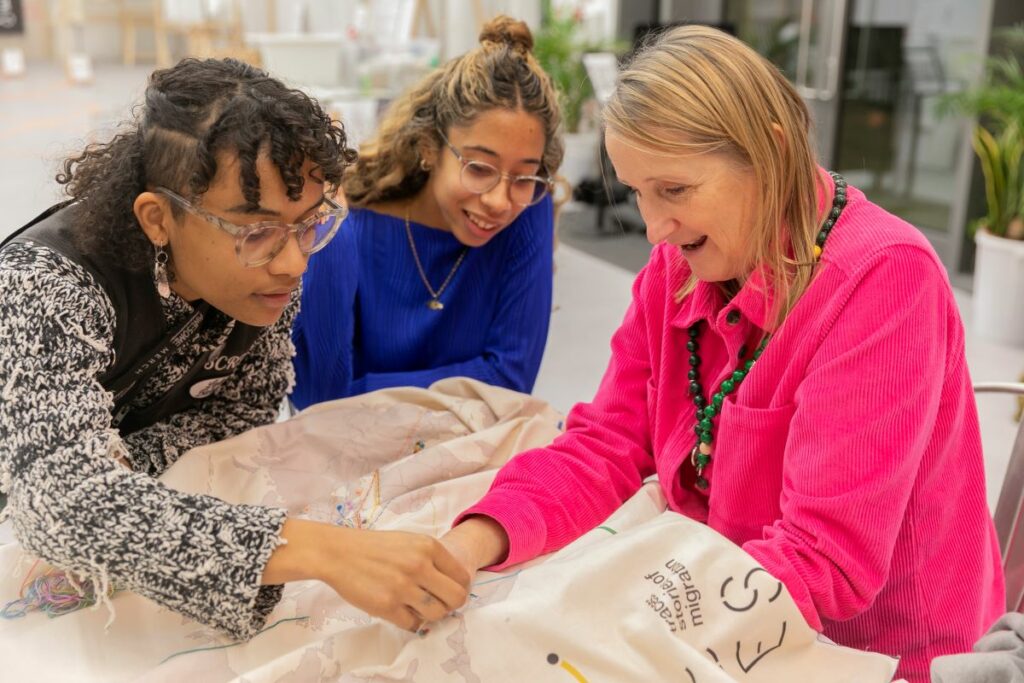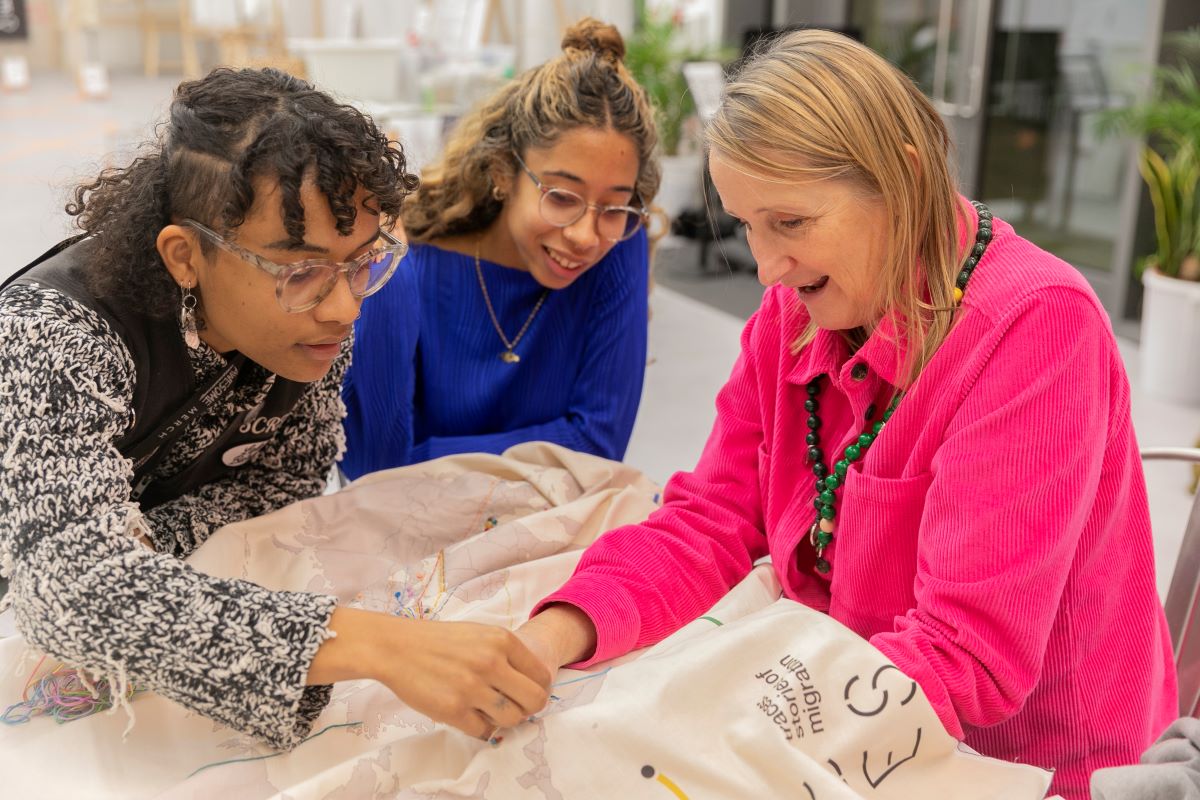 The Nunnery Gallery will be exhibiting a 'Portrait Gallery' by Lucy Orta, depicting the makers involved in the workshops in a frieze of 40 canvases. On display alongside the portraits will be 'Story Cloths' made by each maker, representing their physical or metaphorical journeys using a range of textile craft techniques.
The walls will be displayed with selections from Needle Around Her Neck, a collection of poems penned by author and Royal Literary Fellow Nathalie Abi-Ezzi published to coincide with the exhibition. A film produced by AKO Storytelling Institute that follows the journey of the Story Cloths will be on show for the first time at the Nunnery Gallery.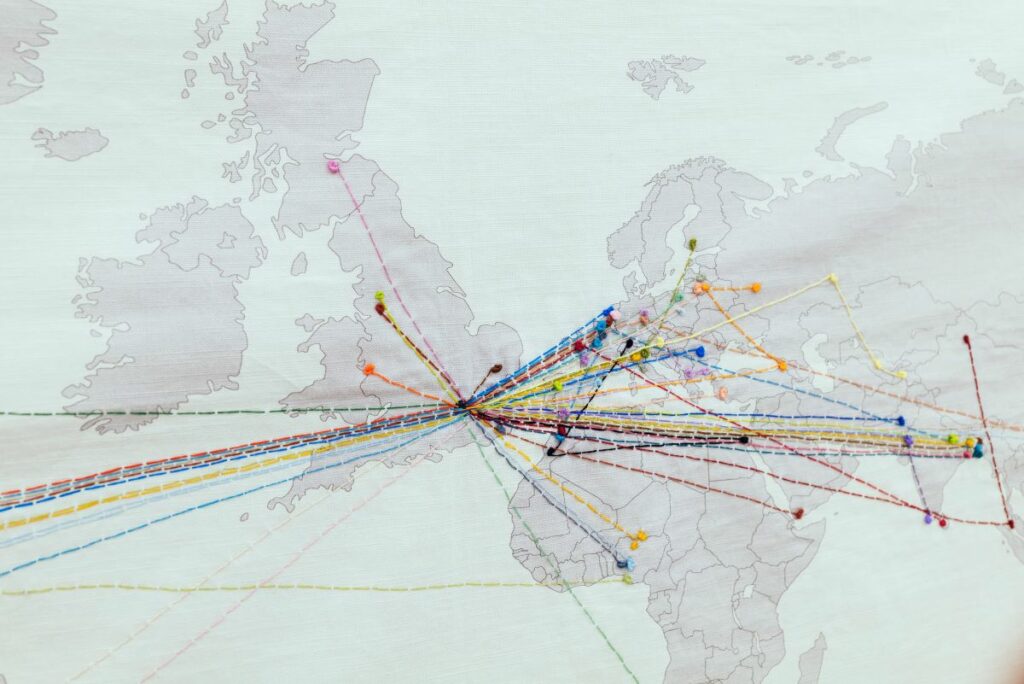 Drinks and snacks from the Nunnery Café will be served throughout. More information to follow.
Free
(No booking required – all are welcome!)
Lucy Orta b.1966
Lucy Orta's visual arts practice investigates the interrelations between the individual body and community structures, exploring their diverse identities and means of cohabitation. Her process of representing community voices incorporates co-creation and inclusive methods of engagement to empower participants through shared creative practice. She has collaborated with a wide range of people, often those who are vulnerable or excluded. Her most recent projects include 'Banner Processions' with female prisoners at HMP Downview, which explores women's rights through text and stitched motifs; and 'The Lost Species' which investigates species interconnectivity and biodiversity loss.
In recognition of their contribution to sustainability, Studio Orta received the Green Leaf Award for artistic excellence with an environmental message, presented by the United Nations Environment Programme in Oslo, Norway (2007).

Studio Orta's work has been the focus of major exhibitions at Musée d'art Moderne de la Ville de Paris, France (1994); 2nd Johannesburg Biennale, South Africa (1997); Weiner Secession, Austria (1999); Gwangju Biennale (2004); The Curve, Barbican Art Gallery, London and Fondazione Bevilacqua La Masa, Italy (2005); Museum Boijmans Van Beuningen, The Netherlands; 9th Havana Biennale, Cuba (2006); Biennial of the End of the World, Antarctica (2007); Pirelli Hangar Bicocca, Italy (2008); Natural History Museum London, UK (2010); MAXXI National Museum of XXI Century Arts, Italy and Shanghai Biennale, China (2012); Yorkshire Sculpture Park, UK (2013); Herbert F. Johnson Museum of Art, USA (2014); Attenborough Arts Centre, UK; Peterborough City Gallery Museum, UK (2016); Humber Street Gallery, Hull (2017); Ikon Gallery, UK (2018); Palazzo Vecchio, Museo Salvatore Ferragamo, Museo Novecento, Italy (2019); Les Tanneries, France (2020); Flughafen Tempelhof, Germany; New Tretyakov Gallery, Russia (2021); Centre Pompidou-Metz, France (2022).
Lucy co-founded Studio Orta with her partner the Argentine artist Jorge Orta, in 1992. They have worked in partnership since 2005 under the co-authorship Lucy + Jorge Orta. In acknowledgement of her innovative socially engaged research practice Lucy Orta was nominated as Head of the Man & Humanity, a pioneering master program for sustainable design, which she cofounded with Li Edelkoort at the Design Academy Eindhoven, in 2002. She is a member of the Centre for Sustainable Fashion and holds the post of Chair of Art and the Environment at the University of the Arts London, where she founded the Art for the Environment Artist in Residency Program.
Access information
The Nunnery Gallery and Cafe have step-free access throughout from street level, including to the accessible toilet, and is service animal friendly. This venue does not have a hearing loop system.
Accessible parking is not available on-site but blue badge parking can be found 500m away on Fairfield Road.
If you have any questions regarding accessibility at this venue or event, would like to make us aware of any access requirements that you have in advance of visiting, or would like this information in an alternate format including Easy Read, please email nunnery@bowarts.com or call 020 8980 7774 (Ext. 3)
Access requirements could include things like providing equipment, services or support (e.g. information in Easy Read, speech to text software, additional 1:1 support), adjusting workshop timings (e.g. more break times), adjustments to the event space (e.g. making sure you have a seat near the entrance) or anything else you can think of!
Transport Information
Opening hours: Tues-Sun, 10am to 4pm
Address: Nunnery Gallery, 181 Bow Road, London, E3 2SJ
Nearest station(s): Bow Road (District and Hammersmith and City lines) is a 6-minute walk away, and Bow Church (DLR) is a 3-minute walk away.
Bus: 205, 25, 425, A8, D8, 108, 276, 488 and 8 all service the surrounding area.
Bike: Bicycle parking is located at Bow Church Station. The nearest Santander Cycles docking station is at Bow Church Station.