Sunday 28th May 2023 , 11:00am to 1:00pm
If we could write our own story, what would be the outcome? Join textile artist and sculptor Nathalie Coste in a world of imagination as we dream up a collective story filled with twists, turns, and whatever adventures you choose.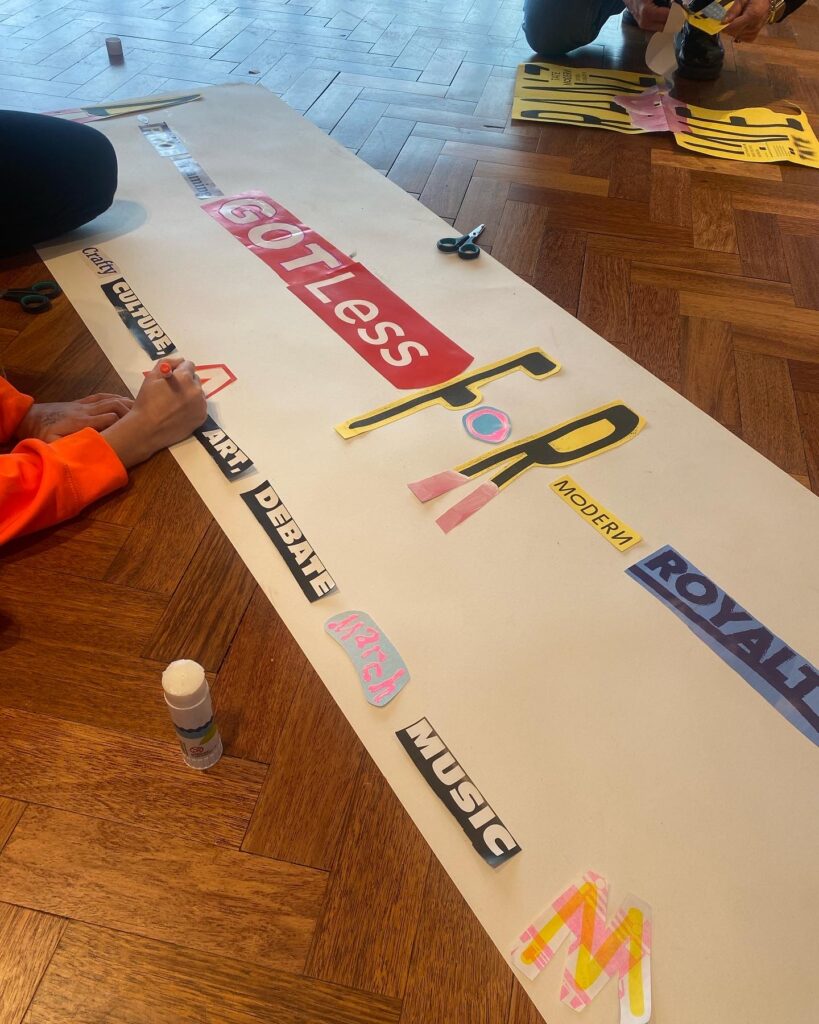 Taking clippings and imagery from newspapers, magazines, traditional folklore, and fairy tales as our starting point, in this workshop, children will cut, paste, and collage as they work together to build a collective story, sprawling out across a 'never-ending' roll of paper that will curl around the corners of our courtyard space.
The fate of the story lies in their hands, as each child has the power to sway, upturn, or completely transform the direction of the storyline and decide what their own happy ending looks like.
In this workshop, children will learn how to play with the shape of words and images, design their own shapes and characters, work together as a group, and cut, paste and collage.
Makers will also get the option to see their work in shining lights as Nathalie will translate the collective story made in the workshop to be displayed on a big LED board currently located in Nest New Library in Thamesmead as part of her ongoing Electronic Poetry Project.
This event is an inclusive, friendly environment which is accessible to all abilities and age groups.
Bow Families is a series of free, drop-in family art workshops that take place on the last Sunday of every month in the Bow Arts Courtyard. These sessions are a wonderful opportunity for local families to get creative and try something new! Each session is led by a Bow Arts' Artist and all materials are provided
Free
Drop in event – no booking required!
More about Nathalie Coste
Nathalie Coste is a French Textile artist and Sculptor based in London.
Her work is about the End of this World as we know it and how this peculiar moment in the history of humanity is challenging our adaptability and modelling our creativity through moving Aesthetics' borders.
Nathalie Coste's practice is led by her Academic knowledge in textile design accumulated over years of exploration in Fashion Industry and craft from 1993 until 2013, when she decided to turn her practice toward sculpture, using recycled materials and Low technology
Access information
The Bow Arts Trust courtyard has step-free access throughout from street level, including to the accessible toilet, and is service animal friendly. This venue does not have a hearing loop system. Accessible parking is not available on-site but blue badge parking can be found 500m away on Fairfield Road.
If you have any questions regarding accessibility at this event or would like to make us aware of any access requirements that you have in advance, please email us at nunnery@bowarts.com
Access requirements could include things like providing equipment, services or support (e.g. information in Easy Read, speech to text software, additional 1:1 support), adjusting workshop timings (e.g. more break times), adjustments to the event space (e.g. making sure you have a table near the entrance) or anything else you can think of!
Transport Information
Address: Bow Arts Trust, 183 Bow Road, London, E3 2SJ
Nearest station(s): Bow Road (District and Hammersmith and City lines) is a 6-minute walk away, and Bow Church (DLR) is a 3-minute walk away.
Bus: 205, 25, 425, A8, D8, 108, 276, 488 and 8 all service the surrounding area.
Bike: Bicycle parking is located at Bow Church Station. The nearest Santander Cycles docking station is at Bow Church Station.