Friday 7th October 2022 – Sunday 6th November 2022 , 10:00am to 4:00pm
Visions Programme 1 invites you into the abandoned English garden, across an untended lawn and into decrepit sheds, in which lurk films exploring nostalgia, ecology, our relationship with animals and surreal imagination. Led by invited artist Patrick Goddard, his satirical art focuses on urban change, gentrification and ecology with works that are often politically charged and narrative-based. His characteristic immersive installations are an intrinsic part of his practice with films shown within their own encompassing viewing enviroments.
For Visions Goddard has created a unique installation, houseing 20 international artists' films together with a new work of his own, a continuation of his celebrated Animal Antics.
Begin a curious journey of nightmarish sound and discovery, taking you through forests of darkness (Jan Adamove, Slovakia), performative poetry on passports and privilege (Katia Sophia Ditzler, Germany / Ukraine), a crying pigeon's story (Theo Ellison, UK) and much more. Selected from an international open call, Visions brings together artworks from across the globe, giving you a unique chance to discover different voices, ideas and perspectives through film.
Programme 1 Exhibiting Artists: Jan Adamove; Tom Bull; Brit Bunkley; Alessia Cecchet; Katia Sophia Ditzler; Theo Ellison; Ben Fox; Richard Haley; Wendy Kirkup; Edwin Miles; El Morgan; Rebecca Moss; Jeremy Newman; Toby Parker Rees; Claudio Pestana; George Stamenov; Patrick Tarrant; Hong Yane Wang; Dillon Ward; Jack Williams.
Check out the online exhibition here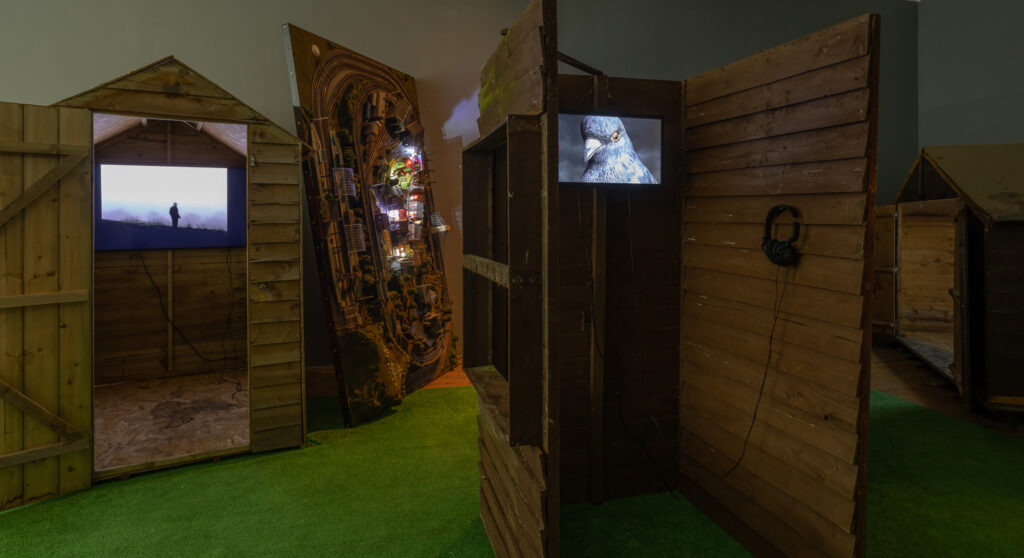 Visions Programme 1 is part of Bow Arts' biennial festival of film Visions in the Nunnery, presenting work of invited artists with a curated selection from an international open call. This year we received 448 submissions from 48 different countries. Not to be missed, Visions gives viewers the unique experience of a curated conversation of filmmakers from across the world. Visions Programme 2 led by Webb-Ellis follows Programme 1 on 11 November.
An event programme including foraging walks, early career artist film screenings and open mic poetry accompanies the exhibition. Find out more on our What's On.
About Patrick Goddard
Patrick Goddard completed an MFA at Goldsmiths University (2011) and a PhD at Oxford University (2019). Goddard is currently exhibiting in group shows at The Whitechapel Gallery, Ulster Museum of Modern Art and as part of the British Art Show 9 in Manchester, and will show a new body of work as a solo presentation with Seventeen Gallery as part of the new art fair Paris+ par Art Basel this coming autumn (2022). In 2020 Goddard was awarded the FLAMIN productions film award. Solo shows include: 'Pedigree' Seventeen, London 2022; 'Die Biester' E-Werk, Freiburg 2021; 'Trip to Eclipse' Matt's Gallery, London 2020; 'Real Estates' Seventeen, London, 2019; 'Ghost House' The Drawing Rooms, London, 2018; 'Go Professional' Seventeen, London, 2017; 'Looking for the Ocean Estate' Almanac Projects, London, 2016, 'The Hellish Cycle' BlackRock/Matt's Gallery, Gloucestershire 2016; 'Gone To Croatan' Outpost Gallery, Norwich, 2015; 'Revolver II' Matt's Gallery, London, 2014.