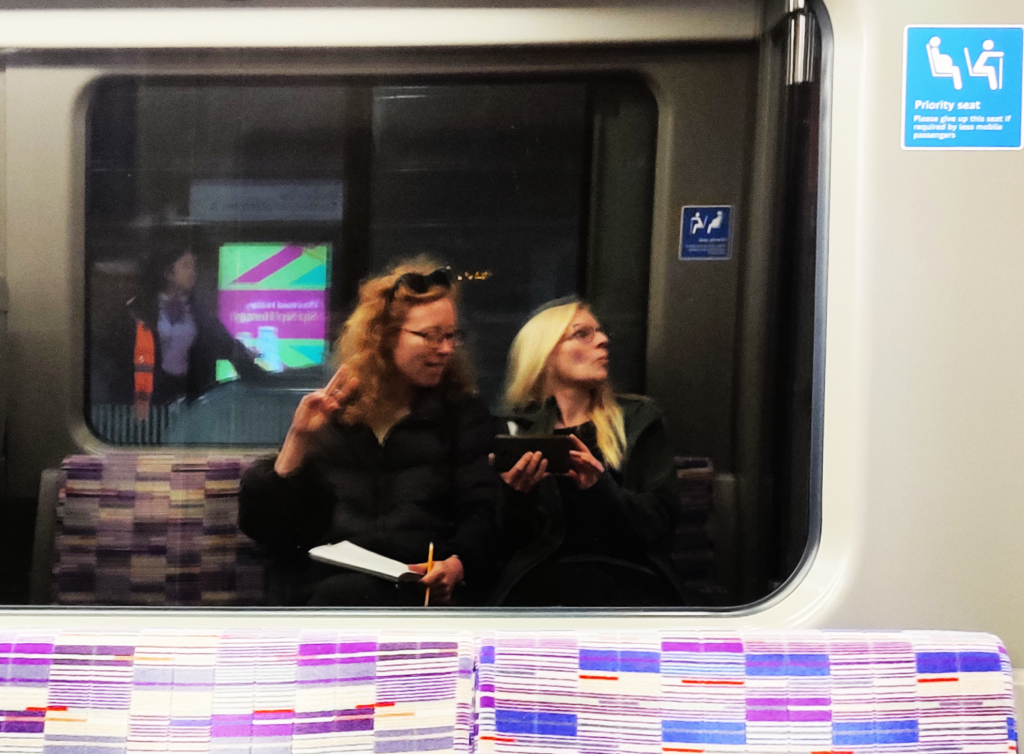 We caught up with Nicky Sutton and Chloe Cooper to talk about Thamesmead, the Elizabeth line, and making zines. Here's what they have to say:
Can you tell us about your background? Where are you from originally? What brought you to Thamesmead?
Nicky has worked and lived in Thamesmead since 2020, having worked and lived in different parts of London all her life. Chloe moved from Lewisham to Thamesmead in 2020. They both needed somewhere cheap and exciting to live-work, where they could meet each other and also be a part of a community of other artists, makers, crafters, and projects to get involved in. Not to mention getting to know and be part of the wider community of long-time residents of Thamesmead and Abbey Wood.
What's your practice like? What materials do you primarily work in? What types of projects have you worked on?
Chloe has a studio at the Lakeside Centre where she marbles paper to make zines about knee pain, wearing glasses during Covid and drinking wine whilst working from home. She collaborates with composer and vibraphonist Jackie Walduck as Vibin n Marblin, to make audio-visual performances where Chloe's marbling responds to Jackie's music and vice versa, resulting in immersive video projections and mesmeric vibraphone soundscapes.
Nicky has a live-work space in Thamesmead. When she isn't making Tunnel Tourists zines with Chloe, she puts her neurodiversity into dabbling with photography, multi-media mess-making and other, less productive studio practice. She is also an art therapist, a workshop facilitator, found fun in green woodworking, and has discovered that she is fairly alright at being a small-time fundraiser. She is involved in the Thamesmead nature and culture forums, and in projects with the Friends of Lesnes Abbey & Woods.
Can you explain a little about your Elizabeth Line zine? How did the idea come about? How was working on it together? What was your favourite part of the process? Were there any challenges?
The Tunnel Tourists zine is a mix of hand-drawn illustration, text and digital photography, printed as a 28 page 2 colour Risograph, as a limited run.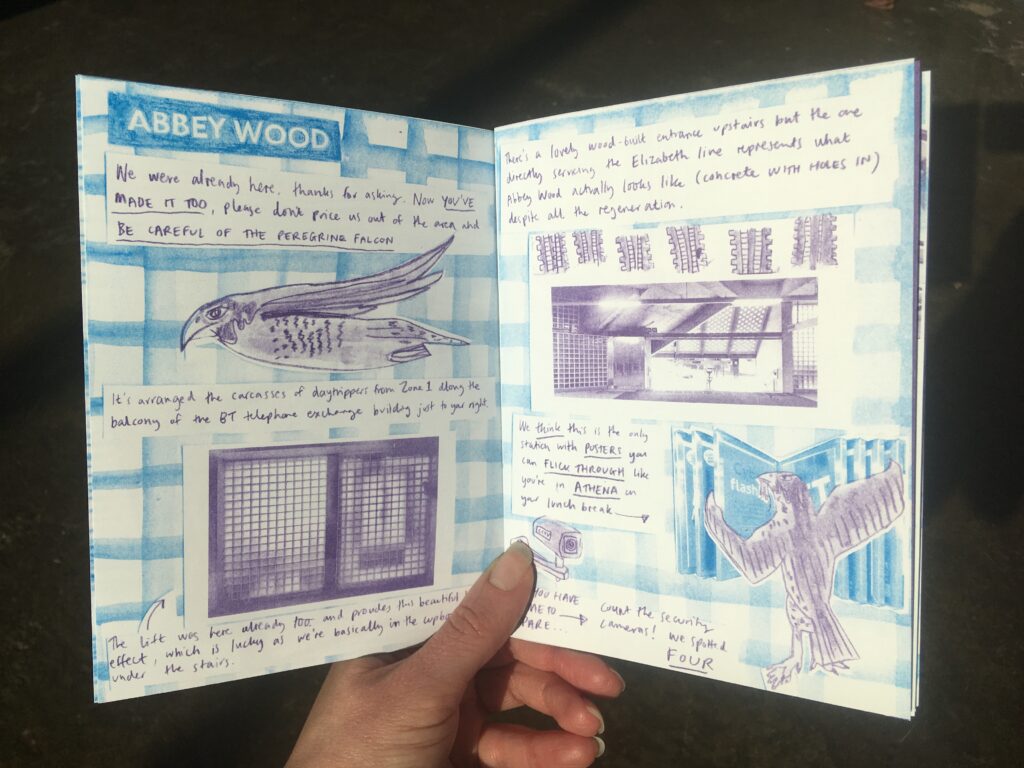 It's about our experiences of living in Abbey Wood with the promise of the new Elizabeth Line – we were feeling somewhat sluggish in daily life, travelling on slow trains to get across town. And we both were fairly abandoned by our social scenes, who couldn't understand why someone would want to live "so far away" disbelieving that having the SE2 postcode, means we're STILL IN LONDON!

Nicky Sutton & Chloe Cooper
When The Elizabeth Line opened, work-travel and friend-accessibility was suddenly a dreamy breeze. We were so excited that we spent a day rating ALL THE STATIONS! Later we wanted to share our findings with the world of Tunnel Enthusiasts, Concourse Connoisseurs and Wayfinding Warriors and thus was born, Tunnel Tourists!
There's a double page spread on each station, a scorecard for readers to fill in about Bond Street station, which wasn't open at the time. A leader-board at the back shows how we rated the stations. We invite people to tag our Insta, letting us know their score results.
We then went to the early morning opening of Bond Street Station, met some senior people in Crossrail/TfL, got mentioned in their corporate social media, watched the Mayor of London wander around, was interviewed by a YouTuber and met other excited and creative people, including those sporting specially designed clothing.
Tunnel Tourists is available to buy in-person from the Nunnery Gallery at Bow Road or via Instagram @tunneltourists by PayPal for £6 (including p&p). You might even be able to do some Zine-spotting soon – a selection of gallery bookshops and museum collections are interested in stocking us (tbc/coming soon!).
What was your favourite part of the process?
Working together was great fun, we shared a similar, playful excitement and a wish to document the experience, watch some train & tunnel videos, share snacks, humour, cultural references and the like.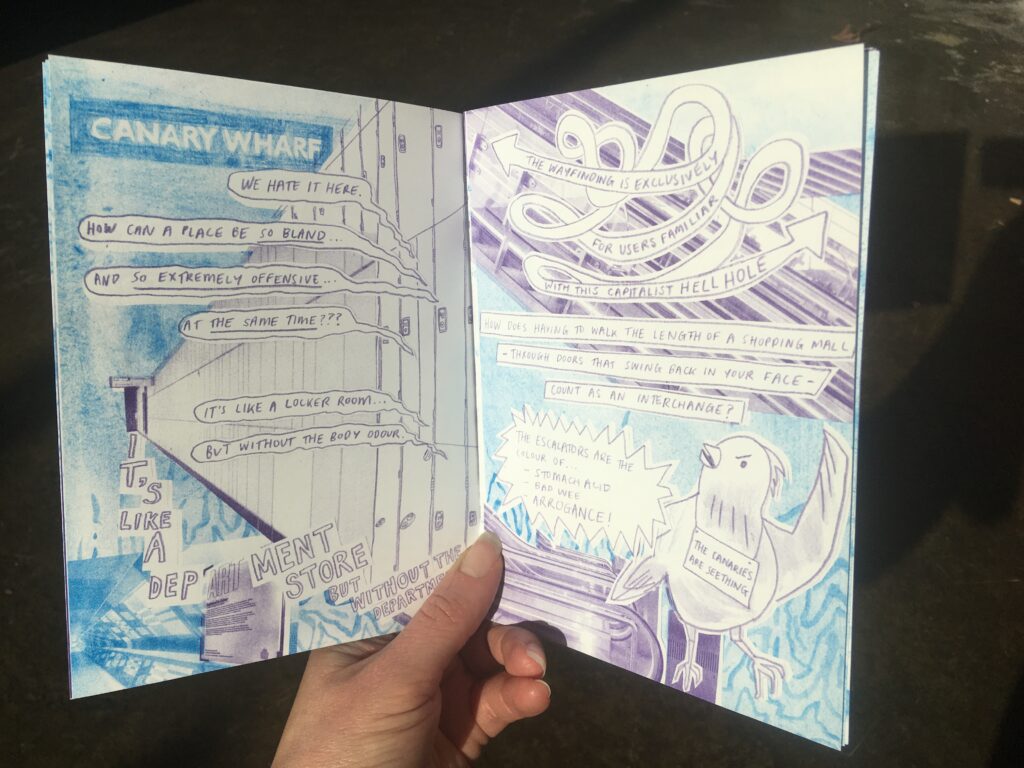 Infrastructure projects on the scale of the Elizabeth line are inherently political – there's the issue of where the money's coming from, how over-budget it is, how many people are killed either by construction lorries or accidents in the building process, which areas are served and which areas get ignored.

Nicky Sutton & Chloe Cooper
Self-publishing is a powerful way to have your say. Our neighbours and wider community have been really supportive of the zine. It's been a great way to share this unique moment in time together.
The London Transport Museum are keen to have a copy of Tunnel Tourists as part of their collection commemorating the opening of the Elizabeth line, which is pretty cool.
We submitted Tunnel Tourists into two open call exhibitions – one at Southwark Park Galleries and one at the Barbican Arts Group Trust's @bagtrust ArtWorks Open 2022 where artist-selectors Louise Ashcroft @louiseashcroft1 and Jasleen Kaur @_jasleen.kaur_ awarded us with a cash prize AND a solo show.
Challenges:
Hand-cutting and stapling all 100 zines was a solid challenge. Learning the print process from scratch and setting our own self-imposed deadlines was pretty healthy, negotiable fun. Particularly around our day jobs.
How has the Elizabeth Line impacted your life living in Thamesmead?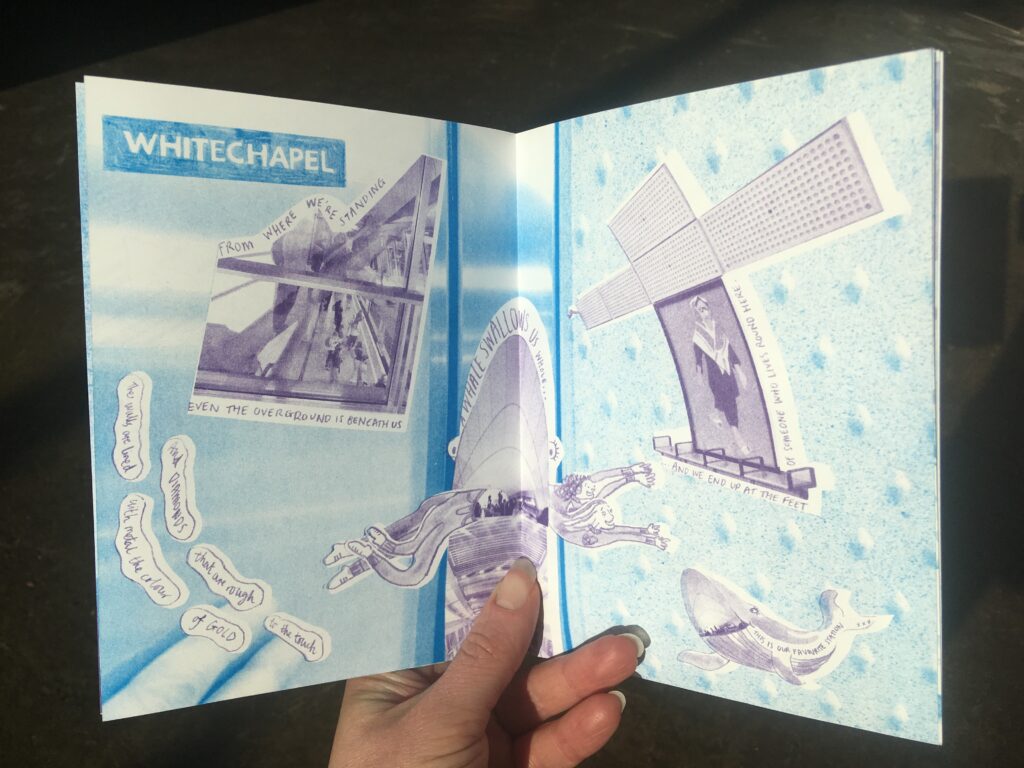 Enormously, on all sides of life. Our friends will come to see us now. We are suddenly perceived as living in an accessible London area! They all have copies of our zine, which we hope will guide them to return… like our bird population that seasonally settle in our landscape of lakes and green spaces – We hope they will come back. PLEASE COME BACK!
Is there anything you're working on at the minute? Any upcoming projects that you're excited about?
Yes, we had so much fun we decided there needed to be a Tunnel Tourists part 2. For our solo show TWIN TOWN at ArtWorks Project Space, we're working on a new Tunnel Tourists zine and a set of posters. Whereas the original Tunnel Tourists scored the stations of the Elizabeth line, this time we're comparing the architectural masterplans of Thamesmead and a place called Poundbury. Poundbury is an urban extension of the town of Dorchester designed according to the principles set out by Prince (now King) Charles in his book A Vision of Britain.
END
TWIN TOWN by Chloe Cooper and Nicky Sutton will be on display at ArtWorks Project Space, 114A Blackhorse Lane, London, E17 6AA. Opening night: Friday 26th May 6.30-9.30pm. Show continues at 1-5pm on the weekends of 27th-28th May & 3rd-4th June.
Buy Tunnel Tourists for £6 via PayPal via the Instagram page / LinkTree @tunneltourists Please include your delivery address (price includes postage and packaging). 

More on Chloe's art practice: http://www.chloecooper.co.uk/
More on Nicky's work practice: http://www.arttherapyspace.co.uk/
@tunneltourists