Robson Cezar: King of the Bottle Tops
You may have heard of Bow Arts artist Robson Cezar as King of the Bottle Tops. Considering his artwork, this nickname couldn't have been any more suitable for him! Robson, who has a studio with Bow Arts at their Bow Road site, has been working on a new commission for St. Katherine's at the St. Katherine's Precinct, another one of Bow Arts' studio sites in Limehouse.
Get involved!
Robson Cezar has taken up residence at St Katharine's throughout July and August to create a large scale mural for St Katharine's Precint. Join Robson as he makes spectacular pictures from humble bottletops. This is a brilliant opportunity to learn how the artist makes his work as well as a chance to experience working on a public art commission. All are welcome, just come along to St Katherine's Precinct any weekday or Sundays between 11am and 3pm to offer a hand. Got some bottletops going spare? Why not bring them along to Robson and help contribute to his work! Questions? Email media@bowarts.com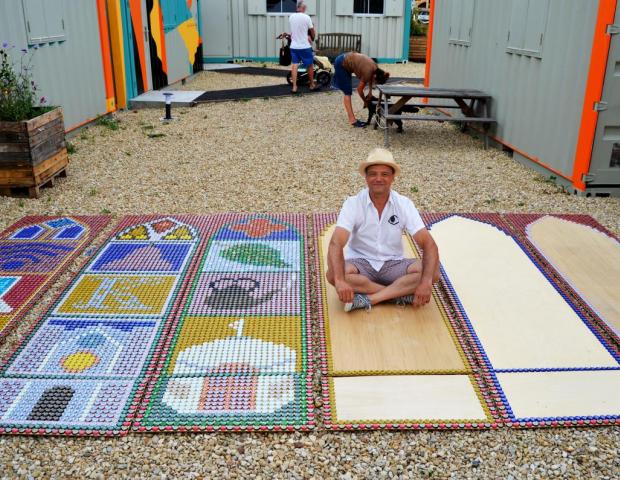 Robson's artwork is very much community driven and throughout the making process Robson is inviting people of all ages to help with the commission – by collecting bottle tops to use as well as getting involved with their sorting and placing. Robson has already completed four of the seven panels that will be displayed as a mural composed of 15.600 bottle tops in total. For those who'd like to see the making process of the other three should hurry up! It's a thrilling experience to go hunting for symbols referring to St. Katherine's long and intriguing history, however, Robson tips us off by saying we should be more focused on the context of the mural overall, rather than each individual panel.
The story of the relationship between the artist and the bottle tops is simply captivating. The passion of the artist, who has been making incredible pictures with bottle tops for over 20 years, goes all the way back to his childhood. Despite Robson's passion for his unique creative style from an early age, he only got the chance to practise it in the city of dreams, New York. Robson's buying of $1 leather belts and giving them a brand new life with bottle tops back in New York  ignited the fire of the practise which has evolved into panel and picture making.
Since then the techniques he has been using and his style have naturally changed, however, the fact that these bottle tops are interdependent with people hasn't changed at all. Let me explain further.
Robson's work continues to have a strong connection with people. Apart from their own unique stories, these artworks all carry the stories of people who have opened these bottles and passed the bottle tops on to Robson. As you might have guessed Robson doesn't collect thousands of bottle tops by himself! The staff of local pubs store the bottle tops for Robson and then each beer and coke bottle top becomes part of an unforgettable piece of art, something the people drinking the beer could have never imagined.
The support comes to Robson not only from Londoners but also from overseas. From Brazil Robson tells us that his mother collects bottle tops in a variety of ways and ships them to her son, Kings of the Bottle Tops. While almost everybody receives a red jumper with various patterns of reindeer at Christmas, Robson receives colourful bottle tops smelling of the sea back home in Brazil.
Apparently it's not easy to find bottle tops of certain colours and designs, so Robson must keep his eye out for some colours. What's more interesting is that rain-washed countries offer the artist bottle tops mostly coloured in red and gold, whilst his sun-baked home of Brazil offers summery colours like blue and green!
Robson takes us on an utterly amazing trip with his array of bright colours, allowing his work to speak for itself. All these bottle tops are stories and you can just imagine what kind of conversations they've witnessed .
Become a part of this adventure by sending any bottle tops you collect to Robson's studio at Bow Road or by dropping by to see him at St. Katharine's, where he'll be Monday to Friday and Sundays for most of August.
St. Katharine's Precinct is at 2 Butcher Row, London E14 8DS.
Robson's studio address is Robson Cezar, Studio B2-7, 183 Bow Road, London E3 2SJ. Contact him via e-mail on robsoncezar@hotmail.com.
By Deniz Çimen, who is working with the Nunnery Gallery at Bow Arts throughout the summer as part of the Erasmus Programme.