"I am SO pleased with the outcomes. Your staff worked very hard to produce artworks which will be around for many years to come – transforming the school from a space that an architect finds pleasing to a vibrant, personalised learning environment for our children."

Executive Headteacher
Permanent artwork
Bow Arts create original, permanent artworks for school buildings and grounds.
High quality original artworks within your school create a more dynamic and personalised space for learning and develop students' pride and ownership over their school environment.
From artist selection, through to design and making, there is the chance for students to be involved every step of the way. The artist can work with your students and staff to collaboratively generate ideas and designs, or student's work can form part of the final artwork.
Artworks can take many different forms, from murals to mosaics, vinyl artworks to sculptures, installations to textile hangings and much more.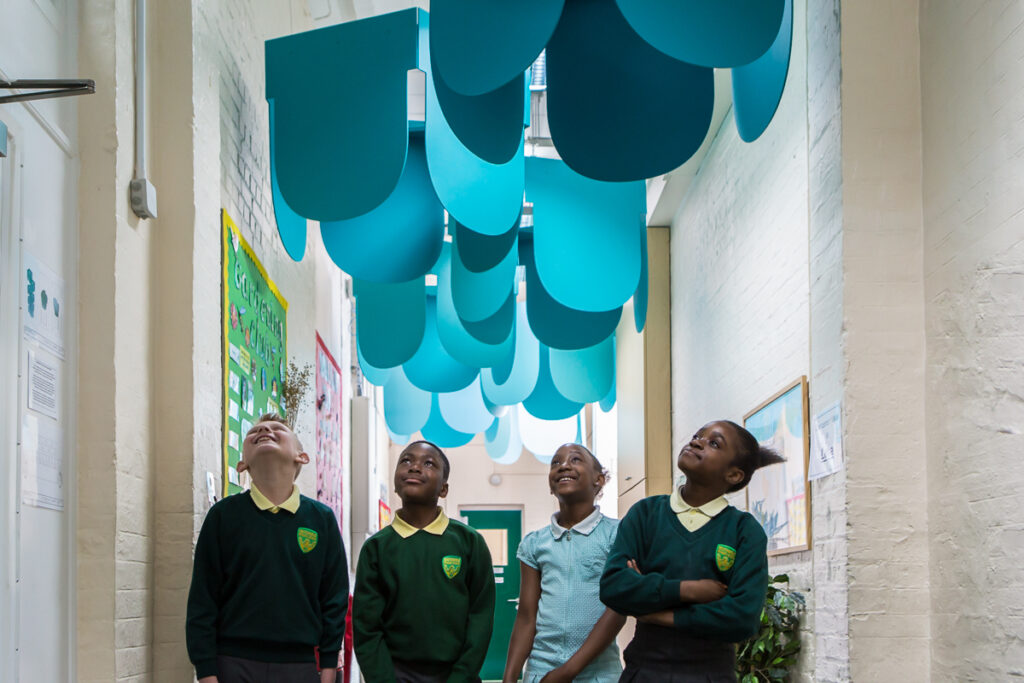 "This project creates a wonderful new piece of public art and also sparks the creativity of young people."

Deputy Mayor of London (Education and Culture)
How your school benefits
High quality original artwork installed in the school or school grounds
Improving the school environment and developing students' pride and ownership of the space
Skills development – research, design, making techniques
Applied learning on a live project
Artist-led practical making workshops with students
Links to creative curriculum and supporting cross-curricular learning
"The students have a sense of pride that they have been involved in changing their own school grounds."

Deputy Headteacher
Project costs
Costs vary depending on number of class groups, workshop days and size of commission. Please get in touch to discuss your needs and budget.
Interested in finding out more about artworks for schools? Email us at learning@bowarts.com.