Artist Spotlight: Andrew Morris & the RAW Rainbow
RAW Rainbow was a community-driven public art installation which transformed a footbridge at Royal Albert Wharf into a giant rainbow throughout May and June. The rainbow was a symbolic landmark of hope in Newham, east London, and a thank you to our essential workers during this uncertain period.
The project brought together local residents, who helped cut almost 5,000 metres of ribbon over the May Day Bank Holiday which was then installed on the central footbridge. Bow Arts' RAW Labs was also transformed into a hub of activity, with a number of socially distanced workstations set up, allowing residents to participate in this community project.
We caught up with local resident and Architect Andrew Morris, from Studio Curiosity, who initiated the project. 
Can you tell us a bit about your practice as an Architect and why you started Studio Curiosity?
Studio Curiosity is a design research platform to explore the realms of architecture, art and design, as well as the delight found in random curiosities. The studio provides the opportunity to develop live projects and speculative proposals.
I established Studio Curiosity in 2011 whilst undertaking my postgraduate degree in architecture at Edinburgh University. The course encouraged us to consider the process of editing, curation and display, and it began as a method of recording this process digitally with a public audience. Subsequently I have continued to use the platform for work and collaborations, including exhibition submissions and architectural competitions. The studio is now a platform to undertake architecture commissions, art projects and develop research interests.    
We still define the studio as an architecture practice, however we are conscious that as creatives we are interested in many things, we have many curiosities. Architecture and the role of the Architect is inherently multi-faceted. Our education and training give us skills which are not limited to buildings. Fundamentally we seek to address questions and problems with creative solutions. 
How did the RAW Rainbow project start and where did the ribbon idea come from?
We were inspired by the rainbows adorning homes and schools across Newham and we were encouraged by the way that children have found solace in art, as a way to bring joy into people's new-found routines. From Royal Albert Wharf (RAW) it is possible to see the Excel Centre as you look west down the docks and towards the city. Its proximity and transformation into the NHS Nightingale Hospital was a reminder of the severity of the pandemic. In addition, we had been participating in the Thursday evening Clap for Our Carers and were encouraged by how this simple collective activity was bringing isolated groups of people together in an act of appreciation. Therefore, the ambition for the self-initiated project was to create a united message of hope by bringing the local community together in the collective production of the public artwork RAW Rainbow, and to show our gratitude to the key workers and NHS staff across the country.
We developed several ideas for the materiality of the installation before deciding on using ribbon. It was chosen due to the materials immediate accessibility in the quantities required and its sustainable credentials – responsibly sourced and manufactured, and certified TUV OK Biodegradable. Furthermore, the material allowed for a simple production and installation process to be developed. This was important to enable inclusivity and encourage participation by all members of the community.
We tested the feasibility of the idea by undertaking a prototype on our balcony. Balconies have become a poignant interface between the public and the private during the pandemic, reminding us of our limited access to outdoor space and restricted contact with other people. We shared the prototype with the local community on social media and we were delighted to receive positive feedback. It demonstrated the project was viable and that there was interest from other residents. We then proposed the idea for a larger scale installation to Bow Arts & Notting Hill Genesis, who both supported the RAW Rainbow project.
Despite the restrictions caused by the lockdown, we believe the creative industries continue to have a significant role to play in the contribution to society and the opportunity to promote a positive message during these uncertain times.
Why was the community participation aspect of this project so important for you?
It was a natural reaction to the situation that we were all experiencing during the lockdown, one of separation and isolation from others. This could lead to a sense of individuality; however we believe that collectivity and collaboration is an important aspect of society. As a result, we had a desire to bring people together and reinforce the value of interaction, connectivity and the community during these uncertain times.
Therefore, fundamental to our approach was community participation, both in the production and installation of the project. RAW Rainbow was completed in 7 days in collaboration with over 50 local residents of all ages. It provided the opportunity for people to meet neighbours and make new friends, albeit at an appropriate social distance. These friendships may continue to grow and support one another as the pandemic continues.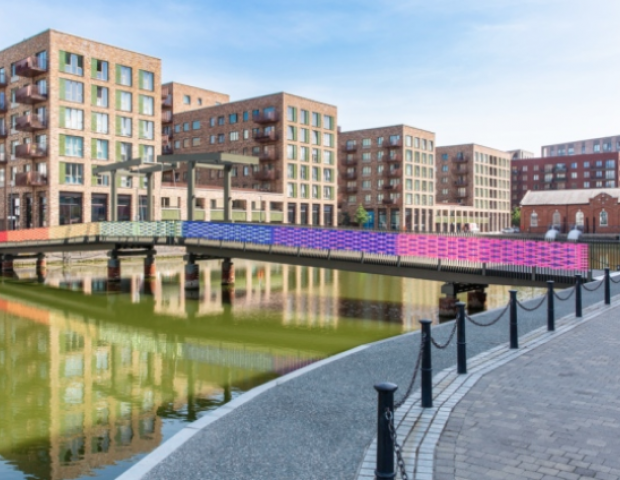 How do you think the RAW Rainbow project as a creative activity has demonstrated the importance of people's mental health and wellbeing in these challenging times?
The pandemic has upturned everyone's daily routines and relationships, reminding us of the frailties and vulnerabilities within our society. RAW Rainbow offered participants respite during the lockdown, when people may have been confined to their homes and experiencing feelings of isolation or loneliness. The project encouraged participation, reinforced the community, promoted outdoor activity and offered connection to the natural waterside environment. This reminded us to consider our physical and mental health and wellbeing during these challenging times.
We believe the project demonstrates that participation in a creative process, or activity, is often of more value than the outcome. A creative exercise provides a welcome distraction to the external threats and pressures we may be experiencing. It is important to focus on the things we can control and how we choose to spend our time during the current situation. A creative activity allows you to get lost in the process of doing, by keeping your mind and body occupied. It is not limited to artistic endeavours, but creativity can be found in activities such as reading, writing, cooking, gardening, exercising etc. Anything that may provide a positive focus, a sense of purpose and fulfilment, can enrich our health and wellbeing.
What are your plans for the future and where would you like the Rainbow project to go next?
We want to share the principles of the RAW Rainbow project via an open source network and encourage accessibility to design. The approach has the potential to be replicated, repurposed and reused by others, creating new projects with new meanings. Open access via a global network allows the design to be tailored for the identity and enrichment of each city, district or neighbourhood.
In addition, the studio continues to explore our interests across the boundaries of art and architecture. We have always been interested in our understanding of proportion and scale. We are investigating this through a series of drawings and hope to develop the work into a series of site-specific installations. This will explore how our perception and experience of existing spaces can be altered through intervention and how these principles may be applied to ideas of display and exhibition design. Furthermore, we continue to pursue research interests and explore how this output is curated.
Fundamentally the studio continues to pursue meaningful collaborations in all of our projects. We want to continue to develop our network within the creative industries across London and particularly our local connections within the Royal Docks and Newham. We promote awareness and responsibility for the environmental and climate crisis. This means that sustainability in all its facets; social, environmental and economic; is central to our conversations. We are now reacting to the pandemic and considering how, as architects, we can contribute to future changes within our built environment. We are already starting to have discussions of how homes, workplaces and public spaces can better serve the inhabitants and the communities. We are interested to further explore ideas of the polycentric city and to reinforce the values of proximity and locality. Also, how existing underutilised buildings and spaces, including empty retail and commercial premises, can be economically activated to bring value to the community.
If these approaches resonate with your thinking and you have ideas to discuss or a project in mind, please get in touch and let's start a conversation together.
I came across this great quote on your Tumblr, "Everybody wants happiness, nobody wants pain, but you can't have a rainbow, without a little rain." What does this quote mean to you and how do you think it applies to our current situation?
At the start of the pandemic we had been reading several articles about the rainbows appearing in windows across the country and we found this recurring quote, so we decided to share it too! Rainbows are used as a global symbol of peace and hope. It reminds us of the origin of a rainbow, which appears when the sun follows a heavy rainfall. It serves the message that there is light to follow, even after the dark times we are experiencing.
The RAW Rainbow project was supported by Bow Arts and Notting Hill Genesis #RAWRainbow