Saturday 7th October 2023 , 10:00am to 1:20pm
This workshop is now sold out. Please email nunnery@bowarts.com if you would like to be added to the waitlist.
Join artist, filmmaker, and art technician Richard Waterton in this interactive workshop on the fundamentals of art handling and installation, including hanging methods and hardware, tools and equipment, live demonstrations, and personalised advice and feedback.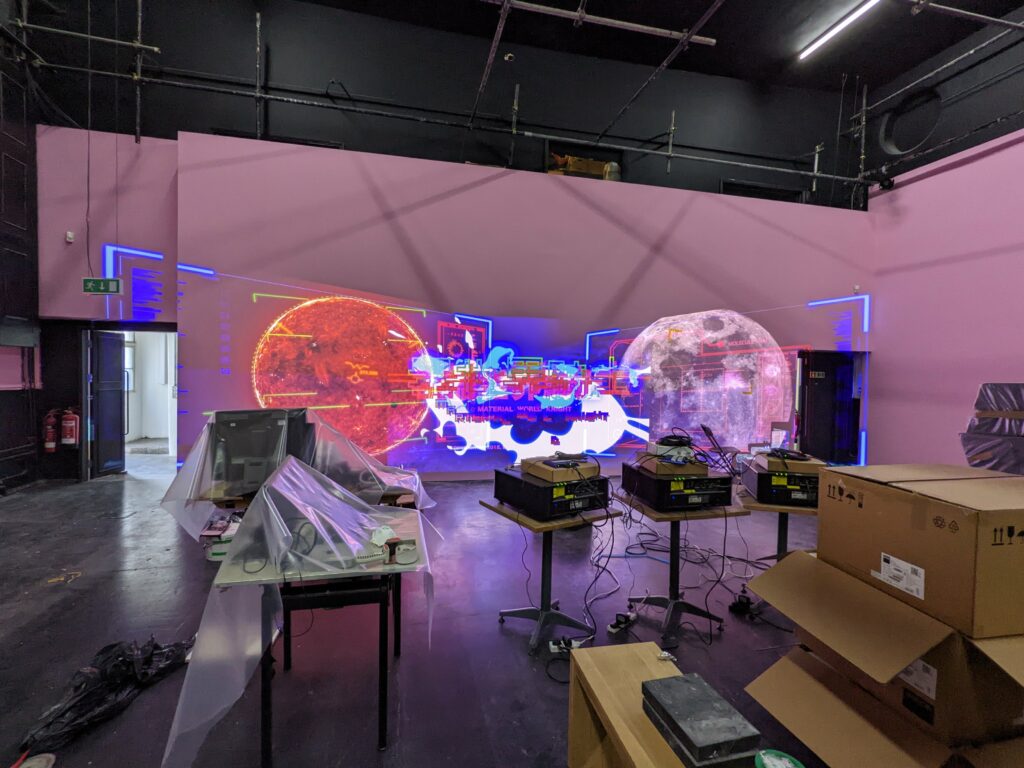 Richard will kick off the session with an introduction to the role of an art technician and what this kind of work entails, before diving into best practices and the correct procedures for artwork handling in a range of different contexts.
We will then expand on hardware selections and the essential installation tools any art tech needs to know and have in their kit bag, before demonstrating a live step-by-step hanging process within a gallery context to bring this knowledge to life.
A large chunk of the workshop will be spent explaining and demonstrating a range of installation techniques from wall-mounted and suspended artworks, all the way over to gallery-style and outdoor installations. There will be allocated time for attendees to discuss different considerations for each kind of installation, as well as personalised consultation and feedback on specific installation plans or challenges participants are embarking on themselves.
We will end the workshop with a run through of audiovisual elements in contemporary art and the key things to take into account when installing this type of work, before opening up the floor for Q&A and future follow up opportunities!
Who this is for?
This 3-hour intensive is tailored towards artists who want to better understand how to install and showcase their work, those considering looking for work in the art technician field, folks who work in arts or gallery contexts, or students and artists who are interested in learning more about this topic. But, as always, all are welcome!
What you will gain:
The fundamentals of art technician work and practice
Knowledge and understanding on how to install and showcase a range of wall-mounted, suspended, gallery-style, and outdoor artworks and installations
An introduction to art handling, hanging methods, tools, techniques, and basic audio-visual installation
Printed handouts to take home with key takeaways and resources
A new network of artists and creative professionals
This workshop will take place in the Nunnery Gallery, 181 Bow Road, London, E3 2SJ.
This workshop is now sold out. Please email nunnery@bowarts.com if you would like to be added to the waitlist.
Concession rate applies to students, over 65s, under 18s, Bow Arts artists, National Art Pass members, and key workers
More about Richard Waterton
Richard Waterton is a practicing artist currently living and working in London. His work falls within the category of moving image installation where he embraces the techniques of 'slow cinema'. Focusing on the stillness in life, his works are never directly autobiographical, but they do derive from his psychological anxieties, fears and desires. His films are anchored by what he knows, be it people or places. Documenting reality, and by altering its state, he finds his own understanding of what he sees this to be. His practice explores the human experience through stillness and altered realities within moving image.
Richard Waterton is an experienced Art Technician, who has worked handling, installing, and fabricating artworks for galleries such as Whitechapel Gallery, Bow Arts, and the Freelands Foundation. His meticulous approach ensures the safe transportation and precise presentation of art, while his custom fabrication skills elevate the visual impact of each piece. Richard's dedication to collaboration and communication ensures a seamless partnership with artists and curators, creating an environment where art flourishes.
About Bow Skills 
Bow Arts seeks to support creative professionals at all stages of their careers. In 2015 Bow Arts launched Bow Skills in response to an artist survey which showed over 90% of practicing artists find it useful to receive further support outside formal education.  
Bow Skills is a dynamic and relevant programme of Continuing Professional Development (CPD) which is informed by an artist steering group and open to all creative practitioners across London. The programme of talks, panel discussions, new skills labs and peer crits is open to all, with concession rates available to students, over 65s, under 18s, Bow Arts artists and key workers.  
Access information
The Nunnery Gallery has step-free access throughout from street level, including to the accessible toilet, and is service animal friendly. This venue does not have a hearing loop system. Accessible parking is not available on-site but blue badge parking can be found 500m away on Fairfield Road.
If you have any questions regarding accessibility at this venue or event, would like to make us aware of any access requirements that you have in advance of visiting, or would like this information in an alternate format including Easy Read, please email nunnery@bowarts.com or call 020 8980 7774 (Ext. 3)
Access requirements could include things like providing equipment, services or support (e.g. information in Easy Read, speech to text software, additional 1:1 support), adjusting workshop timings (e.g. more break times), adjustments to the event space or anything else you can think of!
Transport Information
Opening hours: Tues-Sun, 10am to 4pm
Address: Nunnery Gallery, 181 Bow Road, London, E3 2SJ
Nearest station(s): Bow Road (District and Hammersmith and City lines) is a 6-minute walk away, and Bow Church (DLR) is a 3-minute walk away.
Bus: 205, 25, 425, A8, D8, 108, 276, 488 and 8 all service the surrounding area.
Bike: Bicycle parking is located at Bow Church Station. The nearest Santander Cycles docking station is at Bow Church Station.