Bow Skills Artist Talk: Rosa-Johan Uddoh on non-hierarchical and collaborative practice
Wednesday 5th April 2023 , 6:00pm to 7:30pm
Hear from interdisciplinary artist Rosa-Johan Uddoh as she shares her insights on non-hierarchical practice, collective knowledge sharing, collaboration, and the importance of playfulness in art.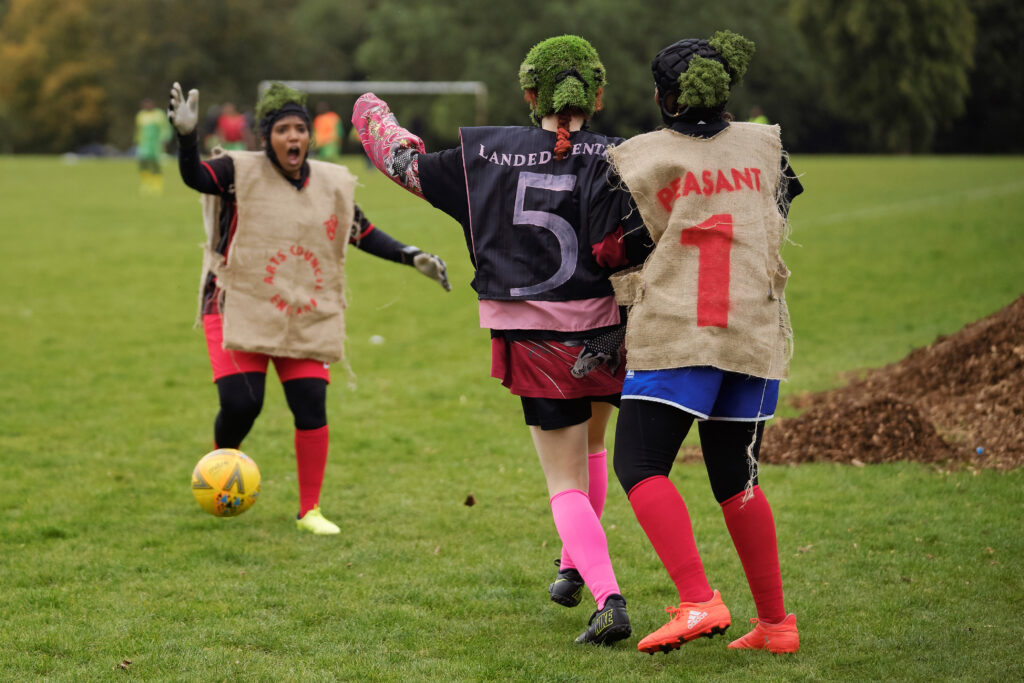 Rosa will kick things off with an intro to her practice and the non-hierarchical and playful approach that she advocates for when working in collaboration with others. Collaboration is a central part of Rosa's artistic practice, often working together with children, activists, and other artists to explore themes that impact our communities. This will be followed by screenings of two of her works: Practice Makes Perfect (2021) and Cultural Field (2022).
We will close the event with an open discussion, inviting attendees to get involved and use both films as a springboard to interrogate and dig deeper into the different approaches in Rosa's work – and more widely – that deal with collaboration and sharing knowledge, before opening up for Q&A. 
More about Practice Makes Perfect (2021)
During Autumn 2020, Rosa collaborated with Year 8 pupils at Chase Secondary School in Southend-on-Sea, and her artistic collaborator Louis Brown, to develop a series of videos inspired by her written work, WINDRUSH: A TONGUE TWISTER. Investigating the importance of the school experience and 'rehearsing' as 'becoming' or gaining subjectivity, this film shares a collaborative process of acting out a dream education at a time of heightened racial tension, class oppression and censorship; demanding free artistic expression, free school meals and of course… free sweets.  
More about Cultural Field (2022) 
Cultural Field is Rosa's most ambitious film to date, directed and produced by Louis Brown and Jos Bitelli (East London Cable) and performed by 12 female, non-binary & trans footballers, activists and performers. Referencing the format of a 'Match of the Day' TV broadcast, Cultural Field records the meeting of fictional 5 a-side football teams ANTI-CAP UTD and CAPITALIST CITY on the Hackney Marshes, one of the largest areas of common land in Greater London. Competing for the Cultural Field Cup, players improvise in-role as characters including TENANT, COLONIALIST and other prominent figures in a power struggle for land in the UK
Concessions rate applies to Bow Arts artists, students, over 65s, under 18s, National Art Pass members, and key workers
More about Rosa Johan-Uddoh
Rosa-Johan Uddoh (b.1993, Croydon) is an interdisciplinary artist working towards radical self-love. She is inspired by Black feminist practice and writing.
Through performance, writing and multi-media installation, she explores places, objects and celebrities in British popular culture, and their effects on self-formation. Collaboration is key to Rosa's work, often working together with children, activists and other artists to explore themes that impact our communities and share knowledge.
Rosa is a lecturer in Performance at Central Saint Martins. This year she was shortlisted for the Jarman Award 2022 for her film making practice. She was a finalist for Arts Foundation Futures Awards 2021. Rosa was the Liverpool Biennial and John Moores University Fellow 2018-2019, was the Stuart Hall Library Resident for 2020 and a Sarabande: Lee Alexander Mc Queen Scholar 2016-19. Her work has been profiled in international publications including Art Monthly, The New York Times and Nordic Art Review.
Rosa's solo presentations include: 'Una's Voice', The Bower, 'Pink Tongue Brown Cheek', Iniva (both London,2022), 'Practice Makes Perfect', Focal Point Gallery (Southend-on-sea, 2021), '"She is still alive!"', Destiny's (Oslo, 2020), 'Studies for Impartiality', Jupiter Woods and 'Sphinx at the Crystal Palace', Black Tower Projects (both London, 2019). Group shows include: 'Brand New Heavies', Pioneer Works (New York, 2021), 'Learning by Doing', 68 Institute (Copenhagen, 2019), New Contemporaries (London & Liverpool 2018) and 'Black Blossoms', The Royal Standard (Liverpool, 2017). She has screened work at East London Cable's 'TV Dinners' at Tate Modern, 2019 and her film 'Black Poirot: remastered', had its premiere screening at Tate Modern in 2021.
Rosa's first book 'Practice Makes Perfect', co-published with Book Works and Focal Point Gallery was published in July 2022 and is available here.
About Bow Skills 
Bow Arts seeks to support creative professionals at all stages of their careers. In 2015 Bow Arts launched Bow Skills in response to an artist survey which showed over 90% of practicing artists find it useful to receive further support outside formal education.  
Bow Skills is a dynamic and relevant programme of Continuing Professional Development (CPD) which is informed by an artist steering group and open to all creative practitioners across London. The programme of talks, panel discussions, new skills labs and peer crits is open to all, with concession rates available to students, over 65s, under 18s, Bow Arts artists and key workers.  
Access information
The Bow Arts Trust office has step-free access throughout from street level, including to the accessible toilet, and is service animal friendly. This venue does not have a hearing loop system.
Accessible parking is not available on-site but blue badge parking can be found 500m away on Fairfield Road.
If you have any questions regarding accessibility at this venue or event, would like to make us aware of any access requirements that you have in advance of visiting, or would like this information in an alternate format including Easy Read, please email nunnery@bowarts.com or call 020 8980 7774 (Ext. 3)
Access requirements could include things like providing equipment, services or support (e.g. information in Easy Read, speech to text software, additional 1:1 support), adjusting workshop timings (e.g. more break times), adjustments to the event space (e.g. making sure you have a table near the entrance) or anything else you can think of!
Transport Information
Opening hours: Mon-Friday, 9am to 5pm
Address: Bow Arts Trust, 183 Bow Road, London, E3 2SJ
Nearest station(s): Bow Road (District and Hammersmith and City lines) is a 6-minute walk away, and Bow Church (DLR) is a 3-minute walk away.
Bus: 205, 25, 425, A8, D8, 108, 276, 488 and 8 all service the surrounding area.
Bike: Bicycle parking is located at Bow Church Station. The nearest Santander Cycles docking station is at Bow Church Station.
Related Events