Thursday 12th October 2023 , 6:00pm to 9:00pm
Explore an electric international collaboration between a composer/performer and a dancer/choreographer with accompanying artists, coming together for the first time in the UK as part of the Nunnery Cafe Residency.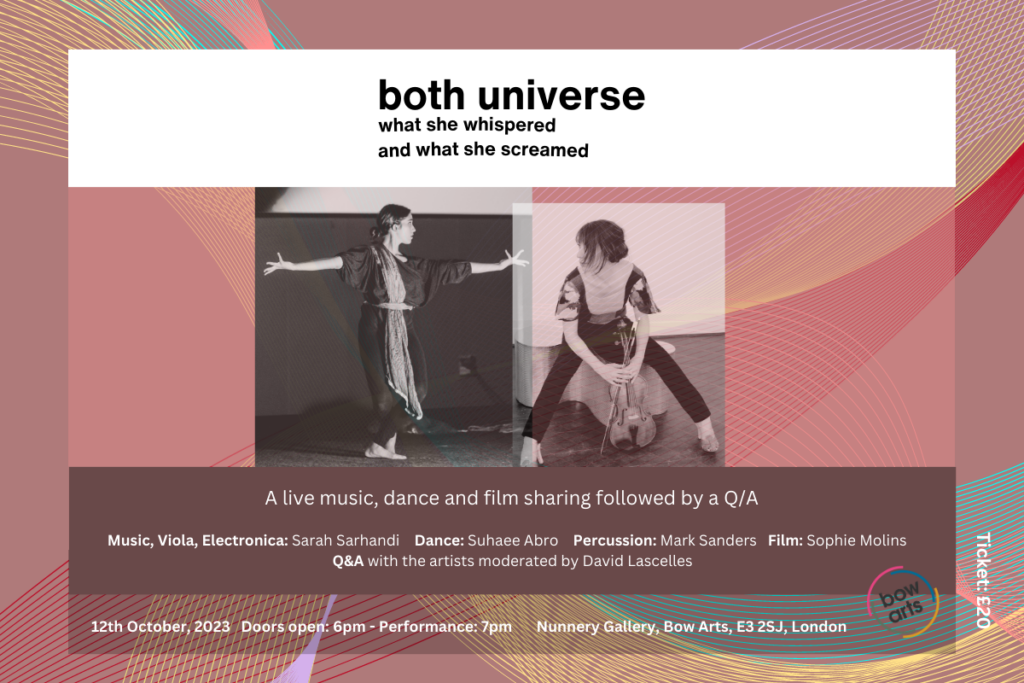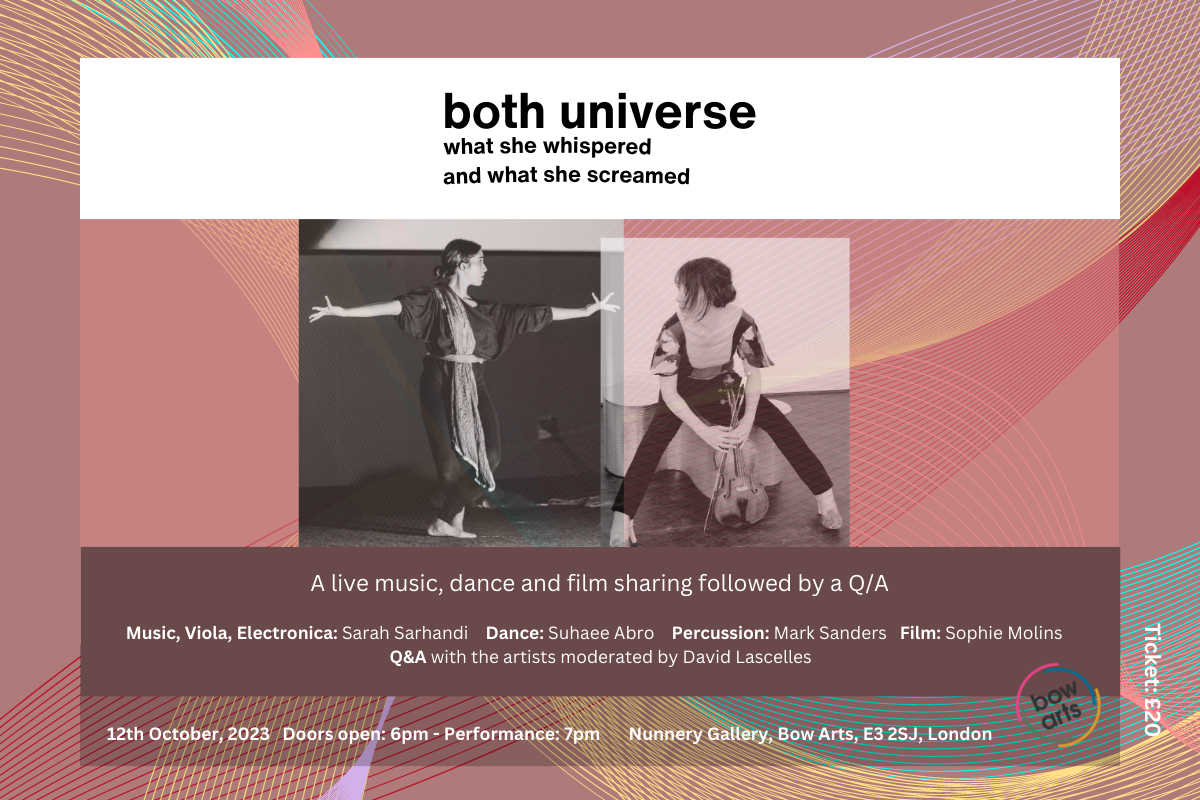 both universe 'what she whispered and what we screamed' is a performance-in-progress by Suhaee Abro and Sarah Sarhandi. An entanglement of dance, music, sound, spoken word and film by Sarah and Suhaee, the work centres collaboration and sharing. The first part of the title emerged from Sarah's previous multi collaborative performance 'Both Universe' at The Southbank, a term discovered in a poem by the revered and iconic Pakistani poet Faiz Ahmed Faiz. 'What she whispered and what she screamed' is inspired by a line from Joan Didion's masterpiece 'Slouching Toward Bethlehem'.
both universe: what she whispered and what she screamed will take us from the intimate to the exterior, the delicate to the savage, from the feminine space to the masculine and out into the collective arena, migrating through and across territories and cultural boundaries. Sometimes the work is mysterious; at other times lucid. Sometimes it's strongly earthed; at other times otherworldly and etherial. Some pieces are set, others improvised.
Suhaee's dance/movement and Sarah's viola performance are the supple, elastic and luminous threads that intertwine and weave through.
Suhaee and Sarah initially connected online and quickly discovered a strong bond. Suhaee is a Pakistani SIndhi dance artist and actor currently living in Italy and Sarah a composer, performer and producer with both British and Pakistani SIndhi heritage based in London. They first met in person at Cafe Koel, a gallery and cafe in Karachi Pakistan in 2015 when Sarah was creating a collaborative composition, a residency with the legendary Pakistani guitarist the late Aamir Zaki funded by Arts Council England/British Council. Suhaee was living and working in Karachi at the time. Both of them have classical backgrounds which they draw on, Suhaee in the Indian dance form Bharatnatyam, Sarah in Western classical music however they have each gone on to develop and be recognised for their own distinct and ground breaking contemporary work. They have previously only collaborated long distance. Suhaee has performed with Sarah's music in performances at Arts Council Pakistan in Karachi, solo and with Italian dance artist Lucia Moretti including in Northern Ireland.
This is their first programmed performance together in the UK. They will be joined by the renowned percussionist Mark Sanders and multi award winning artist/film maker Sophie Molins.
The performance includes collaborations with composer and guitarist Aamir Zaki & composer and musician Musadiq Sanwal.
There will be a Q&A with the performers following the performance moderated by David Lascelles
This event is part of the Nunnery Cafe Residency, a curated programme of events collaborating with artists and performers to explore food in all its forms.
About Suhaee Abro
Suhaee Abro is a performing artist born and raised in Karachi, Pakistan. She brings the mediums of movement, music, poetry and drama together to tell stories that often explores the themes of the complexities of being a human. Abro has been trained in classical dances such as Bharatanatyam and Kathak since the age of seven and later she also trained in contemporary dance. Her experience of various stage performances and TV/Film work as a dancer,choreographer and actress across Asia and Europe has enabled her to connect with her audience in a deep and intimate way. Having done many collaborations with artists coming from other forms such as writers, painters, filmmakers, musicians, Abro continues to find opportunities to research and experience the interconnections that different art forms make with each other and to break the idea that they are separate from each other.
Suhaee Abro also uses her skills as a social and embodied activist for many years; performing at protests and events for women's rights; doing movement workshops and classes working gently with acid burn survivors, women and children's shelter home residents, migrant mothers and children. Through this work, she created dance, heart & mind an initiative to move towards healing through dance while connecting to our bodies and emotions. She now teaches adjusting to different communities of people and their needs along with teaching Bharatanatyam and basics of Kathak. Currently Abro is based in Italy working as a freelance performing artist and dance/movement teacher.
About Sarah Sarhandi
Sarah Sarhandi is a multi award winning composer, virtuoso violist and producer with joint British and Pakistani heritage based in London. She studied viola at the Royal Academy of Music. Her music weaves together fluid sometimes fragmented melody, viola, voices including her own, sound and electronica. She is particularly interested in and recognised for her collaborative work. She has recorded, performed and had her music performed worldwide including at The Southbank, The Pompidou Centre, Sadlers Wells, The Louvre Paris, The London Coliseum, The International Slavery Museum Liverpool and written and
recorded for film and TV. Recently she has begun to create her own videos as well as initiate projects driven by her music with film and video practitioners. Her performance project Both Universe emerged following a residency in Pakistan in 2015 with the late Aamir Zaki, legendary Pakistani guitarist and was performed as a work in progress at Alchemy Festival Southbank and Kala Sangham Bradford in 2016.
Sarhandi composed and recorded a score and soundscape for Elizabeth Kwant's artists film 'Am I Not a Woman and a Sister' a four channel installation that showed between November and February 2019 at the International Museum of Slavery in Liverpool. Other collaborators past and present include Bjork, Jean Charles de Castelbajac, Damien Hirst, Hanif Kureishi, Russell Maliphant, Lore Lixenberg, Paul Benney, Vincent Katz, Shelagh Wakely, Thomasin Gulgec & Estela Merlos, Suhaee Abro, Lore Lixenberg, Diane Howse, Sophie Molins and Mark Sanders.

About Mark Sanders
Mark has worked with a host of renowned musicians including Derek Bailey, Henry Grimes, Mathew Shipp, Evan Parker, Roswell Rudd, in duo and quartets with Wadada Leo Smith and trios with Charles Gayle with Sirone and William Parker.
In situations using composition Mark works in a number of projects including Christian Marclay's Everyday for film and live music and John Butcher's Tarab Cuts – both projects have performed at major festivals throughout Europe and Brazil. He has performed works by guitarist John Coxon in Glasgow and Sydney playing with the Scottish and Sydney Symphony Orchestras. With New York's ICE Ensemble he has performed John Zorn's The Tempest in London and at Huddersfield New Music Festival.
Mark also works in the groups of Paul Dunmall including Deep Whole Trio with Paul Rogers, and the ensembles of Sarah Gail Brand, including a long-standing duo. He has a lengthy discography including a solo album, has performed internationally and played at major festivals including, Nickelsdorf, Ulrichsburg, Womad and notably at Glastonbury with legendary saxophonist John Tchicai.
Musadiq Sanwal: 1963-2014
A musician, poet, theatre director (Baang) and founding editor of dawn.com, Musadiq Sanwal was one the well-known intellectual voices from Pakistan from recent times. Sanwal's greatest love was devotional music, he composed and sang Sufi Kalaam from Pakistan rendered in epic folklore as well as modern styling; nostalgic partition verses of Nasir Kazmi; theatre and radio productions based on the genre of everyday sounds from Pakistan. Happiest performing live in music baithaks and on theatre stage, his voice was powerful, raw and he sang usually without mike, accompaniments, studio strappings. Most of his music has not been recorded.
Productions include global multi-media live performances of Aahurangi (Cry of Asia), BBC Urdu playback (Baba Budday ki Machine), Indian art fil, Tum Kown Ho; Pakistan Hum TV's Perfume Chowk (W-II), album Aajizi with Mateela Studio, album Kaaga by Musadiq's Blue Koel studio in Karachi, Tehrik-e Niswan's Jinnay epic stage production Lahore ne Vaikhyaan as well as several theatre live performance for Baang's avante productions on political violence, youth and social milieu.
Sanwal's music can be found on Spotify
Rupert Ernest Freedman
Rupert trained as a junior associate with the Royal Ballet School from 2020-2022 and is now a Tring Park School associate and also part of the Tring Park Classical Ballet Academy.
About Aamir Zaki
Aamir Zaki (1968 -2017) was a hugely influential, iconic and legendary Pakistani guitarist, songwriter and composer. Born in Saudi Arabia, at the time of his death he was living and working in Karachi Pakistan. He was known for his uniquely melodic phrasing, feel and tone.
His debut album Signature was released in 1995 and Zaki was awarded a gold disc by Soundcraft UK for it. Mong. The first CD batch was made in England. The album was an immediate success in Pakistan – for the first time in the region, guitar instrumentals made it to the households through FM radio.The following year Zaki toured extensively with Vital Signs and Awaz.
In addition to his solo work Aamir Zaki collaborated with and composed for prominent Pakistani musicians such as Ali Azmat, Gumby, Rahat Fateh Ali Khan, Hadiqa Kiyani, Zoe Viccaji as well as writing and recording iconic Pakistani hit songs of his own such as Mera Pyar. Zaki's songs continue to be extensively covered.
For several years before his sudden death in 2017 from a heart attack, he was focussing on new compositions, systems and sounds which explore a synthesis between Eastern Classical and other musical forms.
Zaki made his Coke Studio debut in 2014 and his last appearance on it was as featured artist for 'Naina Moray', Javed Bashir & Akbar Ali, Coke Studio Season 10.
He and Sarah Sarhandi began collaborating in 2014 and received two grants from Arts Council England as well as multiple sponsors and Foundations, one for a residency for collaborative composition based in Karachi Pakistan and one for a residency and performance including that music at The Southbank and Kala Sangham Bradford in 2016.
About Sophie Molins
Touching on themes of love, loss, attachment, childhood, addiction, incarceration and more, SOPHIE MOLINS creative work always speaks to the human condition.
A photographer, filmmaker, anthropologist and New York Times and Arts Council award-winning artist, MOLINS is also an activist and group facilitator with a long history working in education, addiction and climate change.
MOLINS creates through the lens of psychology, philosophy, feminism and anthropology; addressing universal emotions and responses, constantly questioning what it is to be human.
David Lascelles
David worked as a producer of films and TV shows for more than 20 years. His credits include Inspector Morse, Moll Flanders, and Second Sight for TV and The Wedding Gift (with Julie Walters and Jim Broadbent), The Wisdom of Crocodiles (with Jude Law) and Shakespeare's Richard III starring Ian McKellen for the cinema.
He was chair of Harewood House Trust, the educational charity that looks after Harewood House, its grounds & gardens from 1981 to 2021. Harewood was one of the first country houses to be open about its historic links with the slave trade and, with his wife Diane Howse, has for many years been working with visual artists, poets, activists and performers with a Caribbean heritage to address the legacy of that time.
David's other great love is for the Himalayas, where he has travelled extensively. In 2004/5 he invited a group of monks from Bhutan to build a stupa at Harewood and he has written a book about it, A Hare-Marked Moon.
Access information
The Nunnery Gallery and Cafe have step-free access throughout from street level, including to the accessible toilet, and is service animal friendly. The Bow Arts Courtyard includes access to an accessible toilet. These venues do not have a hearing loop system.
Accessible parking is not available on-site but blue badge parking can be found 500m away on Fairfield Road.
If you have any questions regarding accessibility at this venue or event, would like to make us aware of any access requirements that you have in advance of visiting, or would like this information in an alternate format including Easy Read, please email nunnery@bowarts.com or call 020 8980 7774 (Ext. 3)
Access requirements could include things like providing equipment, services or support (e.g. information in Easy Read, speech to text software, additional 1:1 support), adjusting workshop timings (e.g. more break times), adjustments to the event space (e.g. making sure you have a table near the entrance) or anything else you can think of!
Transport Information
Opening hours: Tues-Sun, 10am to 4pm
Address: Nunnery Gallery, 181 Bow Road, London, E3 2SJ
Nearest station(s): Bow Road (District and Hammersmith and City lines) is a 6-minute walk away, and Bow Church (DLR) is a 3-minute walk away.
Bus: 205, 25, 425, A8, D8, 108, 276, 488 and 8 all service the surrounding area.
Bike: Bicycle parking is located at Bow Church Station. The nearest Santander Cycles docking station is at Bow Church Station.