Thursday 22nd June 2023 , 6:00pm to 9:00pm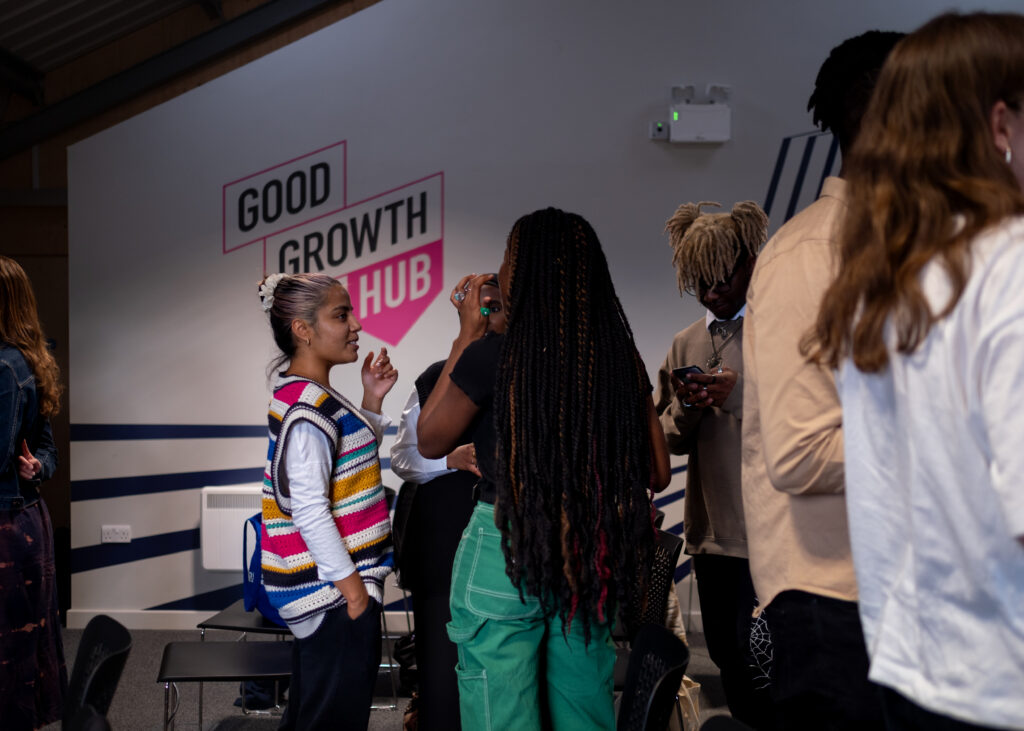 Join us at the LLDC's Good Growth Hub to get clued up on all the fab opportunities, grants, and programmes they have on offer for artists and young people in east London, as well as getting to know two of the innovative young creatives operating out of the Hub: artist, writer, and zinemaker Mohammed Z. Rahman and illustrator and educator Olivia Twist.
East London Art Prize shortlisted artist Lulu Wang will also be on hand to provide an insight into her experience of the Prize and what it's like working and practicing as an artist in east London today. Delve into her interdisciplinary, mixed-media mark making and performance-based practice and the themes of the body, movement, and connections between emotional worlds that she interrogates.
We will then be guided by Lulu through a relaxed, collective 'trace making' and movement exercise to stretch our artistic muscles, connect with other artists in the room in a fun, creative way, and explore a communitive and unique way of creating and visualising body language through drawing and mark making. Afterwards, you can either take your drawings with you or leave them with us as an archive of the event and connections formed.
We will then open up the floor to close the event, with food provided by the delicious Nunnery Cafe, refreshments, and more chances to carry on the conversation!
This event will be held at the Good Growth Hub, Unit 1-28, Echo Building, E Bay Ln, London, E15 2SJ. It will run from 6pm – 8.15pm, with a social and networking until 9pm.
Free
Tickets must be booked to guarantee your place!
More about the London Legacy Development Corporation
Formed in April 2012, the London Legacy Development Corporation's purpose is to use the opportunity of the London 2012 Games and the creation of Queen Elizabeth Olympic Park to develop a dynamic new heart for east London, creating opportunities for local people and driving innovation and growth in London and the UK.
More about the Good Growth Hub

The Good Growth Hub brings together people and businesses in east London to offer career opportunities, training and skills to 18- to 30-year-olds in our community, and fresh new talent to local businesses. The Hub is part of the LLDC's plan to connect businesses surrounding east London's Queen Elizabeth Olympic Park, with local talent through a wide range of employment, skills and enterprise activities and programmes. The Good Growth Hub is operated by A New Direction.
www.goodgrowthhub.org.uk
More about A New Direction
A New Direction is an award-winning non-profit organisation working to enhance the capacity and agency of children and young people in London to own their creativity, shape culture, and achieve their creative potential.
More about Lulu Wang (she/her)
Lulu Wang is a London-based Chinese interdisciplinary artist and shortlisted artist for East London Art Prize 2023.
Through mixed media mark-making and performances, her practice explores the body and its spontaneous movements as a shifting space. By incorporating Chinese mythology expressionist dance and posthumanism narratives, her work expands symbiotic relationships between emotional worlds and their physical embodiment-seeking the power and the beauty of imperfection inside humanity and its relationships with surroundings.
Wang's work has been presented internationally such as the Tate Lates, Christies, Southbank Centre, Gazelli Art House, the Reference Point at 180 Strand , UK Mexican Arts Society, Cromwell Place. Wang graduated from Contemporary Art Practice at the Royal College of Art in London.
Wang is also the co-founder of 'Diasporas Now' – an expanded performance art platform celebrating cross-diasporic solidarity, helping diasporic performance artists of colour gain exposure.
More about Mohammed Z. Rahman
Mohammed Z. Rahman is a British-Bengali painter, illustrator and writer from East London. An A New Direction alum and social anthropology graduate (BA, SOAS), he approaches art as both an intimate and political force. Drawing on global, queer, self-reflexive and critical perspectives Mohammed's work celebrates his communities' dreams, disrupts violent power structures and makes peace with the unspeakable chaos of the world. 
 
Rahman had his debut solo show of paintings at Phillida Reid in 2023 and developed the visual identity and exhibited work as part of the Brent Biennial 2022. Mohammed's practice also includes zinemaking and clothing design. In 2021, he undertook an artist's residency at the Apocalypse Reading Room, London, curated by Ama Josephine Budge and supported by Artsadmin.  Mohammed has illustrated and written for grassroots organisations including Gal-Dem, Nijjor Manush, clavmag, Writing Our Legacy, Failsafe Magazine, Skin Deep Magazine, Aire Place Studios and The Willowherb Review. 
More about Olivia Twist
Olivia Twist is an Illustrator and Educator from East London.
The key threads which can be found in her work are place, the mundane and overlooked narratives. Her striking visual language comprises of a myriad of esoteric layers informed by a propensity for human-centered research methodologies.
As a practitioner her aims are to provide her audience with 'the shock of the familiar' and to trigger greater intergenerational discussion. She has a strong interest in participatory design, relational aesthetics and documenting social history as it unfolds.
Olivia's work can be found in the permanent collection of the Museum of London. She has designed a special edition Air Max95 Sneaker for Nike. Her practice spans artists residencies both here and abroad, advertising campaigns for Royal Court Theatre, workshops for Tate, editorial illustrations for Penguin and murals for local Youth Clubs.
Access information
If you have any questions regarding accessibility at this event or would like to make us aware of any access requirements that you have in advance of attending, please email nunnery@bowarts.com
Access requirements could include things like providing equipment, services or support (e.g. information in Easy Read, speech to text software, additional 1:1 support), adjusting workshop timings (e.g. more break times), adjustments to the event space (e.g. making sure you have a table near the entrance) or anything else you can think of!
About the East London Art Prize Events programme
The East London Art Prize events programme is a dynamic, free public programme open to all, which builds on the Prize's ethos of providing ongoing support, development, and networking opportunities for artists in east London and beyond.
Featuring a constellation of workshops, talks, panels, lates, socials, labs, walks, and takeovers in collaboration with our Prize partners and featuring some familiar faces from our inaugural shortlist of 12 fantastic artists, this year's events programme celebrates and pays homage to the huge abundance of talent and creativity nestled in east London.
These events have been developed in collaboration with our Prize partners the British Council, The Line, London College of Fashion (LCF), London Legacy Development Corporation, University College London (UCL), V&A East, Whitechapel Art Gallery, and Dulux.
Find out more about the wider programme here.
More about the East London Art Prize
The East London Art Prize is an all-media art prize designed to showcase the talent of artists working and living in east London, with an accompanying event programme supporting artists' careers and opportunities. The Prize is generously funded by Minerva and Prue MacLeod. Find out more on the Prize webpage here.