Tuesday 29th November 2022 , 6:00pm to 8:00pm
Join educator, multi-disciplinary creator, and founder of Creative Champs Kei Maye as she gives us the ultimate artists' guide to freelancing and supercharging your career.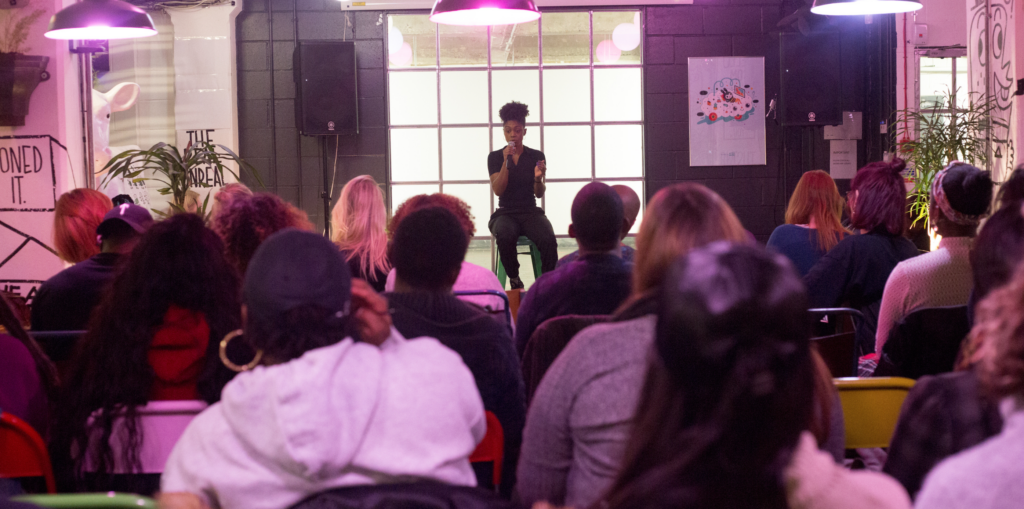 In this session, Kei Maye will be breaking down and demystifying key topics that are fundamental to being an artist living, working, and freelancing in the sector today. So, be prepared to learn all about everything from navigating imposter syndrome and advocating for your needs, to optimising your portfolio, top tips on project management and advice on how to price!
The workshop will also feature a 30min Q&A at the end, where participants will get the chance to put their questions to Kei and dive deeper into specific questions about their practice or career.
Class Breakdown:
Building Confidence & Navigating Impostor Syndrome
Confidence issues affect so many of us on a daily basis, along with impostor syndrome or negative self-talk. This section will set the tone for the rest of the session with takeaways to help you overcome these feelings to continue living your best creative life.
Optimising Portfolio Websites & Social Media Platforms
How to build value and make the most out of your online presence, building trust & generating more customers and clients as a result.
Paperwork & Project Management
Covering the important bits to make sure that your projects all run as smoothly as possible, with pointers to handle situations should things become challenging.
Pricing – the P word!
Walking creators through various pricing methods along with tried & (heavily tested) pricing formulas, designed to not only lower the stress of setting rates but to also make sure you're paid properly for your work.
Concession rate applies to students, over 65s, under 18s, Bow Arts artists, National Art Pass members, and key workers
About Kei Maye
Kei Maye is a multi-disciplinary creator, educator and founder based in London. She is passionate about making learning resources accessible for emerging creators.
She has 17 years of experience in the creative industry, 12 of those years were spent freelancing, 5 selling art-based products & licensing and 6 years working within the education sector; facilitating learning for young learners through to young adults.
Kei spends her time curating resources and providing expert-led classes to supply creators with the tools to make a living doing what they love.
Website: www.creativechamps.co
About Bow Skills
Bow Arts seeks to support creative professionals at all stages of their careers. In 2015 Bow Arts launched Bow Skills in response to an artist survey which showed over 90% of practicing artists find it useful to receive further support outside formal education.   
Bow Skills is a dynamic and relevant programme of Continuing Professional Development (CPD) which is informed by an artist steering group and open to all creative practitioners across London. The programme of talks, panel discussions, new skills labs and peer crits is open to all, with concession rates available to students, over 65s, under 18s, Bow Arts artists and key workers.   
Access information 
The Bow Arts Trust office has step-free access throughout from street level, including to the accessible toilet, and is service animal friendly. This venue does not have a hearing loop system. 
Accessible parking is not available on-site but blue badge parking can be found 500m away on Fairfield Road.
If you have any questions regarding accessibility at this venue or event, would like to make us aware of any access requirements that you have in advance of visiting, or would like this information in an alternate format including Easy Read, please email nunnery@bowarts.com or call 020 8980 7774 (Ext. 3) 
Transport Information 
Opening hours: Tues-Sun, 10am to 4pm 
Address: Nunnery Gallery, 181 Bow Road, London, E3 2SJ 
Nearest station(s): Bow Road (District and Hammersmith and City lines) is a 6-minute walk away, and Bow Church (DLR) is a 3-minute walk away. 
Bus: 205, 25, 425, A8, D8, 108, 276, 488 and 8 all service the surrounding area. 
Bike: Bicycle parking is located at Bow Church Station. The nearest Santander Cycles docking station is at Bow Church Station.